Explore the Volunteer State's historic buildings that have been left behind in WBIR's premiere digital-first series, Abandoned Places.
Elizabeth Sims
The Gilley's Hotel/Smith House in Bulls Gap, Tennessee once served as a stop for railroad workers and passengers. Now, it sits empty next to the tracks, a relic of this little town's steam engine-powered history.
Elizabeth Sims
Trew's Store was the Walmart of its day and famous for its bologna and cheese sandwiches in McMinn County, Tennessee. Now, its dusty shelves are sparsely stocked with the rodent-chewed remains of its heyday.
Elizabeth Sims
Children used to walk for miles to get to this little gray one-room schoolhouse in Sevier County. Now, Island View School sits on the side of Boyds Creek Highway, but the stories and lessons learned within its walls are kept alive by former students.
Elizabeth Sims
The Higdon Hotel was once a riverfront resort in Reliance. Now, it is half-hidden on a hillside by thick trees and shrubbery, waiting for the day guests fill its spacious rooms again.
RELATED: Know of an abandoned place? Suggest a location
Tennessee's Abandoned Places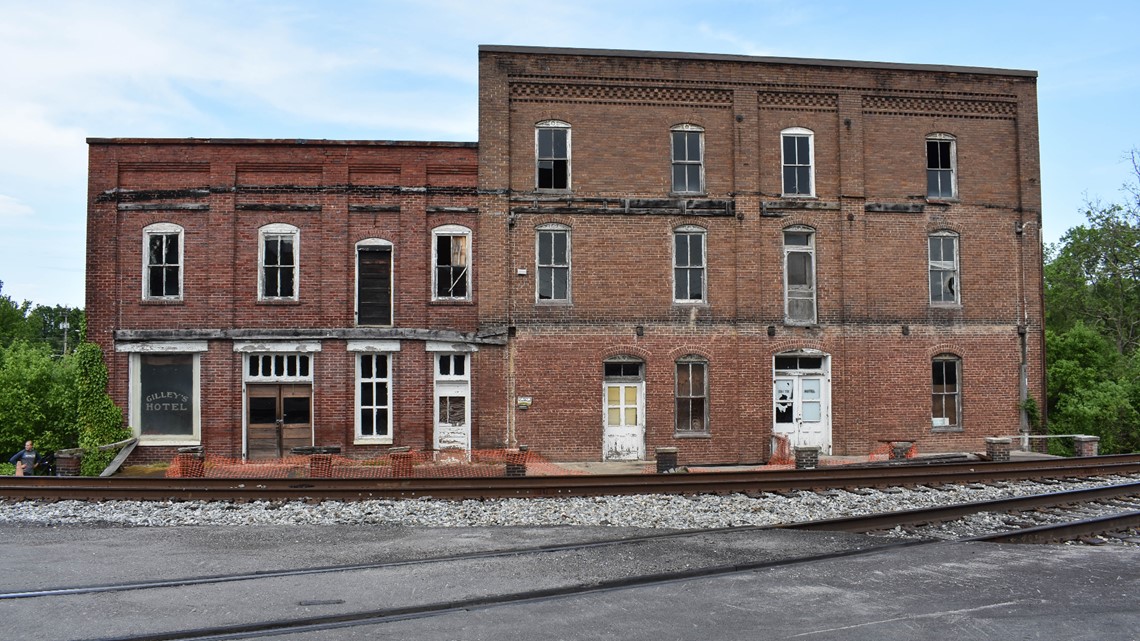 The Tennessee State Prison was opened on Feb. 12, 1898 just outside Nashville. This prison's 120-year history is marked with fame and infamy. It is the same place that served as the setting of "The Green Mile" and held MLK's assassin for a time.
Knoxville College opened just 10 years after slavery was abolished to educate freed men and women. Dr. Martin Luther King Jr.'s 1960 commencement speech on campus inspired students to lead the local Civil Rights Movement. Today, it is a crumbling collection of historic buildings.
The Eugenia Williams House is a 10,800 square foot residence on the Tennessee River that belonged to the daughter of an East Tennessee physician who helped fund the Coca Cola Company in 1902. It was left to the University of Tennessee in her will, but disputes over its use left it empty for years.
Rule High School opened in 1927, named after Captain William Rule, a former Union Army captain who went on to be mayor of Knoxville and the editor of the Knoxville Journal. The school closed in 1991 due to low enrollment numbers. With no plans to redevelop it in the works, the Golden Bears' former home sits crumbling on a hilltop.
Eastern State Hospital Dairy Farm opened in the 1940s along the Holston River. Mental health patients were housed in the dormitory and worked on the farm. Though the University of Tennessee took ownership of the property in the 70s, it has been decades since anyone walked the dorm's halls.
Click the points on the map to explore the places we have visited so far. Let us know of other places we should go.

Reporter's note: Though many of these buildings are unused and empty, they sit on private property that is still actively used in some cases. DO NOT attempt to unlawfully enter any of these places without permission. Many of them are structurally unsound and pose potential health hazards, like asbestos and lead paint. 10News contacted all owners prior to visiting.
►Make it easy to keep up-to-date: Download the WBIR 10News app now and sign up for our Take 10 Lunchtime Newsletter.
Have a news tip? Email 10Listens@wbir.com, or visit our Facebook page or Twitter feed.