Drag shows dragged to the political stage after shows canceled across East TN
Drag shows across East Tennessee were canceled after pressure from some groups.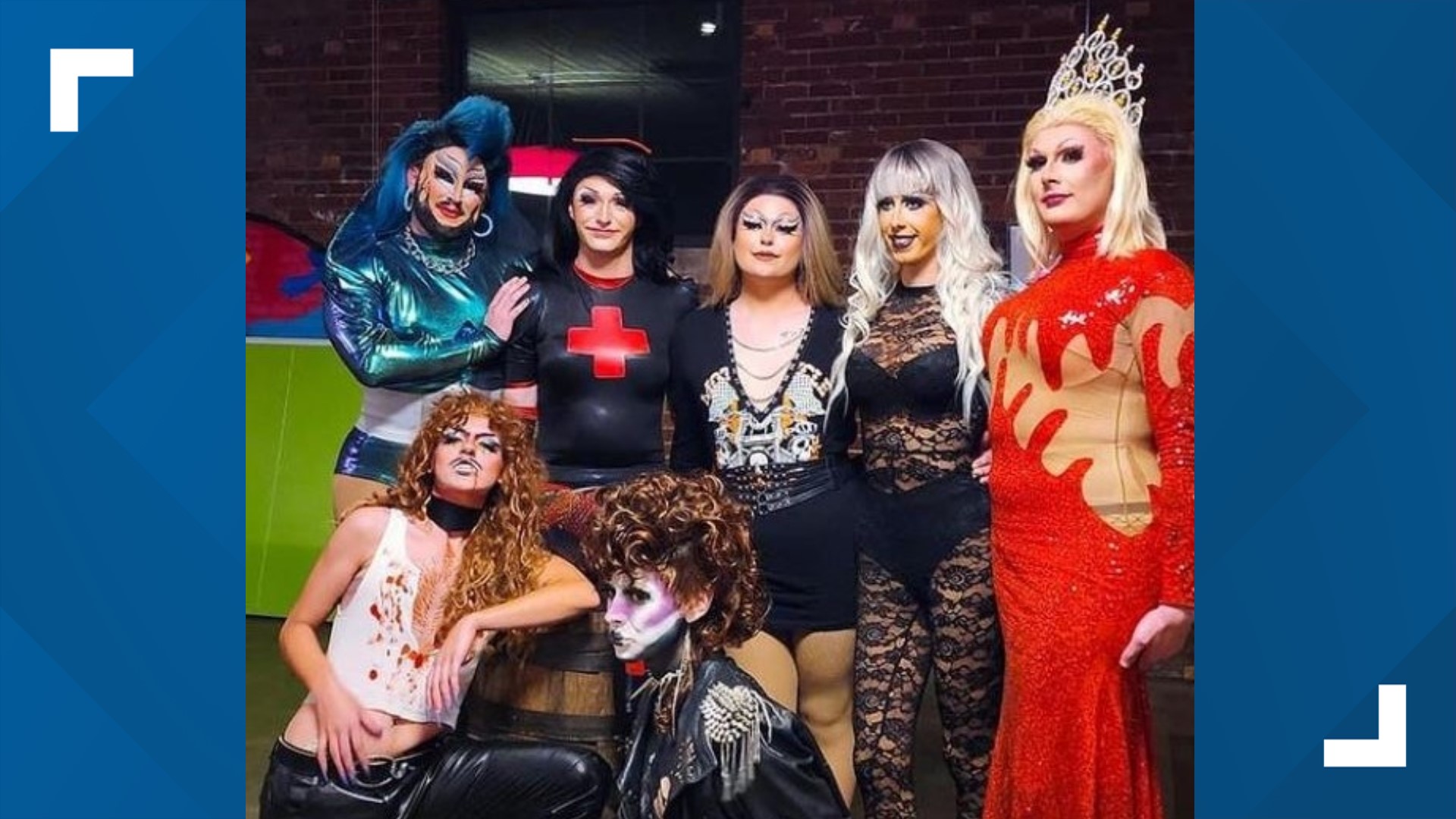 In East Tennessee, as the calendar turned to October, people's minds turned to one thing — Halloween.
Families prepared their costumes. Some dressed as vampires, and others donned shoulder pads to go as football players. Kids dressed as animals accompanied by their parents who were now fanged, painted and cheerful.
Meanwhile, one group was planning to host an all-ages event where the community could gather and celebrate Halloween. It was called the "Murvul Punk and Drag Haunted House" and it was going to be at The Bird and the Book — a business in Maryville that has earned a reputation as a community gathering place over the years.
In the past it has hosted movie showings, trivia and other events. It also hosts a routine drag bingo event.
Just 48 hours before the all-ages Murvul Punk and Drag Haunted House was scheduled to go on (and after almost 100 tickets were sold), organizers got a message from police. The chief of the Maryville Police Department said he spoke with the state attorney general and another legal advisor and said the event had to change or be canceled because of the venue's proximity to a church.
Hosts altered the event to be 18+ but similar events in East Tennessee could not change that quickly. A 'Drag Me to Nature' event at Ijams Nature Center was canceled and so was another drag-theme show at a small location in Alcoa.
Knox County Mayor Glenn Jacobs also posted on social media, saying he would do "...Everything I can to ensure these events don't happen on Knox County property." Ijams gave WBIR a statement about their canceled event.
"Some inaccurate information was been circulated, so I want to provide you with complete, accurate information. Ijams Nature Center is very careful regarding our program content. This event was organized with members of the LGBTQIA community to be a family event that involved people dressed in nature themes (birds, butterflies, etc.) and/or magical creature themes (elves, fairies, etc.) with song and dance as part of our Back Patio Social Series. It was never going to be a traditional drag show with burlesque elements. It was to be a celebration of nature in costume and song. Due to this confusion, we canceled the event.
Ijams will continue to seek ways to engage all of our citizens in Ijams' mission of connecting people to nature. Nature is for everyone to enjoy, as is Ijams Nature Center.
I apologize for any confusion.
Mayor Jacobs and Knox County are important partners with Ijams Nature Center. Without the County's support, we wouldn't have some of the wonderful facilities at Ijams' Mead's Quarry; such as the ADA pathway, swim dock, bathrooms, and Primal Playground. Ijams Nature Center is fortunate in our great relationship with Knox County and Mayor Jacobs."
What is Drag?
:
Comedy shows, storytimes and magic
Drag shows have been the focus of plenty of many news articles in recent months. It comes after stories have circulated online about the LGBTQ community as "groomers." Some outlets associated LGBTQ people with sexual abuse, positioning meetings and events as methods the community uses to coerce young victims.
The Anti-Defamation League said far-right voices launched the attacks in 2021 and fueled legislation aimed at erasing discussions of LGBTQ identities. Online searchers for the term also increased dramatically in that timeframe.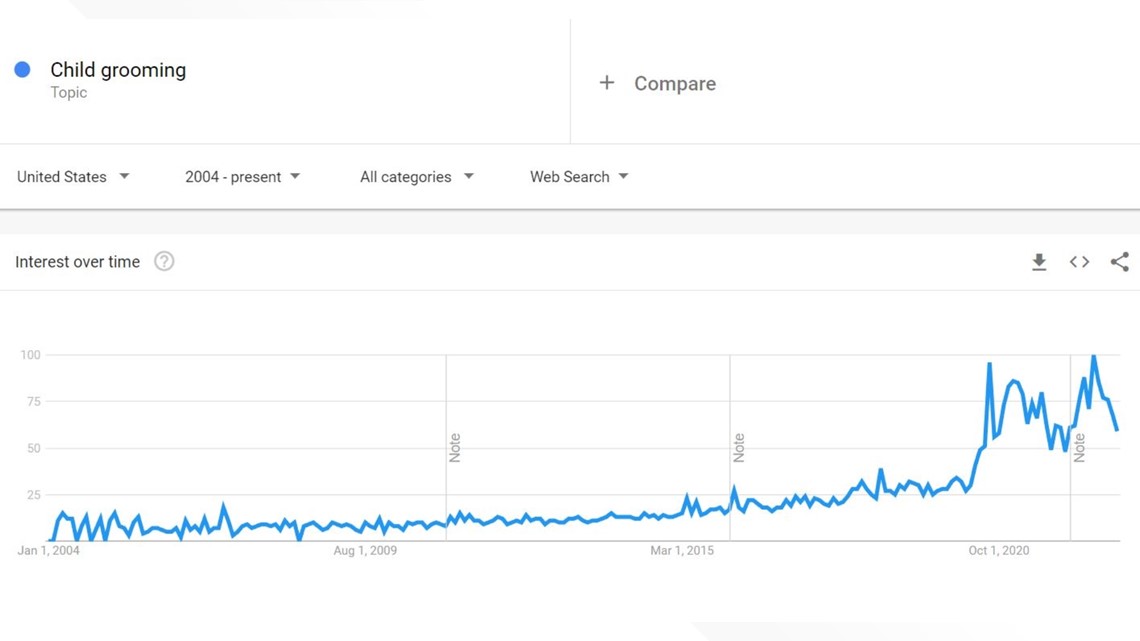 Since then, drag performers have faced hate, harassment and in one case — violence. A local business in Tulsa, Oklahoma was firebombed after hosting a drag event. Drag performances have been described by some politicians as explicit and sexual.
However those who perform and many who attend drag events say it's a false portrayal of drag.
"Drag is also a performance art, a lot of us are telling stories through our numbers. Even if it's just some sort of made-up story or something that's within us that we're bringing to life. There's always usually a story within every single drag number," said Juuls Carrizales, a drag queen. "Before I started doing drag, I used to be very shy, timid. I didn't like to speak a lot. I had really bad self-image issues. And then getting into drag kind of helped me love who I was, even behind all the makeup, because I was like, 'Wow, I am, I am a beautiful person.'"
Many drag performers read books, sing songs, perform magic tricks, or host comedy routines during their acts. They perform in regular events, only dressed as characters in exaggerated makeup or clothing.
"This is so amazing for queer kids to see because they've always been queer kids. You know, I didn't get to attend drag shows as a kid. And look at me now. I didn't have anybody influencing my life, to say I should be queer. I had the exact opposite in my entire life," said Carrizales. "I am here today as an out-loud queer person, and trying to convey that love to other queer people."
A drag show is usually a live performance of artists combining physical performances with theatrical costuming and makeup, encapsulating an exaggerated form of gender expression. In the same way that plays can have adult themes, so too can drag performances.
"I wouldn't wear the same things that I would at an all-ages event versus a 21-up event," said Carrizales. "I would cater the songs I would do, I would cater the way I moved the way I perform, and what I would wear to be all age-friendly."
However, adult-oriented performances are advertised ahead of time and follow similar rules as strip clubs. Those are governed by § 7-51-14 in Tennessee, the state law which oversees how adult-oriented establishments can operate.
The law says topless dancers, go-go dancers, exotic dancers, strippers, male or female impersonators, or similar entertainers at adult venues cannot perform within 1,000 feet of a church, child care facility, school, park, family recreation center or home.
The Bird and the Book is located almost directly next to a church and for that reason, Maryville Police said the Halloween event hosted by the venue had to be only for people 18 years old and older. Other events have been canceled by their own organizers, without authorities being involved.
"We are in fear for our lives, and I cannot stress that enough. A lot of times whenever some of us are getting ready nowadays, it's just the fear of like, 'Is someone going to come out to my show? Am I going to get attacked?'" said Carrizales. "I think we are constantly a target to gain voters from elected officials ... just because it's so easy to create fear-mongering off of the unknown, like us queer people as abstract artists."
Murvul Punk and Drag Haunted House
:
"There's no place, really, for kids to hang out."
At The Bird and the Book, owner Lisa Misosky was working with an event organizer on the Murvul Punk and Drag Haunted House, scheduled for October 8. Despite hosting drag events in the past, they were told by Maryville authorities this particular event had to change. Otherwise, they could face legal consequences.
The organizer of the event previously said on social media that all "Murvul" events would be for people of all ages. So despite having already sold tickets, it would no longer be branded as a "Murvul" event. Instead, it became a costume party.
"The whole point of the event was for it to be an all-ages event, because there's no place, really, for kids to hang out and the drag portion of the event was at the very end. It was originally scheduled to be longer than it was," Misosky said.
Misosky has owned The Bird and the Book since 1999. She said in those years, she forged deep connections with the community, and even met with the mayor after learning the event may need to change.
The Bird and the Book sold 87 pre-sale tickets. The event became a shorter, smaller costume and dance party. Many of the drag performers decided not to go after seeing the controversy surrounding it.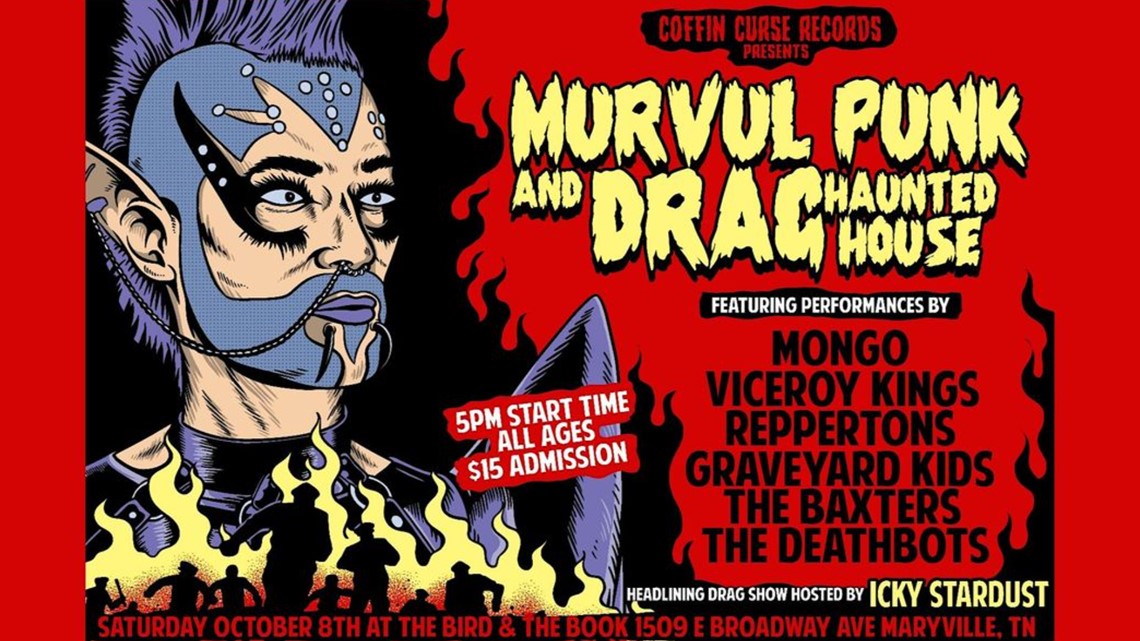 "We love it here, we plan to die here," said Mike Billups, the organizer of the event. "We definitely did not expect there to be this much negativity towards certain communities that we've encountered."
After the change they sold nine tickets. Billups had worked on the event for months through his company, Coffin Curse Records.
To prepare for the haunted house he prepared promotional materials, gathered supplies and connected with performers.
Two days before the event, he learned it had to change. He even worked with a nearby church that allowed Billups to use their parking spaces.
"One of the things with my events is I've always wanted them to be all-ages. I grew up in the punk community. I'm 41 years old, but I've been in the punk scene since I was a teen," said Billups. "I know the importance of all-ages, especially in the punk and metal community."
Together with Misosky, he said they checked IDs at the door. Anyone under 18 years old had to be accompanied by a parent. Although there was still an event, it was different. It had changed from his original vision.
"My grandmother used to tell me, people don't care what you do in the four walls of your home, that's your business. If your neighbor needs you, you need to be there for them, but your business is your business," said Misosky. "Well, the people that are coming here are trying to take and make everyone else's business, their business."
Misosky said she reached out to attorneys and planned to file a lawsuit about the event's changes.
"It's not going to settle down because of the same people keep going live and putting us on blast that we're the center of satanic activity in Blount County," said Misosky. "So at what point am I supposed to actually rest and feel better and safe in my community, where I was born?"
Hexagon Brewing's Drag Show
:
The show must go on
On October 29, Hexagon Brewing Company was planning to host a drag show for people at least 21 years old. Later though, Stephen Apking, a co-owner of the brewery, said they got a call from a parent with a question.
Since the brewery is an all-ages facility, a parent called and wanted to know if it would be allowed for them to bring their child into the taproom during the event. Apking said that they decided to change it to allow all ages to attend.
It was going to be a musical skit for Halloween, according to Katie Hansen, another co-owner. She said there was going to be music from movies like Hocus Pocus. The performers would have lip-synced the songs while dancing around the room.
"It was almost like a theatrical performance, where they dressed up as different characters," she said. "One dressed up like Cher and sang, and we did a Hocus Pocus theme. There was no nudity, no genitalia, or anything of that nature. It was just like a Broadway performance, or a Shakespeare performance. It was actually a beautiful and fun experience."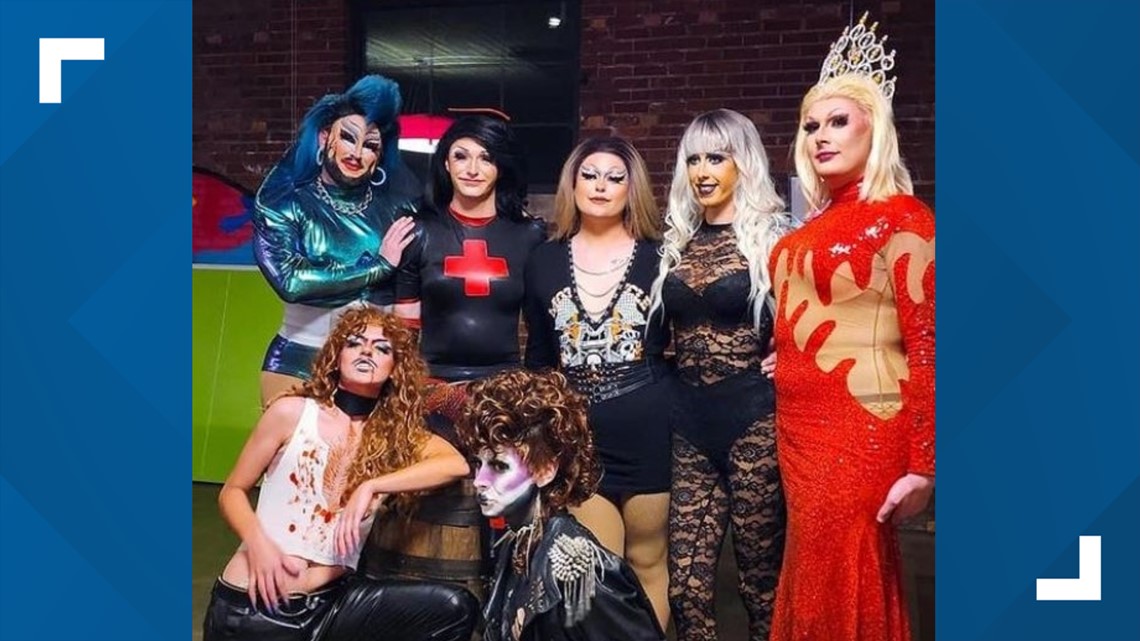 There were children present, but they were accompanied by their parents. Apking said all children need to be accompanied by parents in the taproom.
"I thought it went fantastic," said Apking. "I don't think that anybody was offended by the performance. I don't think we saw anybody leave because of anything offensive...We try to welcome everybody. If a drag show is not your thing on Saturday night, then don't come out to it."
The owners of Hexagon say they feel they did everything the way they should have, "We felt like this fell within the bounds of both legal and appropriate, especially being that it was Halloween," said Apking. "I cannot tell you how many regular patrons (we got,) and I'm perfectly honest, I do not know their sexual orientation."
After the event, Hexagon started receiving hateful messages about it.
"Hexagon as a company had already been receiving phone calls from concerned citizens, starting the Thursday prior to the event," according to Hansen. "At first, we were fearful to continue forward, because we were being accused of such heinous accusations."
Some of those messages claimed the brewery was an adult-oriented business. Hansen specified that they were a manufacturing production facility for beer, a taproom and a restaurant. She also said they spoke to Knox County officers to make sure the drag show was legal.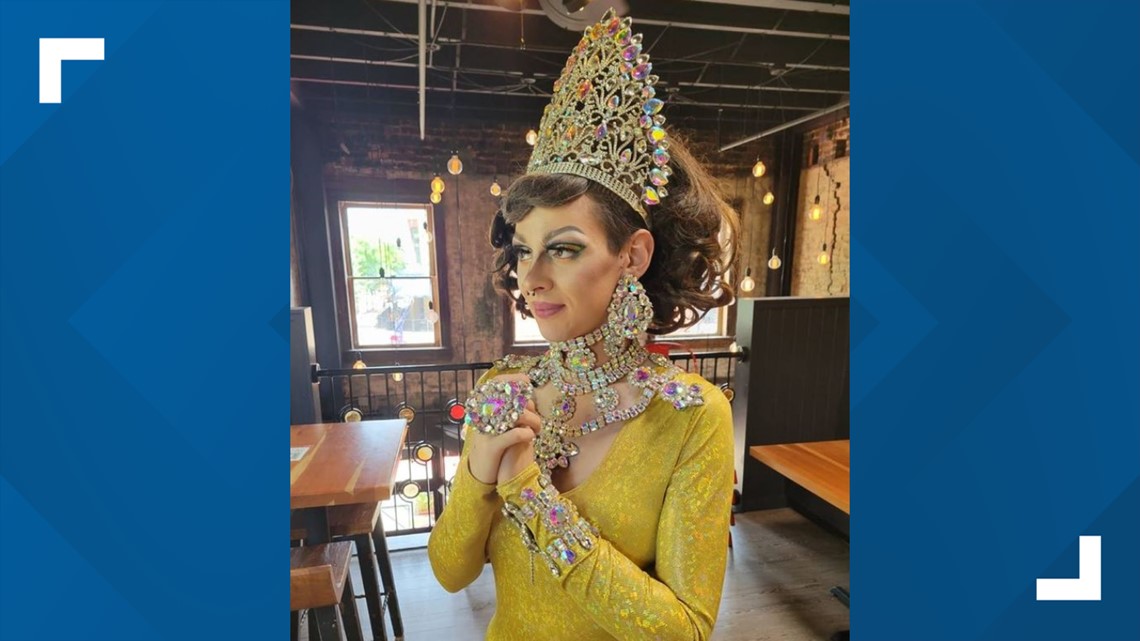 "Friday rolled around...then the emails started coming in," said Hansen. "Our entire social media platform has blown up and started portraying a lot of hate throughout the religious community. So, we decided that we were going to dig our heels in and take a stance and say that we accept everyone. Love is love, and that this drag show is self-expression of that love and that beauty."
After the performance, she said the messages started flooding in even more. There were death threats targeted at the owners, staff and patrons, Hansen said.
Before the event, Apking said they received around 30 phone calls about it. After, he said every phone call was about them. He kept answering, saying he had to as a business owner. He said they received more than 100 online messages too.
"Thursday night, at first it started out kind of comical. I hate to say it in that manner, but just looking back on it, one of the individuals referred to me as a 'closet creeper,'" he said. "Deep down, I know that's not the case. I know that none of my staff is like that, I know that I'm not like that, I know that we don't represent that."
The host of the event also came to them in fear, he said. The host said their other shows had been canceled too.
"Just seeing somebody being bullied and actually being a part of it now, I never realized that community was facing that kind of ridicule and that kind of bullying," Apking said.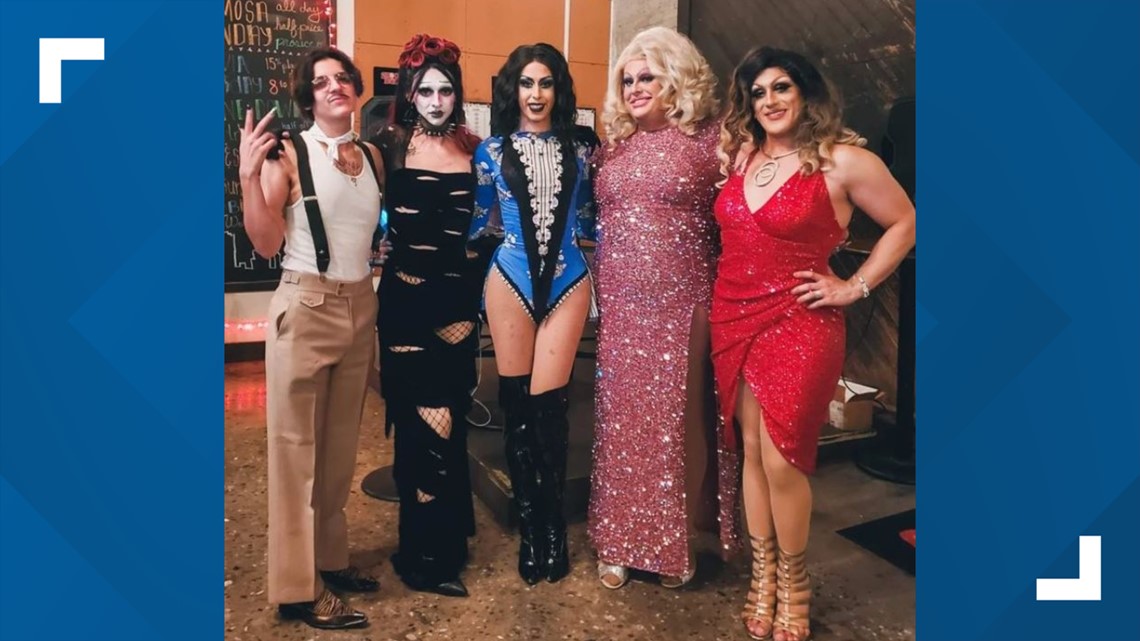 Hansen said she also lost her part-time job due to the drag show and the messages they received.
"I never saw it coming," she said. "I host many events, and I've never had an event cause another issue in my life...My mission in life is just to help people, and to help the community where I reside and give back — just leave this place a better place than it was before I leave this world."
"So what I lost that job?" she said. "There are other people that are being affected by this and the community is slowly being picked apart and picked off by hate. And at the end of the day, I want to be a part of the solution and not the problem."