SEVIERVILLE, Tenn. — A former foster dog now has a permanent home with the Sevierville Police Department.
Dispatchers brought Maddie from the Sevier Animal Care Center to the station over the holidays. She'd been in the shelter for about eight weeks.
It didn't take long for the 8-year-old hound mix to find her place!
"She loves all the officers, visits everyone," said dispatcher Sarah Hammonds, whose interview was constantly interrupted by Maddie's eager barks for attention.
This is the second foster dog the department has taken on. The first one was adopted pretty quickly by one of the officers. Now Maddie is everyone's dog.
Her adoption was made official on Friday, and she now sports her official uniform, a blue vest with her name and title: Support K-9 Maddie.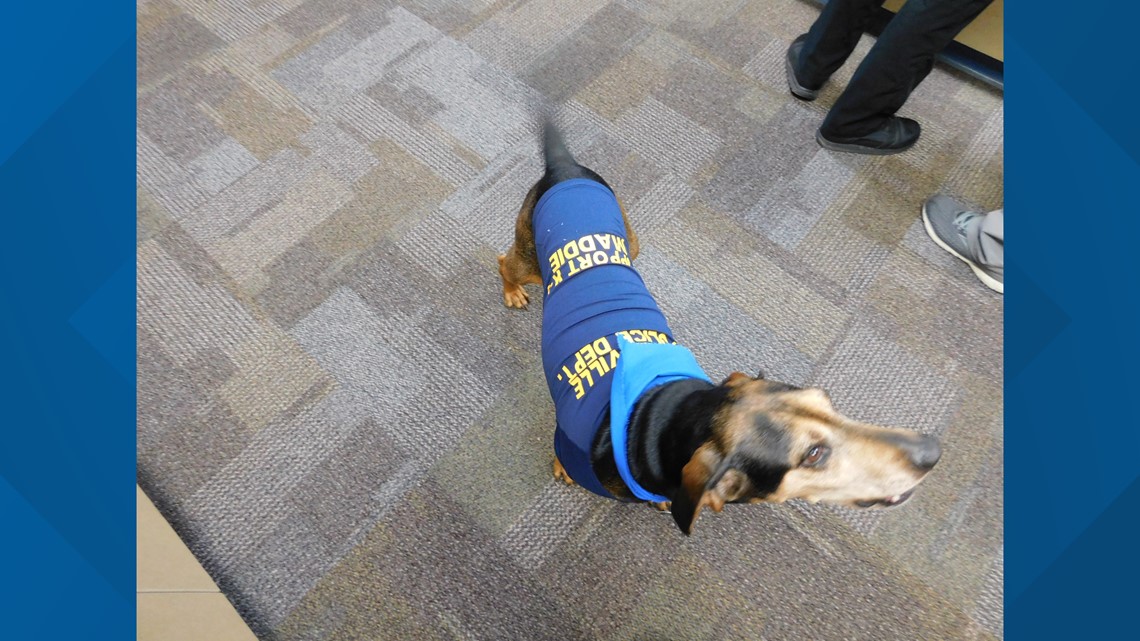 Hammond said she brings happiness to everyone in the office.
"She brings such a lightness to this job and when we're stressed she's around your feet waiting to be petted. She's a positive influence around us,' she said.
Maddie does live at the police department, but it's staffed 24 hours a day, so she's never alone. Hammonds said she spends most of the night sleeping and greets everyone in the morning, frisky and ready to play!
"She's not a chore. She's a blessing. A break from the chaos to take a few minutes with her," Hammonds said.
Many staffers now keep treats in their offices, and Maddie knows where every one of them is and makes sure to visit them every day between her naps.