ROANE COUNTY, Tenn. — The Roane County community mourned the loss of high school student Blazer King Beaumia who died after a car crash on Tuesday night.
After the funeral service at Kuker Funeral Homes, hundreds lined up to honor his life and pay their respects. Jeff Blackburn, lead pastor at New Life Church, said it was a huge loss for everyone.
"He was good to people, he was good to his peers," Blackburn said. "Today is a celebration of life because we know where he's at, he's in heaven."
One by one, people waited in line to hug Beaumia's family at Grove Church in Kingston and many of them were students.
Right above his casket the number 12, Beaumia's quarterback jersey number, hailed his community. Senior pastor Phillip Martin said it's been hard for everyone.
"No matter how people try to describe it, the pain, there's no words for family, for friends, for students," Martin said. "Our community is rising up around the Beaumia family to love them in the most difficult times."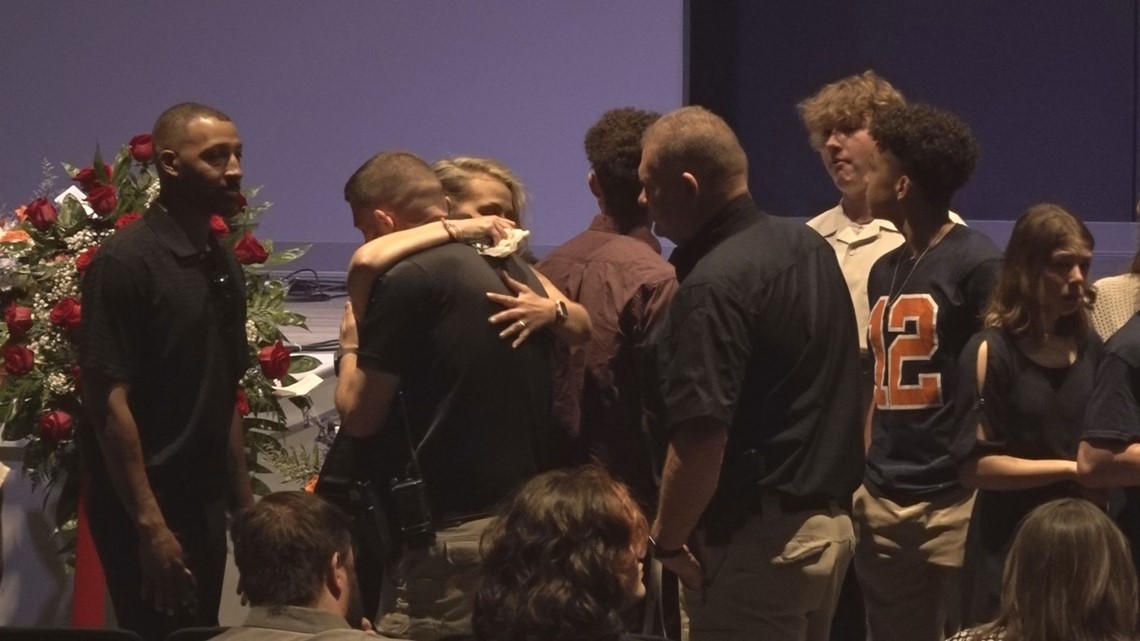 Many people have also helped by donating to Beaumia's GoFundMe, "In loving memory of Blazer Beaumia."
"Blazer's unexpected passing has left his family and friends devastated, and we would like to offer our support during this difficult time. As a community, we can come together to support the Beaumia family and honor Blazer's memory," according to the fundraiser.
Martin who has spoken with the family and the community said Beaumia's life brought people together to love one another. Martin also described him as a "real down-to-earth guy" who made everybody else better.
"So if I had to say what identifies Blazer Beaumia's [life], it [would] be love and that's what you're seeing in this community now," Martin said.
Blackburn said Beaumia loved the Lord, was in church, was kind and loved playing sports. A moment that will stick with Blackburn happened about one week ago when he was at church with some of his peers.
"There was a group of young men huddled together with their arms on each other's shoulders their heads touching each other and seeking the Lord," Blackburn said.
While the community celebrated Blazer's life and mourned this loss, Blackburn said one thing certain, it will take time.
"This will be a burden for months, years to come. So just pray for the family," Blackburn said.