Editor's Note: This story originally appeared on WBIR.com one year ago.
Legendary University of Tennessee Lady Volunteers basketball coach Pat Summitt has passed away.
She died early Tuesday morning at the age of 64, according to a statement from Tyler Summitt.
Tyler Summitt released the following statement.
"It is with tremendous sadness that I announce the passing of my mother, Patricia Sue Head Summitt.
She died peacefully this morning at Sherrill Hill Senior Living in Knoxville surrounded by those who loved her most.
Since 2011, my mother has battled her toughest opponent, early onset dementia, 'Alzheimer's Type,' and she did so with bravely fierce determination just as she did with every opponent she ever faced. Even though it's incredibly difficult to come to terms that she is no longer with us, we can all find peace in knowing she no longer carries the heavy burden of this disease.
For 64 years, my mother first built her life upon a strong relationship with her Lord and Savior, Jesus Christ. Her foundation was also built upon love of her family and of her players, and love of the fundamentals of hard work which reflected her philosophy that 'you win in life with people'.
She was the fourth of five children – Tommy, Charles, Kenneth and Linda – born to Richard and Hazel Head on June 14, 1952, in Clarksville, Tenn. Her tireless work ethic and her love of the game of basketball were created during the time she spent growing up on the family farm.
She'll be remembered as the all-time winningest D-1 basketball coach in NCAA history, but she was more than a coach to so many – she was a hero and a mentor, especially to me, her family, her friends, her Tennessee Lady Volunteer staff and the 161 Lady Vol student-athletes she coached during her 38-year tenure.
We will all miss her immensely.
A private service and burial will be held for my mother in Middle Tennessee. I ask that you respect the privacy of that time.
We are in the process of finalizing the details of a public celebration of her life which will take place in one of her favorite places, Thompson-Boling Arena. Once those details are finalized, we will share them with you.
A Celebration of Life Service honoring the life of Pat Summitt is set for Thursday, July 14 at 7 p.m. ET at Thompson-Boling Arena. It will be open to the public and more information will come at a later date.
Gov. Bill Haslam ordered the flags at the Tennessee Capitol and state buildings to be lowered at half-staff through sunset on Thursday in memory of Summitt.
As head coach at the University of Tennessee from 1974-2012, Summitt won eight NCAA championships. Tennessee won national titles in 1987, 1989, 1991, 1996, 1997, 1998, 2007 and 2008.
The mark is surpassed only by the 10 titles won by UCLA men's basketball coach John Wooden, and the 11 titles won by UConn women's basketball coach Geno Auriemma.
In 38 seasons as UT"s head coach, Summitt compiled a 1,098-208 record and never had a losing season. During Summitt's tenure, every single one of her players who completed their eligibility graduated.
Summitt coached 21 All-American players, 39 All-SEC players and 12 Olympians (as part of the 1976 Summer Olympics. A total of 14 players Summitt coached while at UT played in the Olympic games at some point).
As of Sunday morning, Summitt and Duke men's basketball coach Mike Krzyzewski are the only two NCAA Division I basketball coaches with more than 1,000 wins.
Editor's Note: Summitt's 1,098 wins are combined NCAA and AIAW wins. The NCAA started recognizing women's basketball as a sport in the 1981-1982 season. Under Summitt, the Lady Vols competed in the AIAW from 1974-1981.
Summitt's teams made 18 Final Four appearances, and won 32 combined Southeastern Conference titles (SEC Championships and SEC Tournament titles).
From 1976-2011, every Lady Vol basketball player had the opportunity to play in at least one Final Four.
In 2012, President Barack Obama awarded Summitt the Presidential Medal of Freedom, which is the highest civilian honor in the nation. She also received the Arthur Ashe Courage Award at the 2012 ESPY Awards.
Summitt was born June 14, 1952, in Clarksville, Tenn., the fourth of five children. She attended Cheatham County High School in Ashland City, Tenn., because Clarksville did not have a girls team.
Back then, Summitt was known as Trish Head (her full name is Patricia Sue Head Summitt. Pat Head married R.B. Summitt in 1980. Pat Summitt filed for divorce in 2007, and the divorce was finalized in 2008).
Trish was a four-year starter at Cheatham County High School from 1967-1970, and a TSSAA All-District 20 Tournament selection in 1970, the same year she graduated.
In 1970, there were no athletic scholarships for women with the passage of Title IX still two years away.
Each of Summitt's brothers received athletic scholarships, but her parents had to pay her way to college.
Summitt led UT-Martin to a 64-29 record from 1970-1974, including two trips to the national championship tournament in 1972 and 1973.
Four games into her senior season, Summitt tore her anterior cruciate ligament, a near career-ending knee injury.
UT credits Helen B. Watson, the former chairperson of the university's physical education department, for bringing Pat Summitt (then Pat Head) to Knoxville. Watson asked Summitt to coach the Tennessee women's team in a letter dated April 30, 1974.
Here is the 1974 letter from U of Tennessee to Pat Summitt offering her the job. pic.twitter.com/4hjTq9FbP5

— SI Vault (@si_vault) June 28, 2016
Summitt received her bachelor's of science in physical education from UT-Martin in 1974.
When she began coaching at UT at the age of 22, the NCAA was still eight years away from recognizing women's basketball as a sport. Summitt also earned her master's degree in physical education from UT-Knoxville in 1975 while serving as the women's head coach.
A total of 53 people witnessed Summitt's first game as Tennessee's coach against Mercer University on Dec. 7, 1974. Summit's first win came in a 69-32 victory against Middle Tennessee State at UT's Alumni Gym on Jan. 10, 1975.
Summitt lead her team to a 16-8 record in her first season as coach, attended classes for her master's degree, taught physical education classes and stayed in playing shape.
After her knee injury ended her UT-Martin career, Summitt made the U.S. women's World Championship team and the 1975 Pan American Games team.
In her second season as head coach of the Lady Vols, Summitt compiled a 16-11 record and second-place finish in the state tournament. Summitt's first two seasons as head coach were the only two she recorded less than 20 wins in a season.
As a player at age 24, Summitt co-captained the 1976 U.S. Olympic Team. The team earned a silver medal in the summer Olympics held in Montreal.
On Jan. 13, 1979, Summitt won her 100th game coaching in a 79-66 win over N.C. State.
At the 1984 summer Olympics in Los Angeles, Summitt coached the U.S. women's basketball team to its first gold medal.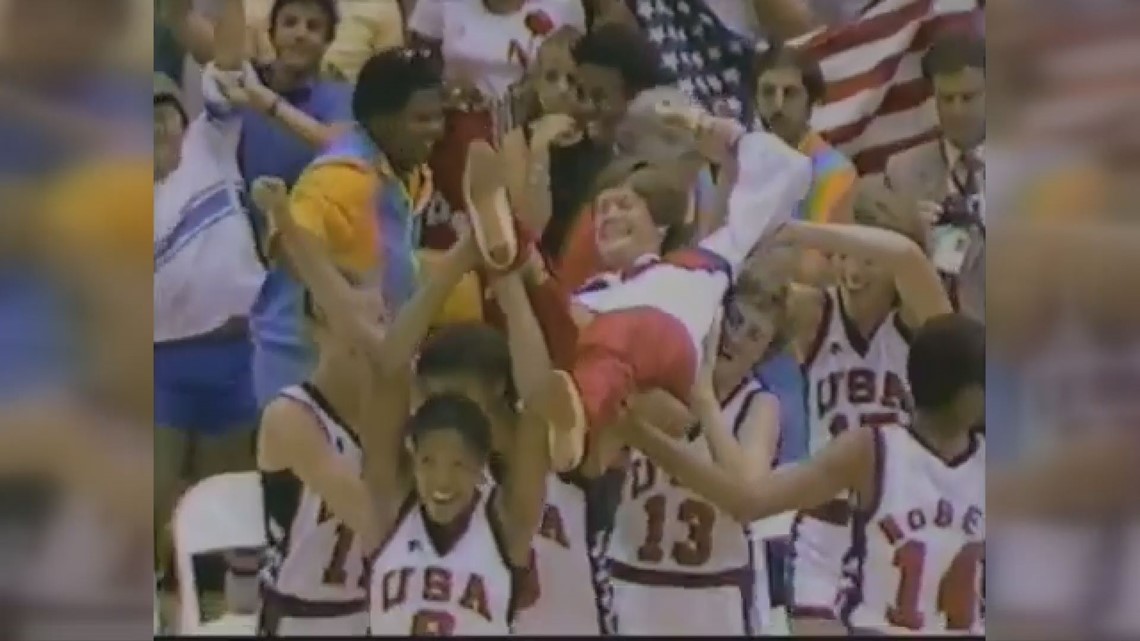 Summitt and the Lady Vols won their first NCAA title in a 67-44 win against Louisiana Tech on March 29, 1987.
On April 2, 1989, the Lady Vols won their second NCAA title with a 76-60 victory against SEC rival Auburn.
In 1990, she gave birth to her son Ross Tyler Summitt after going into labor during an out of state recruiting visit. Summitt demanded the pilot fly her back to Knoxville, so her son would be born in Tennessee.
In her autobiography "Sum It Up: A Thousand and Ninety-Eight Victories, a Couple of Irrelevant Losses, and a Life in Perspective," Summitt said she had six miscarriages, including four between 1982-1989 prior to Tyler's birth.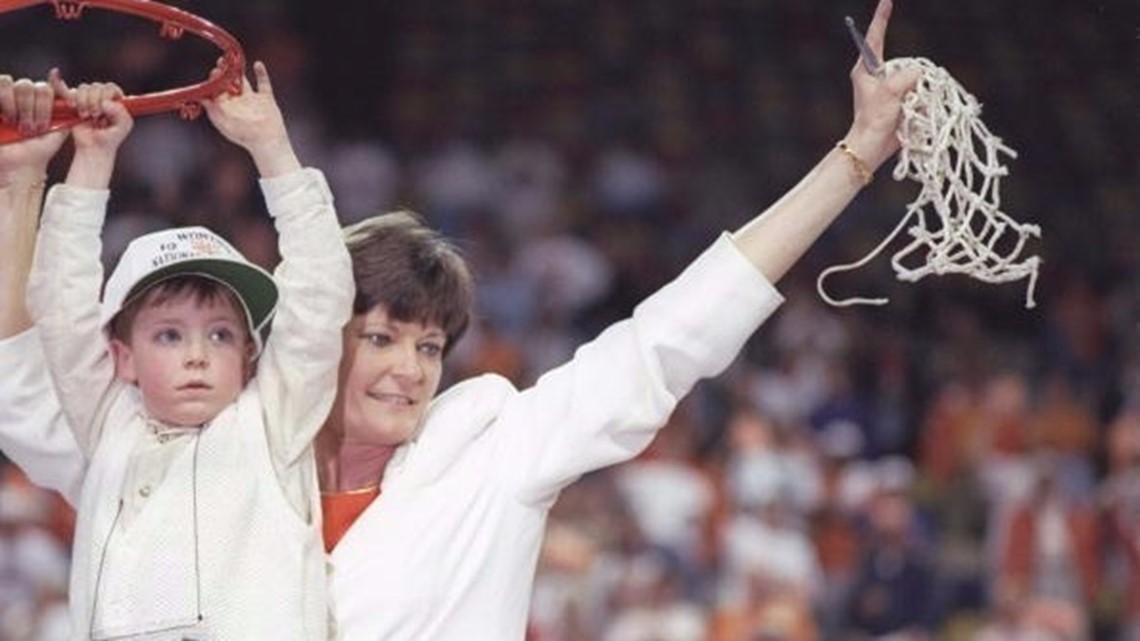 In the first overtime women's national championship game,Tennessee beat Virginia 70-67 for the program's third NCAA title.
The 1996-1998 seasons were Pat's most successful years, as the Lady Vols won three consecutive national titles, the first ever three-peat in women's NCAA history.
The third championship in 1998 was capped off by a perfect 39-0 record. The Lady Vols' three straight titles set an NCAA record and equaled the championship mark held by Immaculata (1972-74) and Delta State (1975-77), which won in the days before the NCAA administered women's athletics.
Led by Chamique Holdsclaw, the undefeated 1997-1998 Lady Vols team won by an average margin of 30.1 points per contest. Only three teams came within 10 points of beating the Lady Vols during the undefeated season.
In 1999, Summitt was inducted into the inaugural class of the Women's Basketball Hall of Fame in Knoxville.
In the second round of the 2005 NCAA Tournament, Summitt surpassed North Carolina men's basketball coach Dean Smith as the all-time wins leader in NCAA history. Summitt's 880th win came in a 75-54 win against Purdue. The NCAA announced after the game the court at Thompson-Boling Arena would be called "The Summitt" in her honor.
The Lady Vols won consecutive national championships in 2007 and 2008 led by Candace Parker, who became the first woman to dunk in an NCAA Tournament game. Parker was also the first woman to dunk twice in a college game.
On April 4, 2007, Tennessee beat Rutgers 59-46 to win its first title in nine years. Tennessee beat Stanford 64-48 to win consecutive championships on April 10, 2008. The 2008 title was Summitt's last.
A 73-43 home win against Georgia marked Summitt's 1,000th career victory on Feb. 5, 2009.
The 2008-2009 season ended with a 71-55 first round loss to Ball State. It marked the first time Tennessee did not appear in the Sweet 16 since the NCAA first sanctioned championships in women's basketball for the 1981-1982 season. Prior to the loss, the Lady Vols went 42-0 in the first two rounds of the NCAA Tournament.
Summitt announced publicly on August 23, 2011, her diagnosis of early-onset Alzheimer's disease at age 59.
In November 2011, Summittt announced the formation of the Pat Summitt Foundation Fund, with proceeds going to research to find a cure for Alzheimer's disease. The SEC and its member institutions later donated $100,000 to the effort.
According to a release, the foundation made a commitment to raise $500,000 per year for the next five years to support the operation of The Pat Summitt Alzheimer's Clinic.
Thousands have contributed donations and supported Alzheimer's disease research using #WeBackPat.
Summit worked with many organizations including United Way, Big Brothers Big Sisters of East Tennessee, Juvenile Diabetes, American Heart Association, the Lupus Foundation and several domestic violence non-profit organizations.
The Lady Vols finished the 2011-2012 season with a 27-9 record and won the 2012 SEC Tournament. The 2011-2012 season ended in a loss in the Elite Eight to the eventual unbeaten national champion Baylor Lady Bears.
Summitt stepped down as UT's head coach, and into the role of head coach emeritus on April 18, 2012. UT named Holly Warlick, a three-time All-American guard for Summitt and a 27-year assistant coach under Summitt from 1985-2012, the head coach of the Lady Vols on the same day.
Marquette University also announced the hiring of Tyler Summitt as an assistant for its women's basketball team on April 18, 2012.
UT unveiled a bronze statue to honor Pat Summitt at a ceremony on Nov. 22, 2013. The statue is located across the street from Thompson-Boling Arena at the corner of Lake Loudon Boulevard and Phillip Fulmer Way.
This story will be updated when more information becomes available.