KNOXVILLE, Tenn. — Stefanos Pizza has felt like home to Sandra Hobbs for more than three decades. The general manager first started there in 1988.
"It's been my livelihood. It's provided me with a great life," Hobbs said. "It's meant a lot to me about all the friends that I've made over the years with employees and customers."
"It's been here forever. It was the original Stefanos, the very first one," she said. "Some of [the customers] come two or three times a week and so seeing their reaction has been hard."
Stefanos will still be serving its iconic pizza at its newer Hardin Valley location. Developers hope to demolish the original spot to make way for what they're calling "The Hub on Campus."
"I hate it. I think they are losing all of the mystique of the strip," Hobbs said.
"I know we need housing. I know it's something that needs to be done, but the tradition of the Cumberland Avenue Strip is just going away so I don't care for it."

In June, Core Knoxville Cumberland LLC purchased the building from Stefanos' landlord for $3.25 million. It purchased nearly two dozen other lots for what it's calling a "transformative project" with four apartment buildings and a parking garage.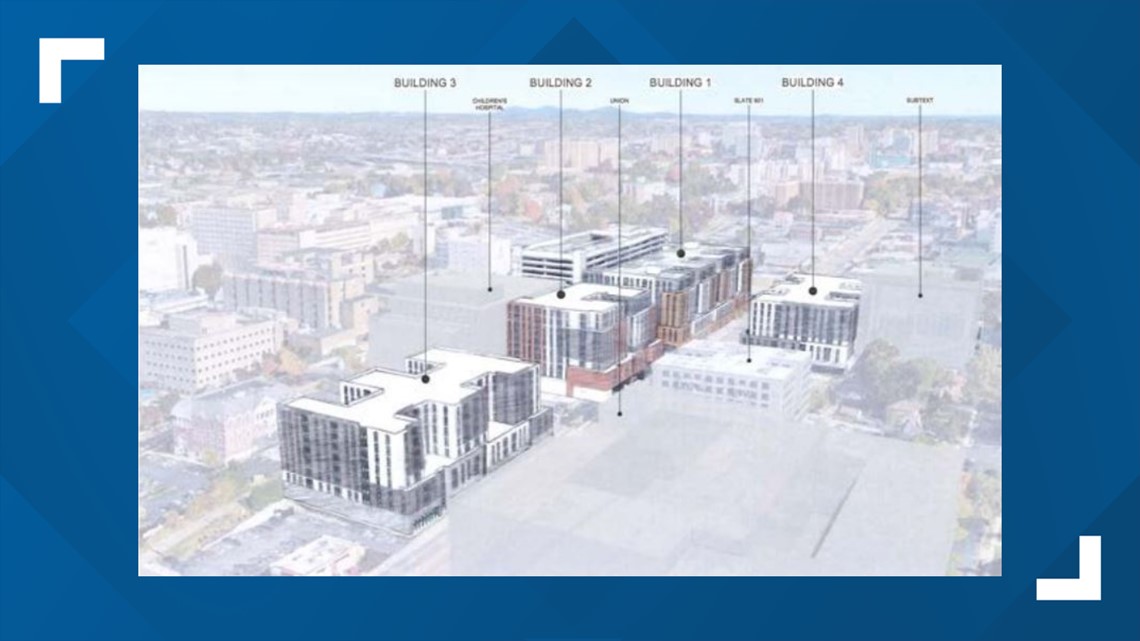 The central building would be located along Cumberland Avenue between 19th and 20th streets, where Stefano's Pizza, Jimmy John's and University Liquors are currently located.
Building 2 would replace the Rocky Top Market/Shell gas station across the street. It would include a drive-thru Taco Bell, so developers could use the existing Taco Bell across the street.

Building 3 would be constructed on the properties where Mellow Mushroom, the Cook Out Office/Store, Insomnia Cookies and Victor's Tacos currently are. Plans submitted show it would be eight stories tall and include 168 units.
Building 4 would be built where the existing Taco Bell, Yesterday's Bar, Panera Bread, Tennessee Farmhouse Fraternity and property previously owned by Bob Lattimer are located.
"Stefanos is still around [in Hardin Valley], so they can still get their Stefanos pizza," Hobbs said. "I'd just like to thank all the loyal customers that we've had through the years and the staff."