CLARKSVILLE, Tenn. – State and Clarksville-area officials got a first extensive look inside the $800 million Hankook Tire plant during a grand opening event Tuesday morning, as the South Korean-based company unveiled its first U.S. manufacturing site.
Hankook represents one of the biggest regional manufacturing scores of the modern era, amid a wave of middle Tennessee economic growth and expansion of which business executives including Hosung Suh, Hankook Tire America Corp. president, become eager players.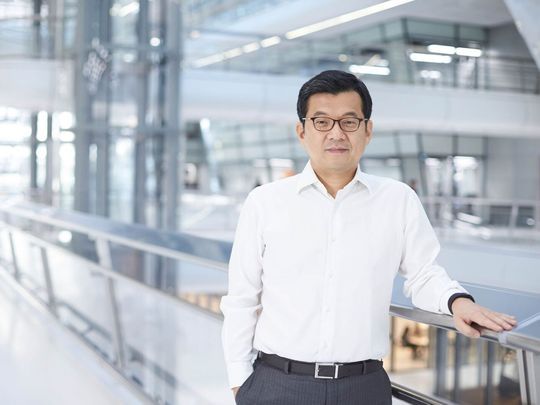 "Tennessee, and Clarksville, were chosen for this facility because of the strong work force here, in addition to the many large automakers that are close by, and the fact that the location is convenient logistically to a large share of the marketplace," Suh said.
Tuesday's grand opening of the 1.5 million-square-foot plant on 469 acres off International Boulevard is expected to demonstrate Hankook's "commitment to technology, innovation and growth in North America," officials said, adding the highly automated Clarksville plant will reflect Hankook's latest and most advanced global tire manufacturing technology.
The plant has just under 1,000 employees as of this week, after a gradual ramp-up of hiring, training and tire production over the past year.
Suh said what dignitaries — including Gov. Bill Haslam, U.S. Rep. Marsha Blackburn, and Korean Consul General Seong-jin Kim — will see Tuesday marks phase 1 of the master plan for Clarksville, where 1,000 workers is the year-end goal.
Phase 2 potentially over the next couple of years would add another 800 workers to the payroll, he said.
Suh said hiring in Clarksville is currently "a little ahead of schedule," and he cited the advantages of availability of a veteran work force, largely funneled through nearby Fort Campbell, and job training advantages being pursued through Clarksville's signature institution of higher education, Austin Peay State University.
Wages for the Clarksville plant, where about 70 percent of jobs are production-related, top out at around $18 an hour based on seniority.
In a news release, the company said Clarksville marks Hankook's eighth plant worldwide. There are two existing plants in Korea, three in China and one each in Hungary and Indonesia.
In phase 1, the Clarksville plant will produce 5.5 million tires annually for tire dealers and consumers principally in the U.S. market. In Tennessee the company will make passenger car radial and light truck radial tires. The local products will include the Kinergy PT, an all-season tire and Hankook's first made exclusively in the U.S.
When the second phase is completed, Hankook will double its production capacity, officials say, to 11 million units annually. With the addition of the Clarksville plant, Hankook's total, global production capacity will grow to 104 million tires this year.
The company is building market share through its selection as provider of original equipment for select 2018 Toyota Camry models, and by furthering a partnership to become main original tire supplier for the 2018 Honda Accord.
Furthering its U.S. commitment, the company set up its corporate headquarters last year in Nashville, and has hired more than 100 people for operations there.
Tennessee state government, along with Clarksville-Montgomery County, have combined for around $72 million in incentives, including land value, to bring Hankook to Clarksville. Ongoing state road improvements near the plant site are also part of the incentives package