Reading the viral Facebook post can put a damper on the holiday giving spirit.
It names charities we've all heard of--the American Red Cross, Goodwill, UNICEF and more--to claim the money we donate does not actually go to causes the charities are designed to support.
Claims of huge CEO salaries and company cars are enough to make your heart shrink three sizes.
To see whether it's true, we used the watchdog website Charity Navigator and spoke with to Tony Binkley, the CEO of the the Better Business Bureau of Greater East Tennessee.
"Even though a company may be nonprofit or not-for-profit, they've got to pay somebody to do the work," he said, pointing out some donation money just has to be used for administrative expenses. "You've got to pay for the building and things like that and you've got to pay some salaries."
But how much of your dollar do the organization in the post actually give to people in need?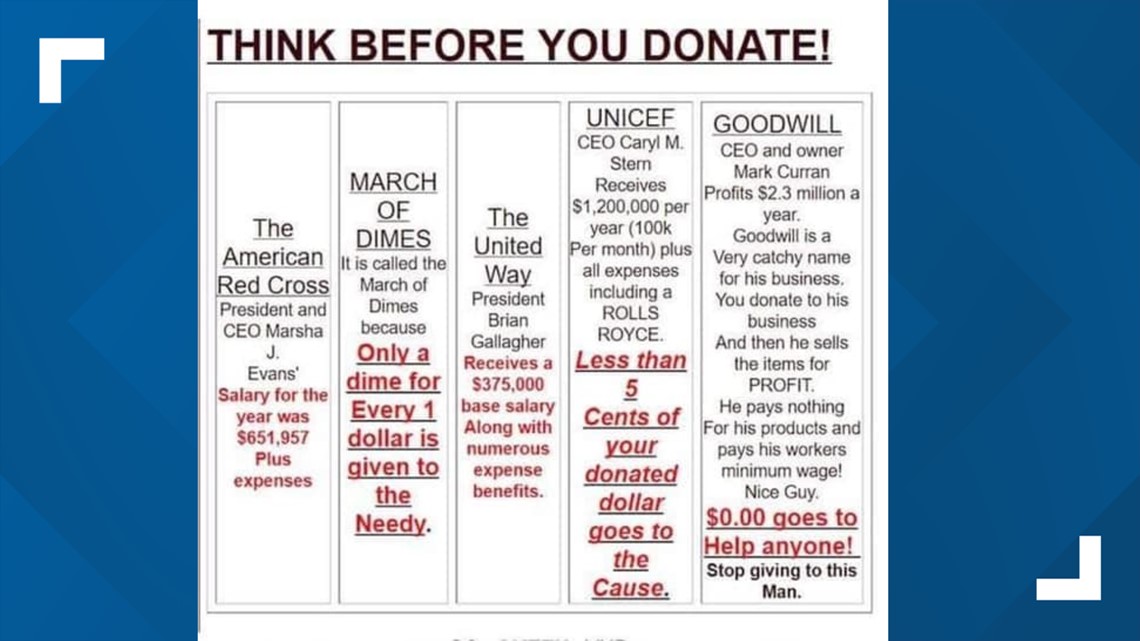 The post says the American Red Cross CEO makes $650,000 a year. The charity said that's about $50,000 too high--and the post has the wrong name for its CEO, too. Gail McGovern has held that position since 2008.
The post claims the March of Dimes got its name because only a dime for every dollar makes it to the needy. It's actually closer to 75 cents--and the name comes from its 1930s fundraising push.
The United Way CEO makes more than a million dollars a year--nearly three times what the post claims. But its East Tennessee chapter spends 86 cents of each dollar on programming.
For UNICEF, it's 89 cents. And its CEO doesn't have a Rolls Royce as the post claims. The charity said she drives a 2016 Toyota hybrid.
Finally Goodwill. The man the post says is in charge does not work there--and here in East Tennessee, 90 cents on the dollar goes to programming.
But Binkley said giving can make a real difference.
"You want to make sure that your dollars are going to the right place to actually help somebody and not pad the pockets of somebody else," he said.
Binkley said the BBB keeps a list of accredited charities via its website, give.org.