TENNESSEE, USA — (Thursday 9 a.m.) The Colonial Pipeline has restarted, but it warns that it could take several days before the gas supply returns to normal.
While panic buying continues to lead to shortages at some East Tennessee gas stations, gas is still available and more is on the way. Experts urge people not to fill up their tanks unnecessarily and definitely do not hoard gasoline.
As expected, gas prices are on the increase.
In Knoxville on Thursday, the average price for a gallon of regular is now $2:85, according to AAA. That's an increase of six cents from Wednesday and fifteen cents from a week ago.
(Wednesday 6 p.m.): The Pilot Flying J company said that fuel was still available across Knoxville on Wednesday, but they also noted that there could be temporary spot outages of some fuel types as they work to deliver more fuel.
They said that Pilot is mobilizing additional resources in response to the Colonial Pipeline cyberattack, such as using extra fuel drivers to supply fuel in the area and across the Southeast.
"We greatly appreciate our guests' patience and encourage people not to panic buy or hoard fuel," said Brad Jenkins, the senior vice president of supply and distribution. "This will help the supply chain to better keep up with demand and enable us to adequately deliver fuel to our travel centers."
Gas stations in East Tennessee are feeling the impact of the Colonial Pipeline cyber attack. People sent us photos Tuesday evening of gas stations with long lines and others who had run out.
The Colonial Pipeline, which delivers about 45% of the fuel used along the Eastern Seaboard, shut down Friday after a ransomware attack. The Secretary of Energy says about 70 percent of Tennessee's fuel comes from that pipeline.
Despite how it looks, however, experts said there actually isn't a gas shortage right now in Tennessee. But so many people rushing to the pumps to fuel up, even when they don't need to, is putting a strain on the supply.
"So the more that people fuel up unnecessarily or fuel up more than they could possibly need in the next week, that will only make the problem worse for everyone," said Megan Cooper, AAA spokesperson.
Some gas stations, like Sam's in West Knoxville and many area Weigel's stores, ran out of some grades of gas early on. The Kroger in Powell shut down its pumps at 6 p.m.
Knoxville-based Pilot said in a statement Tuesday night that it is closely monitoring the "rapidly deteriorating situation" with the pipeline and the increased demand for gas.
"Due to the unexpected spikes in consumption, there is increased strain on the supply chain and we are working hard to quickly address any temporary shortages. In Knoxville, our Pilot Flying J Travel Centers and Pilot Convenience Stores remain open with adequate fuel supply at this time," said Brad Jenkins, Senior VP of Supply and Distribution. "Pilot Company will continue to do everything we can, including bringing in resources from unaffected areas, to resupply our travel centers with gas and diesel to serve our guests and professional drivers."
Gasbuddy.com tracks gas prices and availability at pumps across the country, based on user reports. If you need gas, you may want to check out the site to see availability near you.
Gas prices have risen slightly in the Knoxville market, according to AAA. The average price for a gallon of regular gas on Tuesday was $2.72, up by two cents from Monday and six cents from a week ago. A month ago, we were paying $2.60 for a gallon of gas, and this time last year it was $1.56.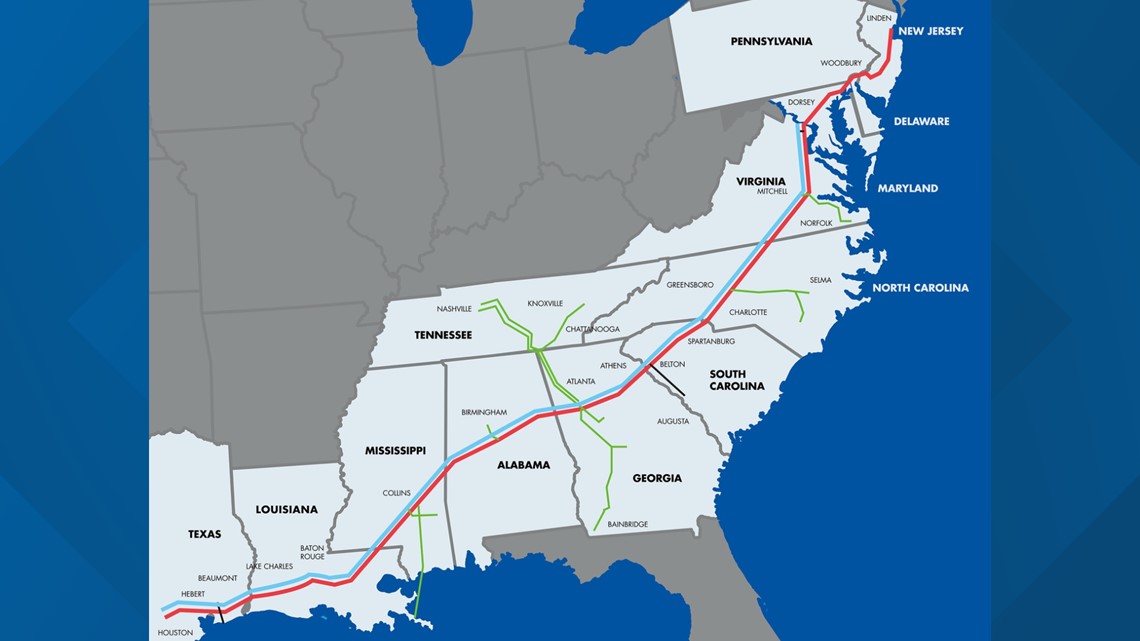 "We can expect Tennessee gas prices to rise anywhere from three to seven cents. Of course, if that pipeline stays shut down for a while longer, we can see some more significant gas price increases, as well as some local outages in a lot of our areas," said Cooper.
It's important to note that there's no imminent shortfall, and thus no need to panic buy gasoline, Richard Joswick, head of global oil analytics at S&P Global Platts, said. If the pipeline is restored by Friday, there won't be much of an issue.
"If it does drag on for two weeks, it's a problem," Joswick added. "You'd wind up with price spikes and probably some service stations getting low on supply. And panic buying just makes it worse."
Colonial said it's likely to restore service on the majority of its pipeline by Friday.
If you spot a fuel line or a gas station running short of fuel, snap a photo and send it to WBIR. You can upload the image to our newsroom via the WBIR app or by texting 865-637-1010.