KNOXVILLE, Tennessee — UPDATE 1:30 P.M. FRIDAY: Gasoline and corrosive chemicals introduced as evidence in the Joel Guy Jr. murder trial will be disposed of as a precaution now that the prosecution is over.
Knox County Criminal Court Judge Steve Sword ordered Friday that samples be preserved from the plastic containers of gasoline, hydrogen peroxide and drain cleaner, but that the bulk of the items be destroyed because they're dangerous.
The containers also will be preserved as part of the body of evidence collected and offered in Guy's murder trial this fall.
Knox County Criminal Court Clerk Mike Hammond told Sword on Friday morning he was concerned about the volatile nature of the evidence, which was being kept together with all the other items from past trials dating to the 1970s. The evidence is stored in the bowels of the City County Building in a locked vault.
Hammond said one of his employees had gone down recently to the room where the chemicals were stored and had broken out in a rash from exposure.
Jayne Burritt, CEO of the Public Building Authority, which oversees the giant government building on Main Street, agreed the chemicals should be moved to a safer spot, such as a garage. She said one of the containers of hydrogen peroxide was leaking.
While the Clerk's Office is responsible for storing a multitude of evidence from trials, it's rare that it's asked to keep items that are so noxious.
Hammond's office feared evidence such as the gas container had the potential to catch fire or cause an explosion.
Sword summoned prosecutors and defense attorneys in the case Friday morning to talk about what to do with the items.
Joel Guy Jr. Trial, Day Four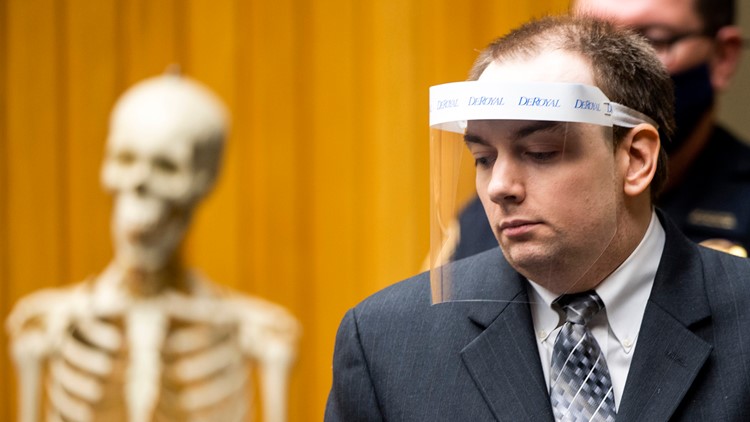 Sword said Friday he'd been doing research but hadn't found clear guidance on how other jurisdictions had proceeded in such circumstances. He directed Hammond to see if county authorities could handle disposal of the chemicals rather than hire a private firm.
Guy, 32, planned to use the gasoline to burn his parents' West Knox County home down after he murdered them in November 2016, testimony showed. He used the chemicals to begin dissolving Joel Guy Sr. and Lisa Guy's bodies after he cut them up.
Guy, who lived in Baton Rouge, La., spent Thanksgiving weekend 2016 at his parents' Goldenview Lane home, waiting for the right moment to murder them, testimony showed.
He attacked his father in the home while his mother was shopping Nov. 26, 2016. When his mother got back about 12:30 p.m. that day, he stabbed her to death on an upstairs landing, evidence showed.
Guy then dismembered them and put them in blue bins with corrosive chemicals in the couple's upstairs bathroom. He put his mother's head in a pot on the kitchen stove, which detectives discovered Nov. 28, 2016, when they went to check on the Guys' welfare.
A Knox County jury convicted Guy Jr. on Oct. 2 of murder and abuse of a corpse, among other counts. He received automatic 51-year terms in the killings but faces further sentencing Nov. 19 before Sword.