KNOXVILLE, Tenn. — UPDATE (Wednesday, March 17):
Editor's Note: WBIR does not typically name juvenile suspects involved in crimes. However, due to the severity of the charges in this case and the compelling community interest to obtain information connected to recent violence, we have elected to name the teenagers involved.
A Knox County judge found probable cause Wednesday afternoon to believe two juveniles shot and killed Austin-East High School student Stanley Freeman Jr. on Feb. 12.
Knox County Juvenile Court Judge Tim Irwin held a 90-minute hearing in the case of Deondre Davis, 16, and Rashan Jordan, 14, who are charged in petitions with first-degree murder. The teens also face petitions accusing them of trying to kill a man several days before the homicide.
Knoxville Police Department Investigator Robert Cook testified at the detention hearing on behalf of the prosecution, saying police found multiple shell casings from a pistol and a 7.62x39 semiautomatic rifle at the shooting scene on Tarleton Avenue just beyond the high school.
According to testimony, KPD marked off some 17 placards in the street indicating pieces of evidence including cases found at the scene that day.
Police said they also found shell casings for the pistol in a metallic blue Nissan Altima with out-of-state tags that they say Davis was driving that day.
A longtime friend of Davis's told investigators he knew Davis drove the Nissan. Police were tipped that the friend had been seen that afternoon near the car before the shooting.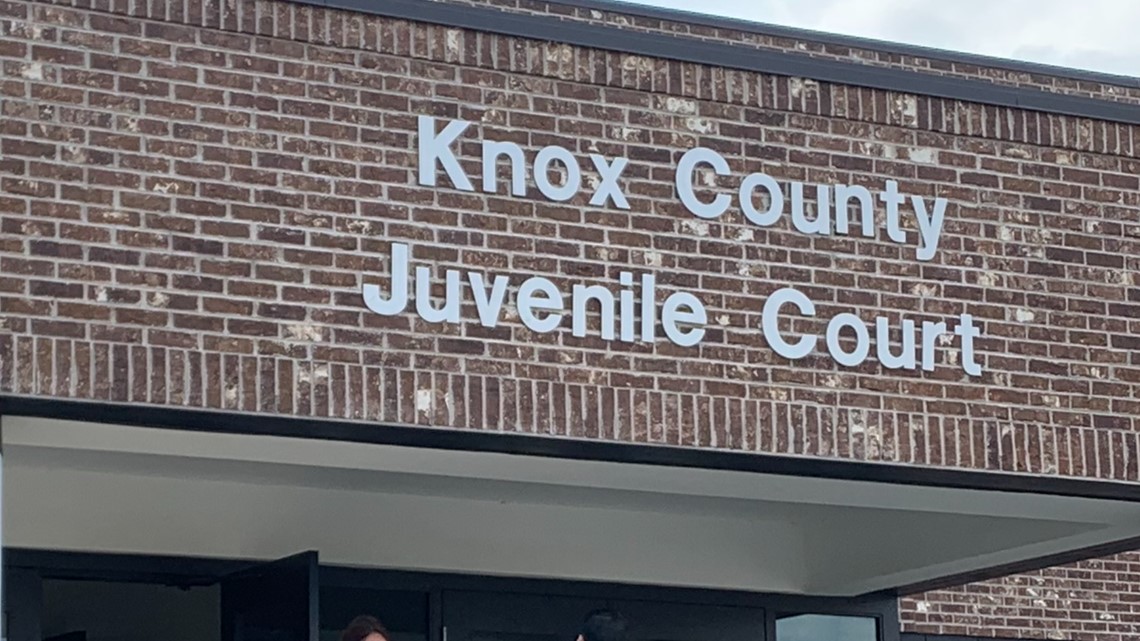 In a statement later to KPD, Davis told officers he and Jordan had been in the car that day, but he didn't admit driving it, Cook said.
Officers later recovered a Glock 37 pistol and the rifle after securing a search warrant to look through a home where Davis was staying in Northeast Knoxville, testimony showed. Authorities asked that the street not be identified out of fear of retaliation for the people who live there.
Police found the loaded rifle on a back deck of the home; they found the pistol wrapped in a fleece under a dresser in the bedroom where Davis slept, Cook testified.
Davis and Jordan were arrested at that house. Jordan, who admitted having a key fob for the Nissan in his sock, was a visitor, according to Cook.
Officers also recovered still photos and videos from cellphones that showed Davis and Jordan posing and mugging for the camera while armed. In one photo, Davis posed with the Glock in his waistband while displaying a handful of cash, Cook said.
Cook said Freeman was shot twice -- in the side and chest -- and grazed by a third bullet. No bullets were recovered, however. At best a bullet fragment was retrieved after Freeman was killed, he testified.
Officers also looked at Austin-East security video taken the day of the killing as school let out. On it, they could see the blue Nissan.
Moments after it was seen, authorities allege Davis and Jordan confronted Freeman in the Nissan as he drove away in his Honda.
Police said they also eventually found the blue Nissan. Inside, they found the two shell casings for the Glock. They also found Jordan's fingerprint on the rearview mirror.
A KPD sergeant matched through ballistics the casings recovered from the shooting scene and the Nissan with the rifle and Glock, Cook testified.
Testimony showed Davis favored using the pistol. KPD also recovered a text sent by Jordan in which he inquired about getting ammunition for the rifle.
Police have yet to offer a motive in the shooting. The next hearing before Irwin is scheduled for June 18.
The judge must still determine if the two should be transferred to Knox County Criminal Court for trial, as Knox County prosecutors are requesting. Irwin warned veteran prosecutor TaKisha Fitzgerald he'll want to hear more specific testimony from witnesses who handled the alleged evidence that links Davis and Jordan to the killing.
Davis and Jordan sat quietly in court Wednesday afternoon flanked by their defense attorneys. Family members also were spread out in the courtroom.
Don Bosch, a veteran criminal defense attorney and legal analyst, said it's likely in his opinion that both teens will be tried as adults due to the magnitude and seriousness of the crime.
Knox County District Attorney General Charme Allen announced Monday the two teens would face first-degree murder charges in the death of Freeman, as well as multiple attempted murder charges in two separate shootings that happened before Freeman's death.
According to Knox County Schools, Davis was a student at Gibbs High School and his last day of attendance virtually was Feb. 12. Davis is listed as a high school junior, according to a petition from the Juvenile Court of Knox County.
Knox County Schools also said Jordan was a student at Austin-East but there is no record of his attendance.
"Today we are one step closer to justice for the family of Stanley Freeman Jr.," Knoxville Mayor Indya Kincannon said Monday. "While today's charges may provide a sense of relief for some, let's not forget there are families whose lives are forever changed."
Freeman, 16, was shot while leaving Austin-East High School on February 12. Police said the two teens shot at Freeman before fleeing in a vehicle, and Freeman fled before crashing his vehicle on Wilson Avenue. Freeman was found unresponsive and taken to UT Medical Center where he later died from his wounds.
"Our investigation has still not found any evidence that would suggest why Stanley Freeman Jr. would have been the target," Chief Thomas said. "By all accounts, he was simply a good kid who was leaving school."
KPD said officers arrested the Davis and Jordan on February 16 in connection to another shooting incident that occurred on January 14 around 2:30 p.m. at Magnolia Avenue and Cherry Street.
According to KPD, the two teens shot several times at a vehicle occupied by a 16-year-old male and 18-year-old female, but did not hit anybody.
According to Allen, the two teens and one other juvenile are also facing two more attempted murder charges in a shooting on February 7 at Woodbine Avenue. Police said the teens shot at a 41-year-old man and unnamed juvenile, but did not hit anyone.
KPD said investigators eventually uncovered evidence linking the two arrested juveniles to Freeman's death.
Family friend and Freeman's basketball coach Nathan Guy said he's ready for justice. "We all knew he was a stand up kid, great student, loving kid. So we all knew there was no wrongdoing on his part."
He said it's disheartening to see two teens involved.
"How do we stop it? How do we prevent it? How do we reach these kids so it doesn't happen to them on either level," said Guy. "Once justice is served then we have to start that final piece of healing."