The Tennessee Bureau of Investigation has identified a homicide victim who was killed more than 30 years ago and may be a victim of the redhead killer.
On April 14, 1985 a young female's body was found along Interstate 81 near exit 44 near Greeneville, Tennessee. Authorities were able to get her fingerprints, DNA and dental information. Her fingernails were painted pink.
Agents with the TBI joined the Greene County Sheriff's Office to investigate and ruled her death a homicide. Autopsy results revealed she died approximately three weeks before her body was discovered. At the time, authorities were unable to determine her identity so she was listed as a Jane Doe.
A sample of her remains was submitted to the University of North Texas Center for Human Identification (UNTCHI) in 2006. A DNA profile for her was developed and entered into the Combined DNA Index System.
This week, UNTCHI confirmed there was a match to the DNA profile. The victim was identified as Elizabeth Lamotte, 17, who was missing from New Hampshire, according to the TBI.
The TBI said Lamotte was not reported missing until 2017 to the Manchester Police Department. The report was initiated when they received a tip while investigating suspected serial murderer Bob Evans and his wife Elizabeth.
Investigators called on the public for help to identify Elizabeth Evans, and one tipster called in believing it could have been Lamotte-- who had left a the Youth Development Center she was placed in back in 1984 on furlough and hadn't been seen since.
The search for Lamotte eventually led them to her two brothers -- who provided DNA samples. Once the samples were analyzed, it matched that of the remains of a woman found murdered in Tennessee in 1985.
A group of unsolved killings with several common factors, most notably the victims' hair color, may be the work of a serial killer.
Lamotte, previously unidentified, was among the list of potential victims of the redhead killer, according to NamUS director of case management and communications Todd Matthews. Lamotte had brown hair with red highlight, according to the Department of Justice.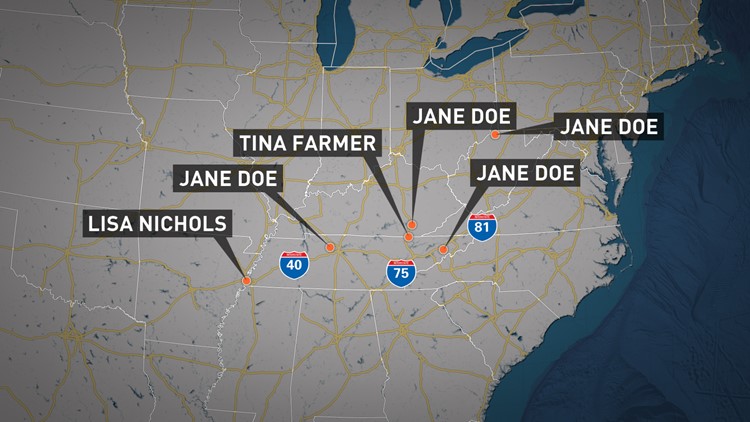 TBI Special Agents are asking for the public's help regarding Elizabeth Lamotte's murder, specifically knowledge about individuals she may have been with in the days before she died, is asked to call the TBI at 1-800-TBI-FIND (1-800-824-3463).