Update:
A man authorities are calling the "Traveling Bandit" bank robber has been arrested in Colorado.
Jason Lee Robinson, 49, of Pikeville, Ky. was arrested in Fruita Colorado. The FBI says Robinson has robbed at least seven banks in six states since Dec. 28, 2018.
Robinson has been accused of robberies in Utah, Alabama, and Tennessee.
The FBI announced his arrest via Twitter on Thursday.
Original story:
Could one man be responsible for seven bank robberies in six different states, including two in East Tennessee?
The FBI is calling the man the "Traveling Bandit," and you can see why when they list his possible crimes.
The robber first struck on December 28, 2018 in Aventura, Florida. Five days later, investigators believe he hit a bank in Arden, North Carolina. The next stop was across the mountain on Jan. 4, in Johnson City, then four days later in Mt. Juliet, Tenn. On Jan. 10, a bank in Prattville, Alabama was hit. The last robberies were Jan. 14 in Mt. Vernon, Illinois and Jan. 17 in Utah.
Photos: FBI searching for 'Traveling Bandit' bank robber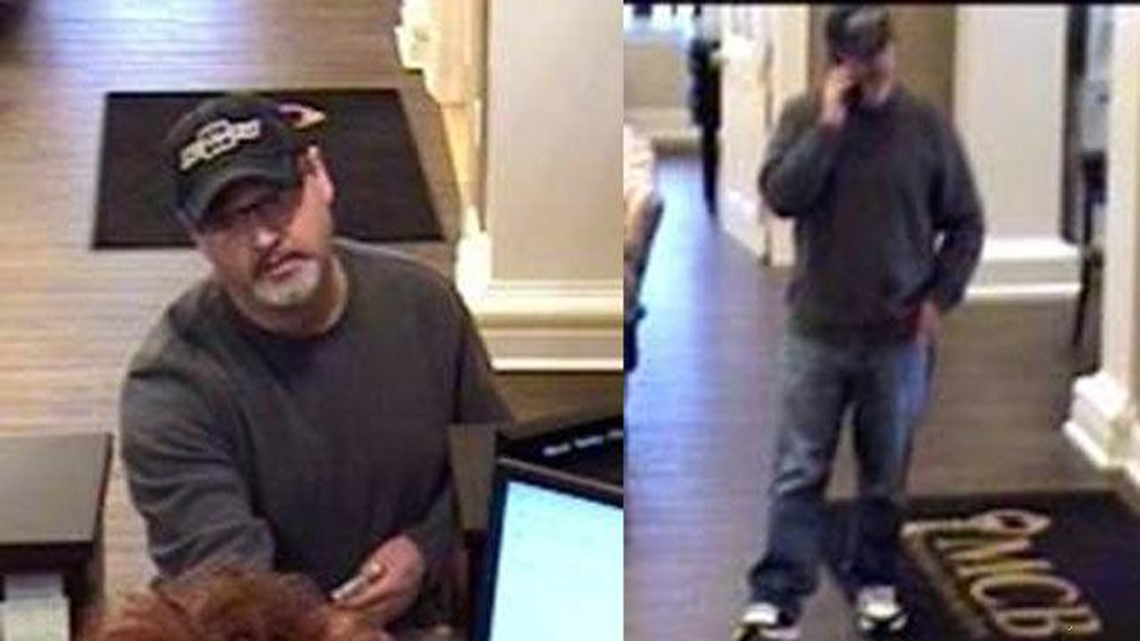 "So far, no one has been physically injured in the robberies", said Special Agent Jason Pack, spokesman for the FBI Knoxville Field Office. "The robber usually approaches the counter and presents a note demanding money and threatening a weapon and then is seen leaving on foot"
The "Traveling Bandit" could be driving a white Ford Explorer or Expedition, and has worn similar clothing in all the robberies--- a black jacket, white t-shirt, and black baseball hat. He is described as a white male in his 40s or 50s, with a goatee and salt and pepper hair, but may change his appearance slightly. He's of medium height (5'6" to 5'10") and medium build. Witnesses in the Florida robbery said he spoke with a "country accent."
Anyone with information is asked to call (800) CALL-FBI, their local police or FBI Field Office or submit a tip online at: https://tips.fbi.gov