Chattanooga — Former Pilot Flying J president Mark Hazelwood vowed to fight his conviction on fraud charges Wednesday after a federal judge ordered him to spend 12 1/2 years in prison.
"We're going to appeal," defense attorney Jim Walden said outside court as Hazelwood stood at his side. "We're going to fight this case. Hopefully, we're going to be back here and we're going to do it again and we're going to show that Mark Hazelwood is innocent."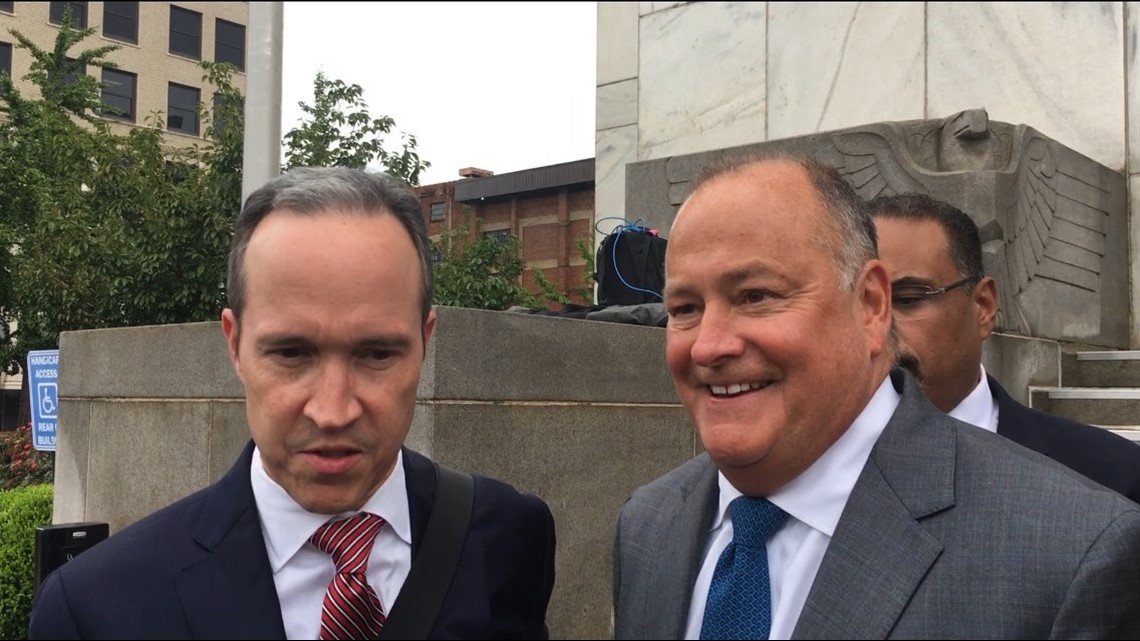 U.S. District Court Judge Curtis Collier imposed a sentence of 150 months, to be served in prison. He also agreed to prosecutors' request that he fine Hazelwood $750,000, the maximum allowed.
Hazelwood, the judge said, used his authority and Pilot's good name to run a fraud conspiracy that involved some 20 employees who cheated diesel fuel customers of promised rebates.
The scheme ran from at least 2008 until 2013. Pilot has paid more than $80 million in civil settlements as well as a $92 million penalty for what the employees did.
"He shut his eyes to the criminal conduct in which he was engaged," Collier observed.
The government sought to have the former 30-year Pilot employee go immediately into custody, arguing he's a flight risk. Collier, however, said he would let Hazelwood remain free on bond until the end of November.
That will allow Hazelwood, of Knoxville, to spend Thanksgiving with his family. He is being monitored, his travel is limited and he must check in with federal probation officials.
In the meantime, the U.S. Bureau of Prisons will determine where he will serve his sentence. The family hopes it will be close to East Tennessee.
Collier imposed sentence after a daylong hearing during which lawyers spoke for and against Hazelwood.
Prosecutors Trey Hamilton and David Lewen tried to persuade the judge to impose a 14-year sentence, the higher end of the sentencing range under federal guidelines. The defense asked for just three years.
At one point Wednesday it appeared Collier was ready to assign an even longer term than the guidelines call for.
The judge said he was persuaded in part against that because of the 168 letters submitted by the defense on Hazelwood's behalf.
Some of the letters came from trucking companies that had been defrauded. Some came from well-known people and Hazelwood friends like Bruce Pearl, the former University of Tennessee basketball coach who is now at Auburn University.
Hazelwood, Pearl wrote, worked his way up from dishwasher to multimillionaire through "good, old fashioned hard work."
The coach, Collier noted, also thought the scheme couldn't have all been Hazelwood's idea.
Collier, while insisting that he was not drawing a comparison, mentioned the case of fallen investor Bernie Madoff, who oversaw a billion-dollar scam that hit many longtime clients. The judge said Madoff had worked his way up society's ladder while also winning respect, engaging in philanthropy and achieving status.
Madoff also got what amounted to a 150-year sentence, Collier said.
Hazelwood made millions while working for Pilot. He had a profit-sharing agreement, a testament to his contributions to the privately held truck stop and diesel giant.
In some years he made $15 million or more from Pilot. His current net worth is more than $50 million, according to Walden. He has given many thousands away to friends and people in need, according to his lawyers.
Hazelwood, former Pilot Vice President Scott Wombold and former sales employee Heather Jones were convicted of taking part in the fuel rebate scheme In February. Hazelwood also was convicted of witness tampering.
The two were sentenced on Oct. 4. Wombold was sentenced to serve six years in prison and imposed a $75,000 fine, and Jones was ordered to serve 2.5 years in prison.
Fourteen other former Pilot sales employees and executives are awaiting sentencing after submitting guilty pleas.