JEFFERSON CITY, Tenn. — UPDATE (6/11): The jury came to a guilty verdict in the case of a driver who killed a mother, her unborn child and her son.
The jury came to a decision on Saturday around 4:55 p.m. and found William Phillips guilty on six charges.
Phillips was found guilty on four charges of reckless homicide and two charges of reckless endangerment.
There will be a sentencing hearing for Phillips set on September 19 in Jefferson County.
William Phillips is facing three counts of first-degree murder for the deaths of Sierra Cahoon, her unborn child, and her young son, Nolan Cahoon, as well as two counts of attempted first-degree murder.
The trial began Tuesday with jury selection. The state rested its case Thursday just before noon, and the defense finished out Friday calling witnesses to the stand before closing arguments were delivered.
The jury entered deliberations Friday afternoon, just after 3:00 p.m. A little after 6 p.m. on Friday, the Judge decided to break for the day, and call the jury back to deliberate at 9 a.m. on Saturday.
In closing arguments, both sides argued over Phillips's mental illness during the crash, and whether he was criminally insane.
"Driving down 80 miles an hour down this tiny little downtown road, jerking the wheel, hitting these people, going through the wall at 89 miles an hour speaks for itself," the defense lawyer said. "It's insanity."
The prosecutors argued he knew exactly what he was doing.
"He hit the brakes when he was slowing down for the stop sign," the prosecutor said. "He chose not to hit the brakes when he slammed into Sierra and Nolan."
In a direct examination by the prosecution, detective Roland Holt said Phillips was agitated because of a confrontation he had with a man at an Alcoholics Anonymous meeting.
He said he stopped at a store to buy CBD, where he was hopeful and happy, but a red pickup pulled in front of him leaving a Walmart with the logo of the National Rifle Association. According to a statement Phillips wrote and Holt read in court, the pickup "triggered" Phillips.
The prosecution said Phillips gave several reasons for the crash, including the government, a voice in his head, an acid trip, he thought there was meth in the stroller that needed to be destroyed, he wanted to sacrifice himself, the war in Afghanistan and clashes between liberals and conservatives.
Investigators from the Tennessee Bureau of Investigation crime lab testified Phillips had diazepane (commonly known as valium), sertraline (commonly known as Zoloft), and marijuana in his system. Michael Tiller, a TBI special agent, said that based on the results of his blood test, Phillips must have ingested marijuana within four hours of the test.
The defense had several witnesses testify to Phillips's mental illnesses. The first, a neuropsychologist said he tried to examine Phillips shortly after the crash, but said Phillips was in such a poor mental state that he couldn't finish the examination.
Another said Phillips's diagnosis of bipolar disorder led her to believe he wasn't aware of what he was doing when he killed the Cahoons.
"He absolutely did have a severe mental illness at the time that impaired his perceptions of reality," Dr. Kimberly Brown said.
Phillips's uncle testified his family had a history of mental illness, extending three generations.
On June 17, 2019, investigators said Phillips was driving west on East Main Street in Jefferson City when he swerved and intentionally hit a 61-year-old pedestrian, Tillman Gunter.
Police said Phillips continued driving before hitting and killing the mother and her toddler at the intersection of Russell Avenue and West Main Street, crashing into a building.
A witness said he saw Phillips accelerate before hitting the victims, saying he heard the man yelling that the "government told him to do it." The arrest warrant said, "a voice told him that he needed to go kill the meth addicts so he began driving very fast." He reportedly told investigators that "the voice told him that the baby stroller had meth in it so he intentionally drove into" Cahoon and her child.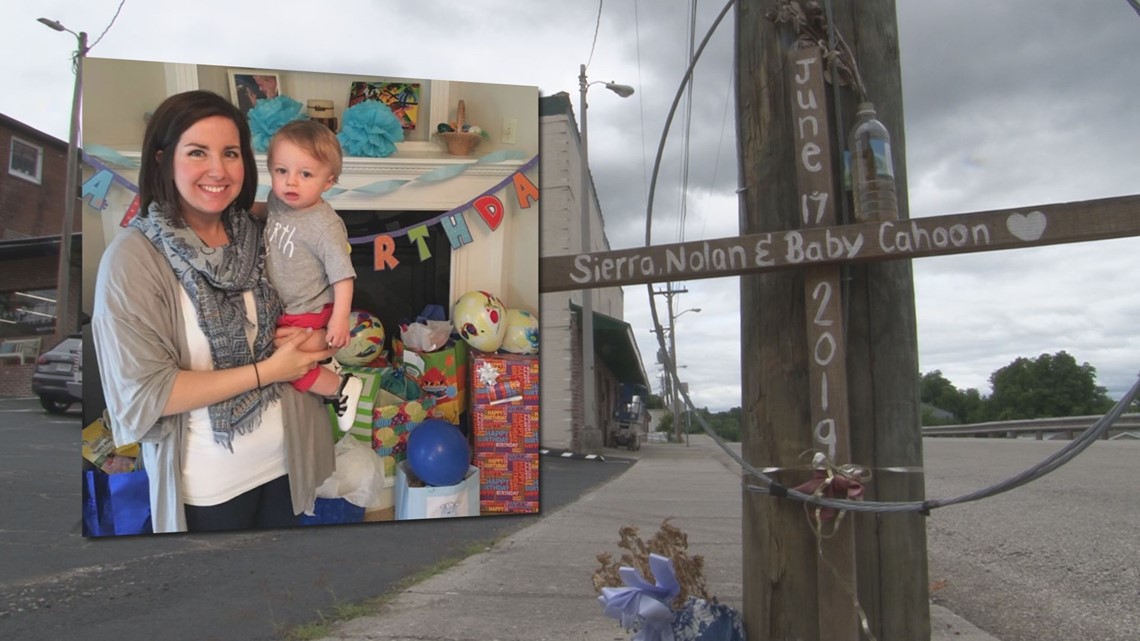 Gunter survived with minor injuries, and an employee at the building Phillips crashed into also suffered minor injuries.
The deaths of Sierra, Nolan and baby Cahoon hit the community hard. Nolan Cahoon attended First Steps Preschool at the First United Methodist Church, just right down the road from where the crash happened.
Cahoon's teachers said he was a happy 2-year-old who would always give them hugs and high-fives.
"He was a joy," said Jessica Lawson, the director of the preschool. "He would walk through the door smiling every morning."
Carson-Newman University said Sierra Cahoon was the wife of one of its assistant athletic trainers, Matt Cahoon.
"Our hearts are breaking for one of our own. We take comfort in knowing that God also feels our pain and hears our prayers. Because of this, we ask for prayers for Matt and his family now and in the days ahead," Paul Percy, Carson-Newman's former interim president, said at the time.
Phillips initially faced two counts of murder for the deaths of Sierra and Nolan, but two days after the crash police announced he would face a third count of murder for the death of Sierra's unborn child.