Knox County jurors stopped deliberating for the day about 5 p.m. Thursday in the Joel Guy murder trial, telling Judge Steve Sword they wanted to come back Friday morning to resume.
They deliberated about two hours in the first-degree murder, felony murder and abuse of a corpse case.
Sword excused them with the caution not to think about the case Thursday night and to avoid seeing or reading any coverage about it.
Sword asked them to return 10 a.m. Friday to continue their closed-door talks about the charges against Guy.
If convicted of killing his parents in November 2016, the 32-year-old Guy likely will spend the rest of his life behind bars.
The state didn't seek the death penalty, although Guy sought without luck before trial to allow Sword to impose it himself. Sword said that choice was neither his nor Guy's to make.
Knox County prosecutors Leslie Nassios and Hector Sanchez introduced dozens of pieces of evidence -- security videos, knives, DNA test results, recordings and a notebook found among Guy's things to show jurors he plotted and then carried out the killings in their Goldenview Lane home.
The defense argues Guy was friendly and warm with family members at the time he's alleged to have killed Joel Guy Sr. and Lisa Guy.
With Joel Guy's Knox County Criminal Court trial approaching the end, jurors are now hearing from medical experts about the violent injuries suffered by the victims.
Forensic testimony about their injuries began Wednesday and was expected to continue Thursday morning.
Both Joel Guy Sr. and Lisa Guy were stabbed repeatedly in the chest and back. Whatever the weapon was, the victims endured deep stab wounds to organs such as kidneys, the liver, their lungs and their heart, testimony showed late Wednesday.
Dr. Amy Hawes, who performed autopsies on both while working for the Regional Forensic Center, said she couldn't estimate exactly how long it took them to die but it probably ranged from "a few seconds to a few minutes."
The killer then cut off their arms and legs, and removed Lisa Guy's head.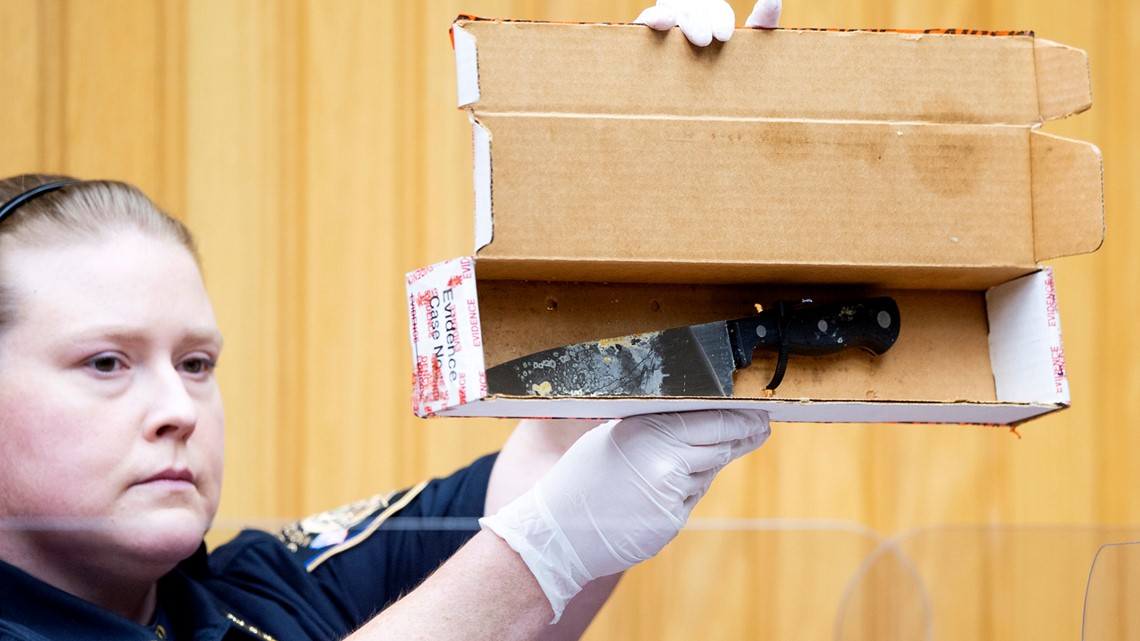 The parts were then put in two blue tote tubs found on plastic sheeting on the floor of their master bathroom upstairs in their Goldenview Lane home in November 2016.
The killer wasn't through, however.
Someone also tried to immerse the bodies in corrosive chemicals such as sewer line cleaner to dissolve their flesh.
In fact, Hawes testified, Joel Guy Sr.'s head had been reduced to a skeleton from immersion in the chemicals. Flesh had melted off his and his wife's front torsos, she said.
Their backs were found above the liquid mix in the tubs, with more of the skin on their backs still intact.
Joel Guy Jr. Trial, Day Three
An exam of the skin on their backs indicated Guy Sr. had been stabbed more than 40 times and Lisa Guy had been stabbed at least 30 times.
Hawes also noted that someone had left Guy Sr.'s severed hands on the floor of his exercise room and put Lisa Guy's head in a pot of liquid to cook on the kitchen stove.
Joel Guy Jr. is on trial this week for their killings. The state is not seeking the death penalty.
Judge Steve Sword told jurors before dismissing them Wednesday afternoon that it was possible they could get the case for deliberation as soon as Thursday afternoon.