KNOXVILLE, Tenn. — UPDATE (March 18): Officials said Friday that the owner of a dog found severely neglected and abandoned behind a dumpster on Jenkins Road was identified and charged with animal cruelty.
They said Jamie Will, 36, also had two dogs and a cat in her care when she was found. The Animal Control Unit of the Knoxville Police Department said they confiscated the animals.
Bridget, who was named by the Young-Williams Animal Center, passed away on March 15 despite workers' attempts to save her life.
Bridget, a neglected dog found abandoned at a Knoxville dumpster, has died.
Bridget succumbed to her illness, squamous cell carcinoma, on Tuesday. She was brought to the Young-Williams Animal Center two weeks ago after being found in severe condition.
The Young-Williams veterinary crew was planning treatment for cancer when Bridget passed.
"We're deeply saddened to announce that Bridget has crossed the rainbow bridge," CEO of Young-Williams Animal Center Janet Testerman said. "We hope you will find comfort, as we do, in knowing that during her time here Bridget knew she was cared for and loved. Her tail wagged often, and we gave her all of the affection we could in such a short time."
The YWAC said it had ordered cancer drugs to treat Bridget that were expected to arrive this week, but her condition and internal factors were too severe.
"We were hoping to give this little girl every opportunity that we could, but unfortunately her illness was too far progressed," Testerman said.
A small memorial has been placed outside the shelter for Bridget. YWAC said all money that was raised for Bridget's care will go to its Animal Compassion Fund, which will help other animals and ensure her legacy lives on.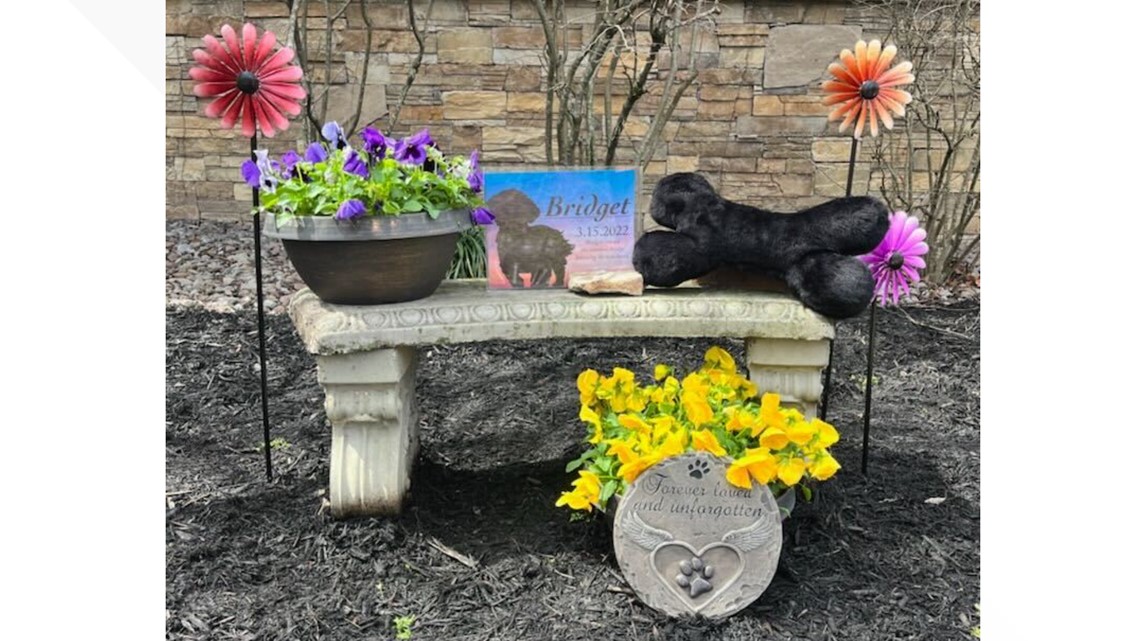 "I'm not going to lie. This has been really tough. We take in over 10,000 animals a year and absolutely each and every animal that comes through our doors gets the best care, the best love, the best quality of treatment that we can give them," Testerman said. "But when you get a cruelty case like this, it just really hits home. It's hard. And it's an awakening of sorts that this is why we get up every day."
The Knoxville Police Department said it was devastated and heartbroken by the news, saying animal control officers are still looking for the dog's owner to find out why she was abandoned.
On Wednesday, the East Tennessee Valley Crime Stoppers announced it was offering a reward for any tips that lead to an arrest. To submit a tip, call 865-215-7165, text P3 TIPS, use the app P3TIPS or go online.
Officials said the reward for tips leading to the arrest of the person responsible increased to $1,000 on Thursday, doubling the original award of $500.
Anyone with information is asked to contact KPD Animal Control at 865-215-8639.
KPD also shared a reminder that resources are available for owners who cannot provide the appropriate care for their animals. If you cannot afford food, medical care or other essential items, or if you can no longer care for your animal for any reason, contact the Knoxville Animal Control Unit at 865-215-8639. YWAC echoed the message, asking people in the community to reach out for help if they feel they are unable to care for their pet.
WARNING: The following photo of the dog may not be suitable for all viewers.