KNOXVILLE, Tennessee — A Knoxville Police Department officer will not face charges in the shooting of a man after the two got into a confrontation Aug. 26.
Knox County District Attorney General Charme Allen made the announcement Thursday afternoon, saying she'd reviewed numerous pieces of evidence gathered in the investigation following the shooting and had first spoken to Channara "Philly" Pheap's family about her decision.
Pheap, 33, was shot and killed by KPD K-9 Officer Dylan Williams after a struggle outside an apartment complex off Merchant Drive in Northwest Knoxville. The Knox County Sheriff's Office investigated the shooting, based on a mutual, standing agreement with KPD.
A representative of the family said in a statement Friday they were disappointed by the prosecutor's decision.
Allen said in a press conference Thursday that the DAG's job in a case like this is to determine whether or not the shooting by the officer was justifiable. She cleared Officer Williams of any wrongdoing, saying she believed he was in fear for his life when he fired the fatal shot.
During their confrontation, Williams was shot with his own Taser by Pheap, evidence showed.
Allen took her time, laying out the evidence. Investigators determined that Pheap was involved in a hit-and-run on Baxter Avenue that evening and that he left the scene of the accident.
A witness called 911 and followed Pheap's gold sedan as he told a dispatcher what happened and where they were located. He was able to provide the license plate number.
Officer Williams ran the license plate and got an address at the Tillery Ridge apartments. He drove there to check it out and spotting the vehicle, he pulled in behind it.
Allen showed the video from Williams' cruiser. You can see him go around the corner of the building and hear as he encounters Pheap, asking him about the vehicle and telling him to take his hands out of his pockets at one point.
You hear the sounds of a struggle and eventually see the two men come rolling down the hill between the buildings, locked in a physical fight. They then go out of the camera's range again.
You can hear Williams ordering Pheap to the ground and telling him to stop multiple times before you hear the gunshots.
In his statement to investigators, Williams said that at one point, Pheap attempted to choke him. Later, Williams said he pulled his Taser and ordered Pheap to stop, but Pheap lunged forward and they began fighting for control of the weapon.
Williams said he was close enough to his cruiser that he tried to get to the rear door in order to release his K-9 Nash out of the car. During that time when his focus was divided, Pheap got control of the Taser and fired it at Williams.
Williams said he thought Pheap would incapacitate him, then get his gun and kill him. He said he knew he had to end the threat and that's when he fired his gun.
Investigators talked to five people who witnessed the shooting, and while Allen said they differed on some small details, the witnesses all supported both Williams' statement and the forensic proof.
Allen said one female witness even said, "it just wasn't that officer's fault."
Photos of Williams taken when other officers arrived showed him covered in mud and evidence that the wires from the Taser had been deployed and had hit him.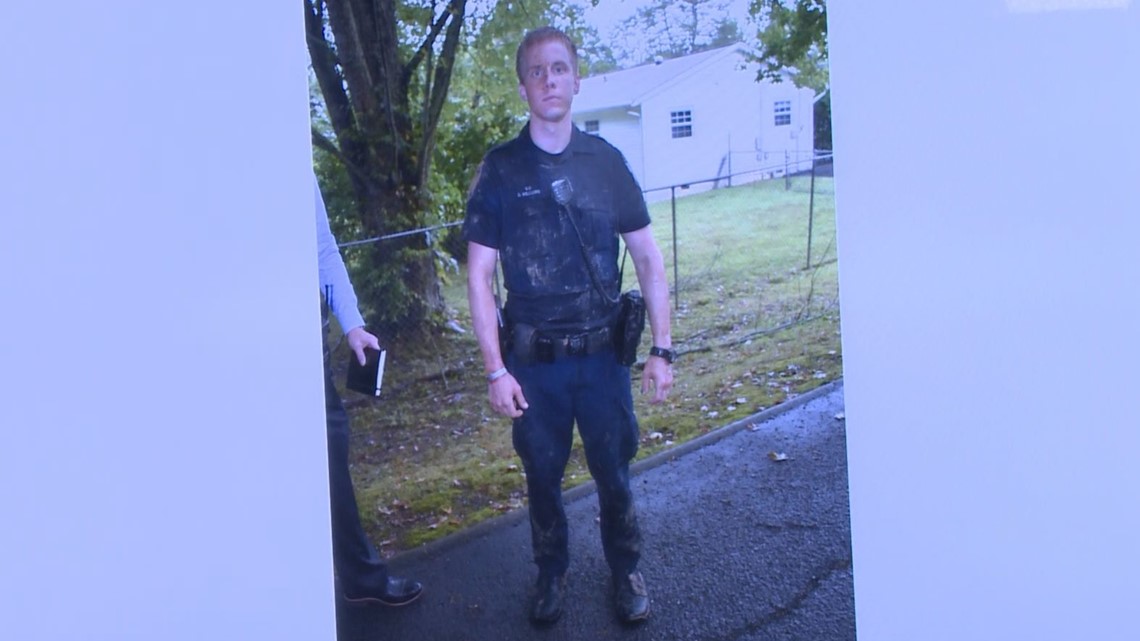 Allen then invited Knox County Medical Examiner Dr. Darinka Mileusnic-Polchan to explain the autopsy results, with special detail on where on his body Pheap was shot. The autopsy showed that the bullet entered Pheap's body behind his left arm, and lodged in his body near his right arm.
Allen explained that it appeared that Pheap turned to his side when the gun came out in a move to shield himself, and that explains why the bullet entered his body and moved from left to right.
If the bullet had entered the body from back to front, that would have been an indicator that Pheap may have been running away when he was shot. Allen said the evidence does not support the claim made by some people that Pheap had been shot in the back as he fled.
Attorney Don Bosch represented Officer Williams through this investigation. He released a statement after Allen cleared him of wrongdoing.
"We appreciate the hard work of the Knox County Sheriff's Office with their investigation, as well as the efforts of the Knox County District Attorney General's Office that have now cleared Officer Williams. This has been a challenging and traumatic time for Officer Williams, his wife, and his family.
Anytime an officer uses deadly force to protect himself and the public, it weighs incredibly heavy on the officer. This case is no different. This shooting, while tragic, was unavoidable to protect the life of Officer Dylan Williams, as well as the safety of the public at large. The moment the suspect violently took the taser from Officer Williams and deployed it at him, Officer Williams was left with no choice but to use deadly force by firing his service weapon.
Officer Williams has been and remains an outstanding officer in this community. He is thankful that this matter has now been cleared by the District Attorney General and looks forward to resuming his efforts in community policing in the near future.
At this time, neither Officer Dylan Williams nor The Bosch Law Firm, P.C. have any further comment."
While Williams has been cleared of any criminal wrongdoing, he will remain on administrative leave, according to a statement from Knoxville Mayor Madeline Rogero. The next step will be an investigation by KPD's Internal Affairs Unit (IAU) to determine whether Officer Williams violated any departmental policies.
The findings of the IAU investigation will be reviewed by the citizens' Police Advisory & Review Committee.
"I want to express my appreciation to District Attorney General Charme Allen and her office for their careful and diligent review of the facts in this most serious matter," Rogero said in her statement. "Our hearts are with the family, friends, community members, Officer Williams and KPD officers who were affected by this tragic event. We sincerely appreciate the community's patience in allowing the facts to come to light."
The circumstances of the shooting had long raised questions by Pheap's family and members of the community and prompted calls for KPD officers to start wearing body cameras.
Attorney Lance Baker, who represents the family, said he wanted to look at all the evidence finally being released by Allen's office.
"It's not exactly the outcome that we would have preferred at this point, but we'll take a look at the evidence when we get it, and I'm sure we'll have more info in the coming days," Baker said.
Baker issued the following statement Friday morning on behalf of Pheap's family.
"On behalf of the family of Philly Pheap, we are disappointed in the District Attorney's decision not to prosecute Officer Williams for shooting and killing Philly. For the past three months, we have been conducting our own investigation into the shooting. We strongly believe that the medical evidence highlighted by Dr. Mileusnic during yesterday's press conference establishes that Officer Williams shot Philly in the back from a distance of at least several feet after Philly started moving away from him. We also believe that other evidence summarized by the District Attorney, including evidence related to the deployment of Officer Williams' taser, completely supports our position that the shooting death of Philly by Officer Williams was, among other things, an unnecessary and unreasonable use-of-deadly force under the circumstances.
"We caution everyone to step back at this moment and take a deep breath. We look forward to reviewing all of the DA's evidence – as well as other materials that we have been seeking for weeks, and that we are now seeking through litigation. We are confident that in the end, the truth will be told and justice will be done. The family's decision about whether to bring an appropriate action against Officer Williams and the City will be informed by all of the evidence, not by one side of it."
The lack of information released about the shooting had frustrated both the family and the community, who wanted to know exactly what happened and why.
Baker and attorney Josh Hedrick last week filed court papers seeking a hearing to get documents related to the investigation. They said they had not even been able to get public records created in the normal course of work in the case, such as Pheap's autopsy.
That hearing was scheduled for next week.