One year after Zaevion Dobson's death, a community salutes Lonsdale's fallen hero
<p>A joyous tribute was made to the teen who sacrificed everything to protect those he loved.</p>
Saturday marked one year since the shooting death of Knoxville teenager Zaevion Dobson.
The Fulton High School sophomore was hanging out with friends when they heard gun shots. The 15-year-old died shielding his friends from the bullets.
His selfless act was recognized across the country and sparked discussions about young people and gun violence.
On Saturday, family, friends and the community at large gathered at First Calvary Baptist Church in Knox County for a celebration of life.
It was a joyous tribute to the teen who sacrificed everything to protect those he loved.
Leaders in the community shared a message of hope and strength with those in attendance, reminding the young people in the room that anyone can be a hero.
"I'm not going to wait until I see their casket to tell them how much I love them, and how much I'm proud of them, and how they're all superheroes," said Andre Canty with the 100 Black Men of Knoxville, an organization dedicated to helping African American and minority youth.
Speakers called upon Knoxville's officials in attendance to invest in the community at large, both to support greater education and to invest in programs to encourage young children to become passionate about sports, art and activities that enrich both individuals and the community.
The critique was met with roaring applause. Shortly after, speakers honored the many mothers in the room -- including Zaevion's mother, Zenobia Dobson.
In the past year, Zenobia has assumed several new roles, all as a result of her son's death. She's an advocate against gun violence. She's a proponent of giving young people a way to stay busy and out of gangs, since Zaevion - while not in a gang himself - was the victim of gang violence.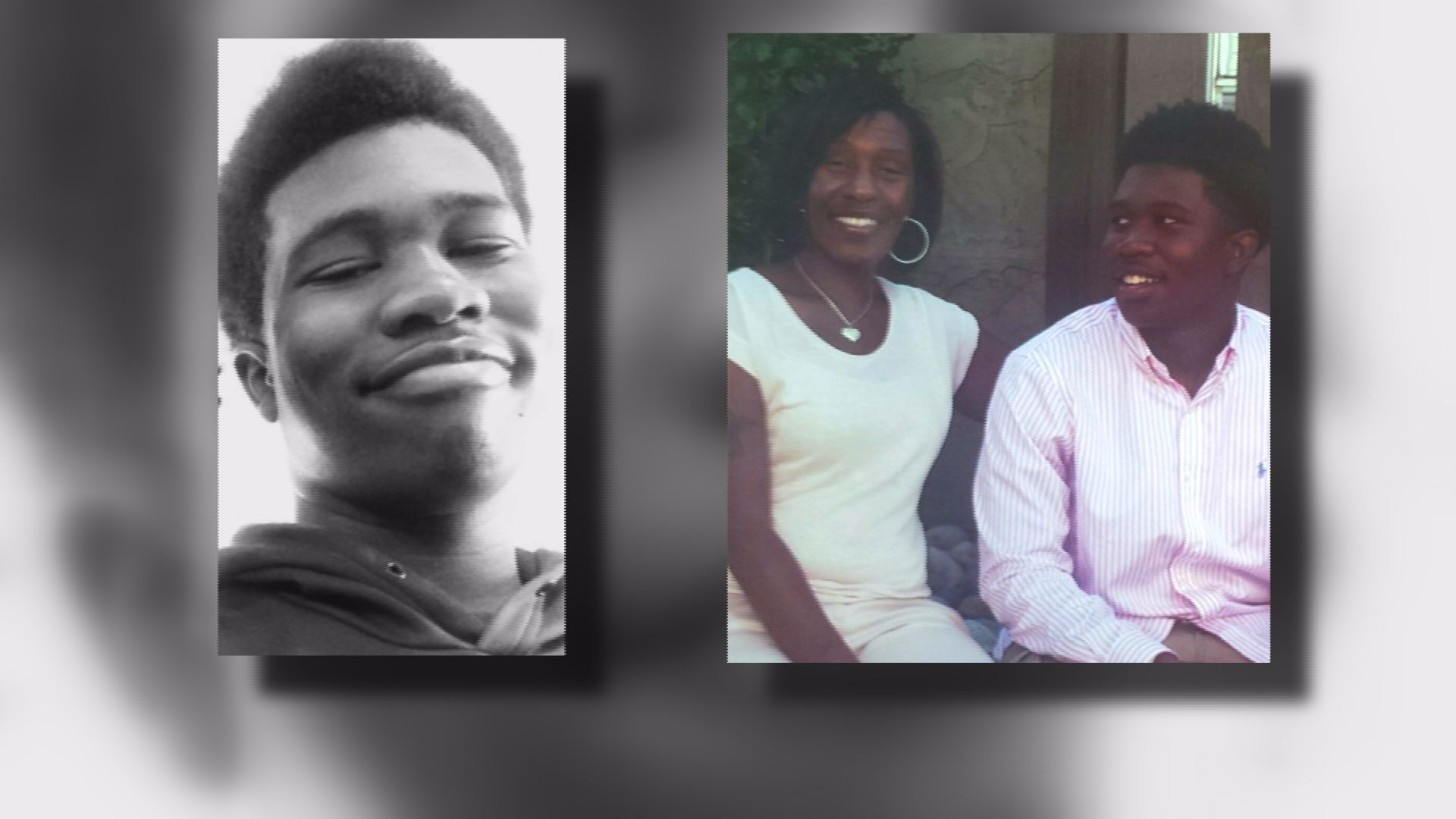 Closest to her heart, she's on a mission to keep her son's memory alive and well. After the ceremony Saturday, she and dozens of others marched to the site of the shooting to deliver one last prayer.
"He was innocent. His life was taken for nothing," she said. "But what he stood up for, it all makes sense."
The day before the ceremony, Zenobia reflected on her son's legacy. As Christmas lights shine bright this time of year, there's also now a darkness for her.
"It feels empty without him because he was really excited on Christmas," she said. "I just put memories of him on my tree."
As she decorated this year, she reflected on her son Zaevion and the night he died.
"My baby, my son. His whole life-- it flashed in front of me," she said, with tears welling in her eyes. "Everything, from the day he was born."
His act of heroism, shielding his friends from gunfire as he was fatally hit, won Zaevion the Arthur Ashe Courage Award at this year's ESPYs, which his mother accepted in his honor and memory.
Zenobia said it was her proudest moment of the past year.
"The courage award, it was well-deserved because of what he did," she said. "He protected those girls."
President Barack Obama talked about Zaevion in a nationally televised speech.
"Zaevion Dobson was a sophomore at Fulton High School in Knoxville Tennessee," then describing his selfless act. "An act of heroism a lot bigger than anything we should ever expect from a 15-year-old."
His sacrifice and name became a beacon of inspiration, and his death prompted a call to action against gun and gang violence.
It's a mission Zenobia Dobson is embracing.
"He speaking through me. 'Mama, fight for me.' And I am," she said. "I'm going to stand up for him, and I hope to see changes in the future."
She established a Zaevion Dobson scholarship fund, and a Knoxville overpass has been named in his honor.
"His legacy will live on. He won't be forgotten," she said.
Through it all, Zenobia said she has felt the love and support of the community.
Take the Christmas lights and decorations on her front porch as an example.
"My secret Santas!" she exclaimed. "They really wanted to cheer me up for the holiday season, and they did."
She returned home from a march against gun violence and found some friends had decorated her entire porch.
She is uplifted by acts of kindness such as this, which can brighten the darkest of nights - for a grieving mother carrying the torch of her son's life.
"I miss him so much," she said. "Long live Zaevion."