MARYVILLE, Tenn. — It's been three years since authorities found the body of 22-year-old Cheyenne Shropshire in a Blount County field. Medical Examiners ruled her death a homicide, but family members don't know why.
Still to this day, investigators with the Blount County Sheriff's Office have not identified the killer.
Cheyenne's remains were located in a field off Old Middlesettlements Road. They were located a year and a half after Cheyenne was reported missing. At the time of her disappearance, she was staying at Alcoa Inn. The dump site for her body was approximately four miles away.
The biggest questions for her family are what happened, who put her body there and whether the cold case would ever be solved.
Savannah Shropshire is Cheyenne's sister. They were very close.
"We grew up so close, so tight. We were best friends. And still today I consider her my best friend no matter what," Savannah said.
The two were just 16 months apart. Savannah said they were even mistaken as twins on several occasions.
"We did everything together. There's nothing that we didn't do together. Even when we got older she would tag along with me. And I would tag along with her up all the way until high school," Savannah said.
They stayed close, even when growing up presented new life challenges. According to Savannah, Cheyenne struggled with substance use disorder.
"She was crying on the day she finally told us that she was using. And it really hurt our family. And I was hurting for her. And I really wish we would have been able to give her help," Savannah said.
In 2018, Cheyenne was living in active addiction. Savannah said it got difficult to manage.
"We weren't in the best place because she was struggling with substance abuse," Savannah said. "There were times when I had to back away from our relationship because there were times that she had stolen from me and things like that. But that doesn't mean she wasn't an amazing person, and that I didn't love her. Sometimes tough love is just necessary."
In August of 2018, Cheyenne visited her sister at Bojangles, where she was a shift manager. Cheyenne asked for some food. Savannah said she would occasionally buy some food for her, but on this occasion, she didn't.
"I told her that she could come back that night, and I will give her some food, once we were done for the day," Savannah said.
However, when the store's closing time came, Cheyenne didn't show.
Savannah texted her at 11:01 p.m. That message is below.
"Aren't you supposed to pick up this food, we are about to leave."
Cheyenne responded at 4:09 a.m.
"I was there at 10:40 to pick it up and nobody was there."
Savannah later came to find out, that was not the case.
"From the recordings that I witnessed with my GM at the time, and our detective ... she had not come there," Savannah said.
It was a few weeks after that Savannah reported her sister as a missing person.
"It was like Limbo, you just didn't know if she was gonna come home," Savannah said. "It's torture not knowing."
A year and a half after the initial report, authorities located Cheyenne's remains in the field. They were able to identify the remains through dental records.
"I just dropped to the floor. And I cried, I had never felt that kind of despair in my whole entire life. And it still hurts me to this day, and haunts me," Savannah said.
Her husband, Austin Buhl, said the day was tormenting for both of them.
"It was one of the hardest moments in my life after picking her up," Austin said.
At that point, medical examiners ruled Cheyenne's death a homicide. But, it's been three years.
"It's a cold case, they don't really have any active information on it," Austin said.
The couple doesn't have any answers, they haven't seen the autopsy, and haven't received her remains.
"We've not been able to lay her body to rest because they cannot prosecute without her body," Austin said.
"She has been in a forensic lab for these past three years. We have not had a funeral," Savannah said.
This couple wants to see some activity on the case. Austin says he has contacted the District Attorney and BCSO in hopes of getting the Tennessee Bureau of Investigation to help with the case.
The family just wants closure.
"Something's gotta give, something's got to break," Savannah said. " And I will keep fighting for her with every ounce of my body."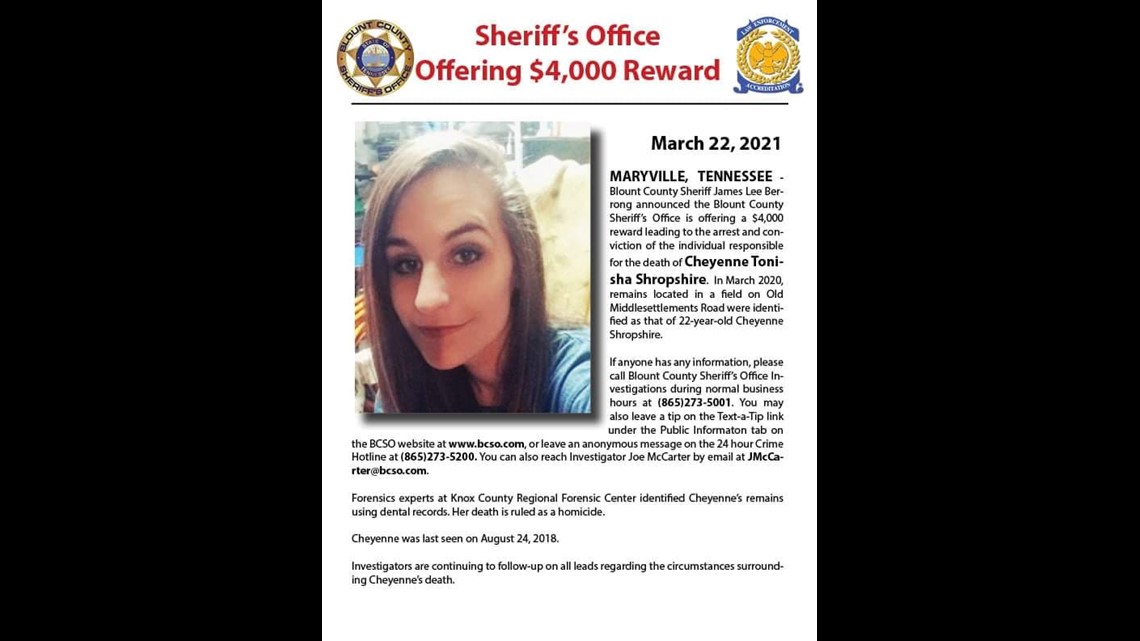 If you have any information that could lead this family to closure, please contact the Blount County Sheriff's Office. Their phone number is 865-273-5000. There is still a $4,000 reward out for information in this case.
"I miss her so much, and I just want justice for her," Savannah said.