KNOXVILLE, Tenn. — Parents, families and education leaders were scheduled to gather Wednesday afternoon for a special meeting to discuss Knox County Schools' COVID-19 safety plans.
The agenda includes mask requirements, COVID-19 leave for staff and a discussion about contact tracing. The school system reported that nearly 1 in 5 students did not show up for school as COVID-19 cases reached new highs of more than 900 active cases on Monday.
Since the board's last meeting in early August, some parents have vented frustrations and said the board shrugged its responsibility to keep schools safe. Yet, some board leaders and opponents of COVID-19 restrictions emphasized individual choices on vaccines and masks, saying they were decisions meant to be made by families instead of education and health leaders.
They will vote on several COVID-19 policies during the meeting. First, they will vote on a new policy that would let students who are in isolation or under quarantine orders for COVID-19 be counted as present if they participate in remote instruction. Teachers will be able to verify a student's attendance by calling them, or if the student participates in synchronous virtual instruction.
They are also proposing a policy that would allow full-time employees who test positive for COVID-19 and are under an isolation order to use special "COVID-19 Isolation Leave" time to stay home. The employees will need a written note from a physician, and can only stay home for 10 workdays during a two-week period.
Betsy Henderson proposed creating a school-based COVID-19 dashboard that would track cases in each school. The proposal would also require administrators to notify parents of possible exposures in students' grades and provide them with recommended actions.
Universal masking will also be discussed again. It was proposed by Daniel Watson and would require all students, teachers administrators, staff and visitors to wear masks while indoors. It includes a mask requirement on buses. The requirement will end when the Knox County transmission rate reaches moderate levels or below for a two-week period.
Another universal masking proposal from Virginia Babb only required students, staff and visitors in Pre-K through 5th grade to wear masks while inside and on school buses. After they were approved the get the COVID-19 vaccine, they would not be required to wear masks.
However, Babbs withdrew the proposal ahead of the meeting. She said that Watson's proposal was more comprehensive.
The board will also pick a new chair, and members of the community will have a chance to speak before the board starts discussing COVID-19 policies.
A month of rising COVID-19 cases
Parents and families across the district have also expressed their anger with the board's decision to implement fewer measures than last year, during the height of the pandemic.
They formed a group, KCS Parent Advocates for School Safety, to advocate for more safety measures. It is volunteer-based and non-partisan and exists to hold leaders accountable for having a COVID-19 safety plan that is compliant with federal expectations and follows recommendations from the CDC, according to the group.
They said that KCS received federal relief funds with stipulations that they would implement safety measures. Yet the board did not implement mask requirements, social distancing protocols or contact tracing, group officials said.
Parents and teachers gathered outside the Andrew Johnson building and chanted, "Do your job, Bob," and, "Protect KCS," before some held a press conference alongside state representative Gloria Johnson (D - District 13), pleading for KCS leaders to implement measures immediately to protect teachers and children, including re-implementing a mask mandate in schools.
"My students and I need the board's help, because we can't do our job when they don't feel safe," high school teacher Andrea Turner said. "Unfortunately, someone's choice not to wear a mask puts the rest of the class' health at risk."
Kimberly Peterson, a mother of a sixth-grader with a rare genetic syndrome that makes her medically fragile, said her daughter needs and thrives with in-person learning, but has not been able to attend school because of COVID-19 spreading unchecked.
"I was hoping we would put the same protections in place as last year. I think we got a false sense of security that this was going to go away," she said.
Peterson said KCS had in the past been able to put measures in place to protect her medically frail daughter while in class-- saying teachers and staff were able to go "above and beyond" to tailor a curriculum for her in the face of common viruses such as the seasonal flu that also pose risks to her health. She said that has not been the case this year.
"All I want is for her to be in the classroom. Wear a mask, take simple measures for the greater good. I'm begging the Board of Education to do the right thing," she said.
"We are hurtling toward collapse, and a single mask mandate could prevent that," teacher Andrea Menendez said.
A few KCS students also spoke up in favor of masks, saying they only want to learn safely in class and do not want to return to virtual learning. The students said they have been seeing their teachers and other students absent from school because of COVID-19.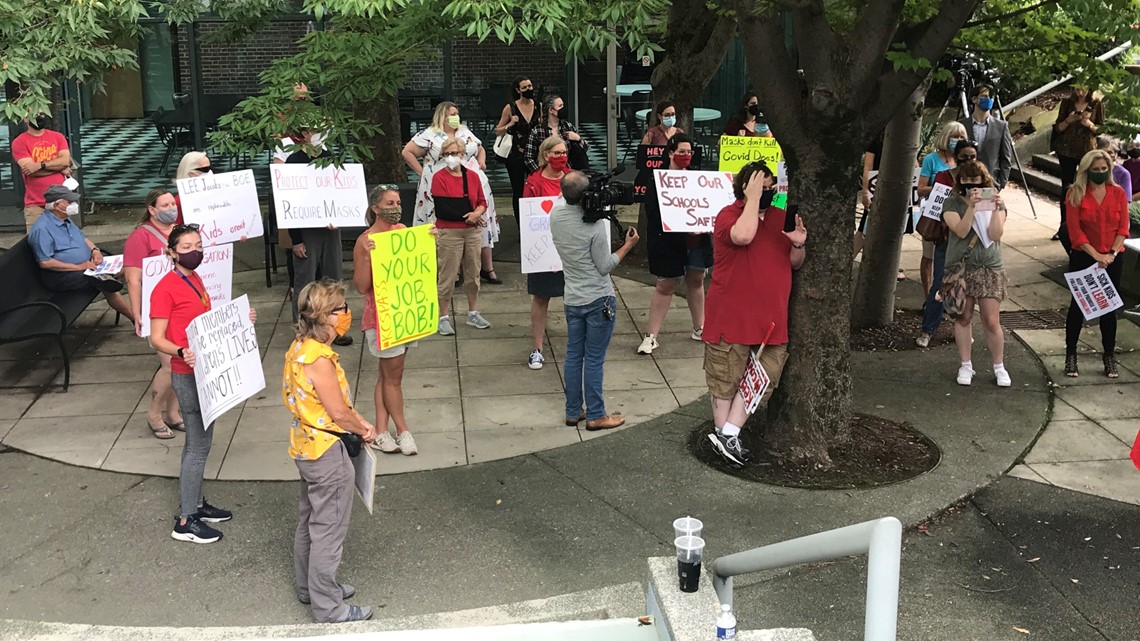 On Friday, Superintendent Bob Thomas also wrote to parents that the district was "partnering with KCHD as they conduct contact tracing to provide available, relevant information — including seating charts, schedules and class rosters." He also said they were working with the Knox County Health Department on contact tracing.
Yet, the health department said it never received seating charts or class rosters to help with contact tracing. On Tuesday, education leaders said they would share anything the health department requested, but only as long as it was readily available.
Meanwhile, the number of students testing positive for COVID-19 continued to climb higher and eventually reached over 900 cases.
Governor Bill Lee also signed an executive order that requires schools to give parents a chance to opt their children out of mask requirements. That decision is being investigated by the U.S. Department of Education for violating the right of students with disabilities to attend school safely.
State education leaders also said classrooms and schools facing a surge in COVID-19 cases and quarantines can request a temporary shift to remote instruction if their districts can show a need.
Watch the meeting live below: