KNOXVILLE, Tenn. — Thousands of third-graders are now facing the possibility of repeating their grades. The new standardized test score results showed 35% of third-graders in Knox County Schools didn't score well enough to move on.
Under the retention law, students who fail to score high enough on the standardized TCAP test will face possible summer school or a tutoring program to move on to the fourth grade.
Schools on Friday notified Tennessee parents and guardians about their scores. Students who failed to pass could opt for a retake. Some parents are now facing this new reality that their third-graders may have to repeat the school year. Even those students who were already scoring above average.
"We feel blindsided, to be honest with you," said Sarah Gaboda, a third grade parent. "Our son, Nathan, has always done very well. He's been very proficient. He's spared high marks. And so in talking with him yesterday, to just kind of prepare him for having to retake the test. It just absolutely. It crushed us and it crushed him because he didn't see it coming either."
One of Nathan's previous test reports for reading placed him above average and he had a low risk of failing the TCAP test. But he wasn't the only one.
Others didn't see it coming because they previously scored above the national average level in reading. Katherine Bike, who's on the Knox County School Board, has a son in third grade who is above average but didn't score high enough to progress to the next grade.
"I think it's undermining our teachers and public education," Bike said. "I know that my son's third-grade teacher has worked too hard this year, both of his third grade teachers because they do co-teaching... And I really think that it's undermining teachers. It's making parents not trust the school system and I know that we're not perfect, but Knox County Schools just sent one of our seniors to Harvard, certainly, it can't be that bad."
Current third-graders are considered COVID babies who began their education under difficult learning conditions.
When these students were in kindergarten, they experienced the pandemic's shutdowns. In first grade, they were in and out of school most of the time.
Quarantine rules sometimes kept them away from school and last year there was conflict in regard to whether children should be wearing masks.
"They were taught all of their first-grade phonics and speech-language reading material by a teacher who was masked," said Sarah Ray, a parent of third grade triplets. "They were fighting that in second grade and here we are third grade, maybe a normal year."
Ray saw the results in an email that said two of her triplets didn't score proficiently to advance to the next grade. They also attached a link to register for a retake.
"I do know that many teachers followed quickly behind that message to encourage parents because the retake is optional," Ray said.
Another challenge for these students is that they have been working on almost everything on computers.
When the third-graders went in to take the test, the supervisors told them they had to fill in a bubble with a pencil.
"So if they go back to erase it, to correct it, the computer could come up with that they got that answer incorrect, even when it is," Gaboda said. "They have never known anything different than a computer, and then now they're going to throw in a paper test with pages and coloring in a bubble."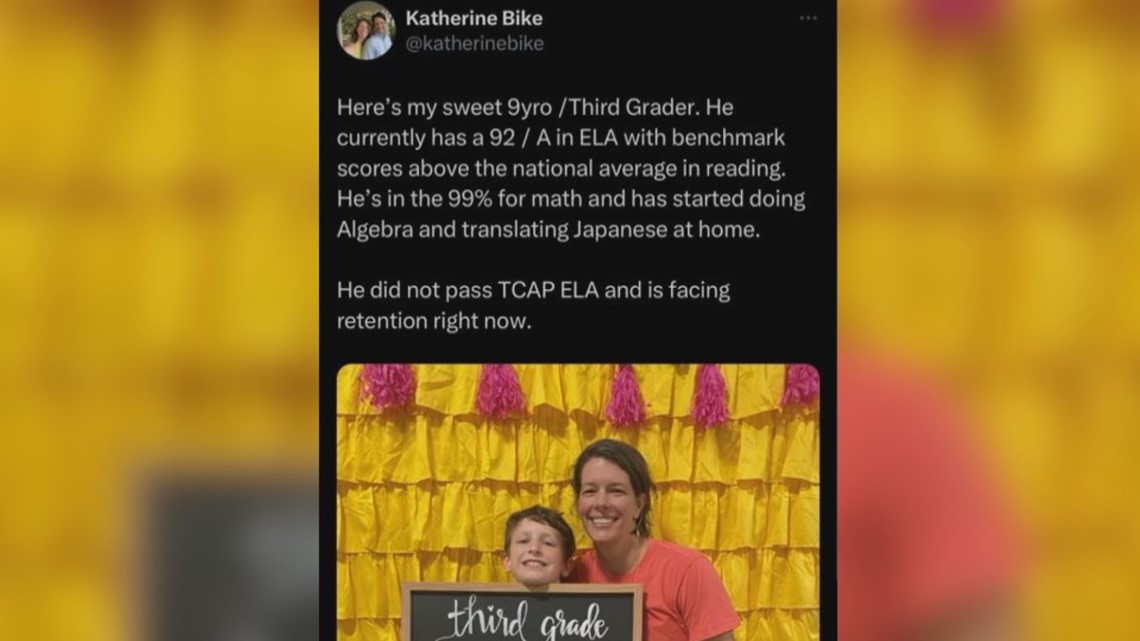 But some parents favor the retention law.
"I think that it could keep a child from being in a level that they're not prepared for," said Brittany Bond, a sixth grade parent. "For instance, my daughter, Parker, is going into sixth grade this year, and she still misspells her name half the time on her paper."
Bond had asked for her daughter to be held back when she was in third grade. She said she went all the way to the school board, but they denied her request.
She said the school told her at the time that retention doesn't work and the way they would treat it was by placing her daughter in IEP. This meant her child would be in a smaller group of students to learn and progress.
Bond said the way to help students would be to look at each case individually and judge by the overall performance and not by one test.
"Because obviously, going by the test scores is not working," Bond said. "I mean, my daughter failed her TCAP so low the year before they started doing this and they still refused to hold her back."
According to the Tennessee Department of Education, students have between May 22 and June 5 to take the test.
The last day to opt-in to retake the test ends Sunday night, May 21.
As of now, this test has created uncertainty and has made some parents question whether the process has worked correctly.
"If he had little mishaps in this test-taking, because of pages stuck together, not darkening the lines enough, maybe missed a question or two, because there's too many variables," Gaboda said.