KNOX COUNTY, Tenn. — The Knox County Health Department said Tuesday it is well aware there are far more people out there wanting COVID-19 vaccines than the current supply allows.
When KCHD announced last week it would take appointments for people 75 and up over the phone, the spots filled up almost instantly and a "very high" number of callers overwhelmed the phone system.
"Right now, vaccines are not widely available," Menefee said. "Supply will likely not be able to keep up with the demand for the foreseeable future."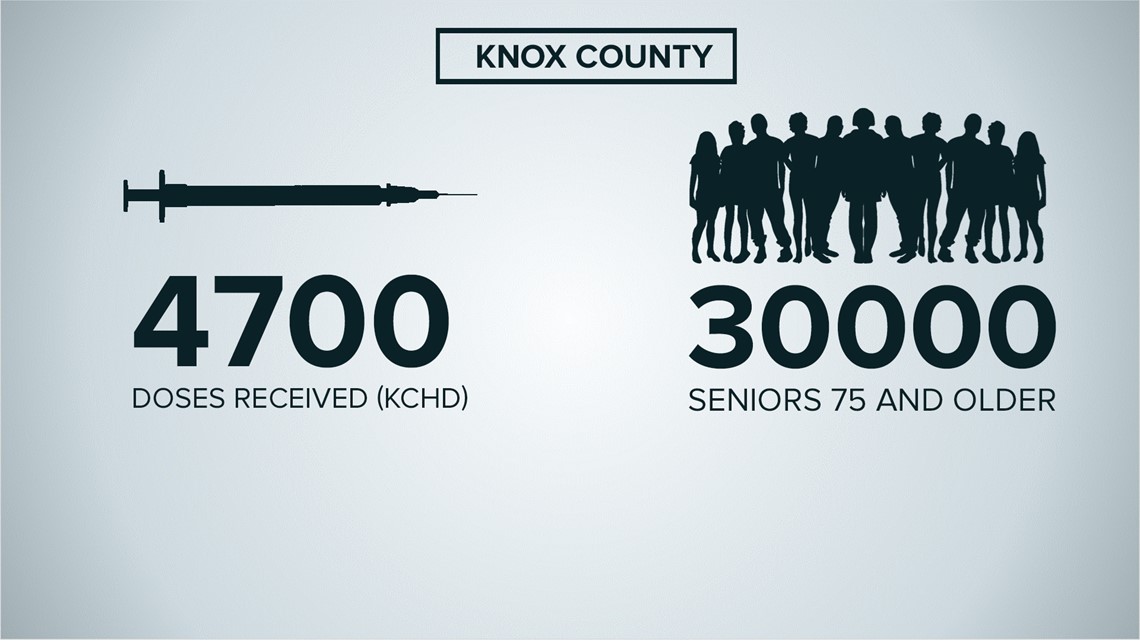 This week, KCHD is not planning any appointment opportunities for people 75 and up. Demand has far outpaced supply, and it is relying on the state and vaccine distributors with regard to how quickly it can vaccinate citizens.
"We have a relatively large population and have seen great uptake among priority groups to date, which is great," Menefee said. "But, that means it will take some time to move through the phases."
It has received a little more than 4,700 COVID-19 vaccines to date, which is far short of the 30,000+ people in the county who are 75 and over. Most of those vaccines went to other people who qualify in Phase 1a1 and Phase 1a2, like hospital workers and first responders on the front line of the pandemic.
Charity Menefee, KCHD's Director of Environmental and Communicable Diseases, said they are not trying to discourage people with this news but want to be upfront about it so people can temper their expectations about when they might receive their first vaccine.
KCHD still has a limited number of vaccines on hand — but needs to hold onto those for the most at-risk communities. The department said it is planning to work with group homes this week to administer vaccines to adults who are unable to live independently.
The department is unsure when it will be able to take appointments again, and it will depend solely on it receiving new vaccine shipments.
When that time arrives, though, KCHD is working to improve its appointment scheduling system by introducing an online sign-up portal. Details about the portal are still limited, but the department said it expects to release more information on how people can sign up online when it becomes available.
On Monday, the Tennessee Department of Health launched its new online vaccine appointment portal system for the East Tennessee counties under its wing. If you live outside Knox County, you can check to see if your county has vaccines available and schedule an appointment if you qualify at this link.
Other distribution points besides the health department and hospitals will open eventually.
CVS and Walgreens pharmacies are working with the federal and state government to build a plan to vaccinate those long-term care employees and residents.