KNOXVILLE, Tenn. — Update (4/22/2020):
The Knox County Health Department said it is temporarily moving back to appointment-based COVID-19 testing for the rest of the week due to a large spike in demand exceeding the county's capability.
However, there will be a free drive-thru and walk-up testing event on Saturday, April 25 in East Knoxville in hopes of reaching more people in that community, saying the least amount of testing has been conducted in the 37915 zip code. KCHD said it will test people without appointments from 10-2 p.m. at the Knoxville Civic Auditorium and Coliseum at 500 Howard Baker Junior Avenue.
"We have been concerned about the lack of access for testing in certain parts of our community, "said KCHD Public Health Officer and Senior Director Dr. Martha Buchanan. "We want to make testing more accessible for people in these areas. So, we selected Saturday's location based on our testing data and site specifications that support a drive-thru/walk-up model."
KCHD said there will be no drive-thru testing conducted on Wednesday and they'll go back to appointments for Thursday and Friday to ensure they have enough testing kits on hand for those with symptoms and those who are at greater risk.
Those who are symptomatic on Wednesday should call their doctor or 215-5555 to request a test by appointment.
On Monday and Tuesday, KCHD allowed people without symptoms to get tested for free without an appointment.
It said securing testing kits and PPE continues to be a priority locally to offer testing to those who need it.
The Knox County Health Department (KCHD) is now offering expanded COVID-19 testing to the public, including those who do not have symptoms.
If you'd like to be tested, you can go to the Knox Co. Engineering and Public Works Building, located at 205 W Baxter Ave., for drive-thru testing. It will be open from 8 a.m. to 3 p.m. Monday through Friday. There is no cost.
People should bring photo ids if they have them. KCHD said team members will collect nasal swabs and notify patients as soon as their results are available, which will depend on lab turnaround time. The process typically takes three to five days, KCHD said.
People should enter through the Wray Street entrance and follow signs and staff directing traffic.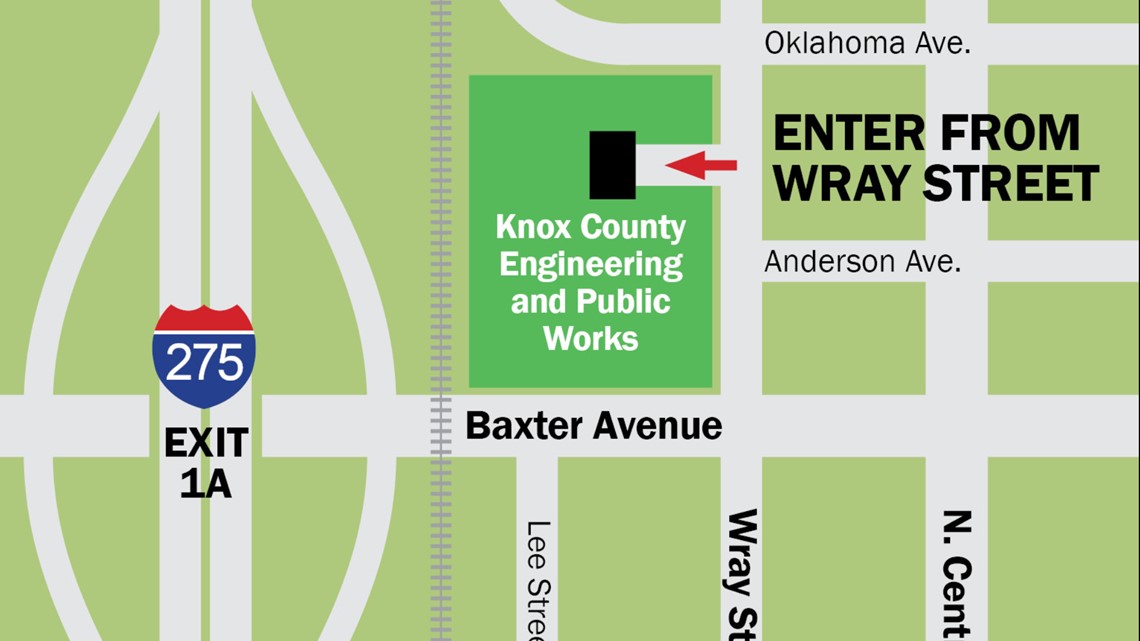 If you don't have transportation, you can call 865-215-5555 to make other arrangements -- that line will be open for questions from 9 a.m. to 5:30 p.m. Monday - Friday, and Saturday and Sunday from 10 a.m. - 2 p.m.
Officials expect volume to be high in the first couple of days and they ask people to remain patient -- saying they will test as many people as they can.
KCHD said they will continue to work to secure more supplies to continue this level of testing.
Those tested are asked to self-isolate until their results are available and longer if their test is positive.
You can also look at this map to see other locations that offer testing in Knox County. KCHD said it is also exploring testing events in different communities to further expand access.
"This is the result of our ongoing efforts to expand testing as it is a critical tool in containing COVID-19," said KCHD Senior Director and Public Health Officer Dr. Martha Buchanan. "We're grateful to Knox County leadership that we can provide this opportunity to our community."
Right now, Knox County has the equipment and supplies for a couple of weeks and are working to get more.
Those concerned about their health are encouraged to call their primary care provider. If their primary care provider is not testing for COVID-19 or if someone does not have a primary care provider, they are encouraged to get tested through KCHD. Those experiencing emergency medical situations, including difficulty breathing, persistent pain or pressure in the chest, confusion or inability to arouse, or bluish lips or face, are urged to seek immediate medical attention.
COVID-19 common symptoms include fever and respiratory symptoms, such as coughing and shortness of breath. In addition, some patients report tiredness, aches and pains, nasal congestion, runny nose, loss of smell or taste, sore throat, or diarrhea. Some people become infected but do not develop symptoms. The majority of people recover from the disease without needing special treatment.