SEVIER COUNTY, Tenn. — While many prominent businesses and attractions have closed in Sevier County because of the coronavirus pandemic, many remain open and are attracting large crowds in the tourist towns.
It's a stark contrast to other parts of the state, where many people are heeding the guidance of health officials to stay home and avoid contact with others to prevent the spread of COVID-19.
On Friday, leaders in Sevier County -- including the mayors and city managers of Sevier County, Gatlinburg, Pigeon Forge, Pittman Center, and Sevierville-- have asked the Tennessee Department of Health to issue orders for restaurants and bars in Sevier County.
The orders they are seeking would include closing bars, mandating no more than 50% occupancy for in-building dining, and following CDC guidelines for spacing.
WBIR 10News heard from many local residents this week who are concerned that so many businesses remain open and people are crowding together in public places. A Gatlinburg resident indicated she personally called various business owners and was met with hostility when she asked why they were not following social distancing recommendations.
"I think there are some people who have taken this very seriously. Some people haven't taken it seriously at all," said Gatlinburg Mayor Mike Werner. "What we're trying to express to people is to really adhere to the guidelines of the CDC and the recommendations made by our president. We want to really enforce social distancing. It's so important. It's really the only way we can keep ahead of this."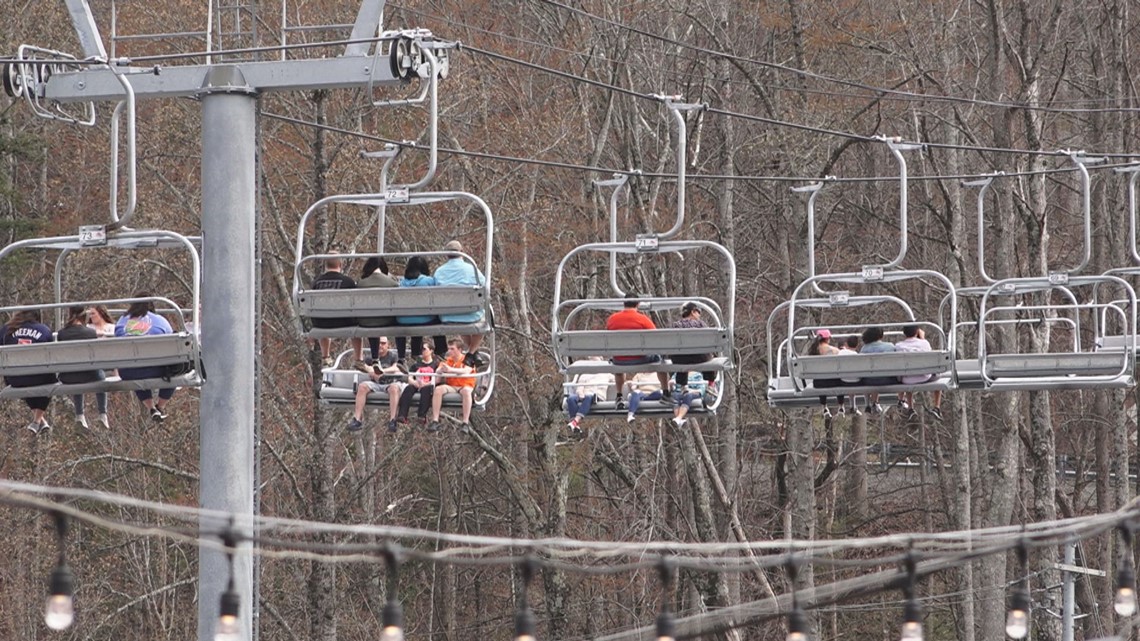 In the Great Smoky Mountains National Park, the parking lots at Sugarlands Visitor Center were nearly full Thursday despite the main facility being closed to slow the spread of coronavirus. The bathrooms remain open at the visitor center and attract large crowds.
Residents of Gatlinburg expressed some trepidation over the long distances many visitors travel to the Great Smoky Mountains. While Sevier County only had one confirmed case of coronavirus as of Thursday, residents noted cases report where an infected person resides rather than their current location or where they contracted the virus.
Thursday afternoon, just one row of parking at Sugarlands Visitor Center had vehicles with licence plates from Alabama, Florida, Georgia, Illinois, Indiana, Iowa, Kansas, Kentucky, Michigan, Minnesota, Mississippi, Missouri, Ohio, Oklahoma, Texas, Wisconsin, and Tennessee.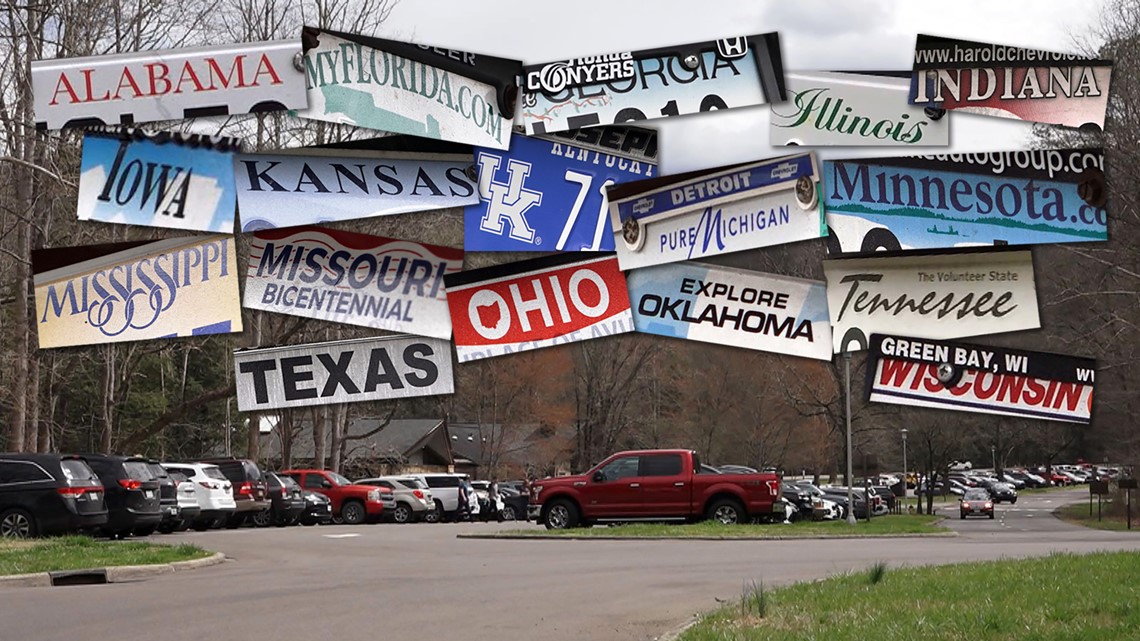 In a joint release on Thursday, government leaders from Sevier County and the cities of Sevierville, Pigeon Forge, Gatlinburg and Pittman Center, addressed their inability to force local businesses to close.
"After consulting with our legal advisors, it is not clear that the cities or county have the authority to close businesses at this time, during this stage of the public health crisis. However, we strongly advise that all of our businesses and citizens follow the advice of the CDC and the state of Tennessee," the release said.
The CDC has advised people not to gather in groups of more than ten people to slow the spread of coronavirus. That guidance has led many restaurants and bars to close or move to take-out and delivery only. Many retail stores have also closed.
In Sevier County, Dollywood, many of the theaters, and Ripley's Aquarium have already closed to the public. The Gatlinburg SkyLift and SkyBridge also closed until further notice. Ober Gatlinburg will close starting on Monday. Anakeesta announced Thursday night that they would close starting on Sunday.
As for the restaurants that rely so heavily on tourists, Werner said he does not want to damage anyone's livelihood but changes must be made.
"We don't want to see anyone lose their business or be hurt financially. I think we're all going to take a hit, obviously. Let's be conscious about the big picture. Limit the number of seating in restaurants. And takeout has been very popular. A lot of the businesses are doing that," said Werner.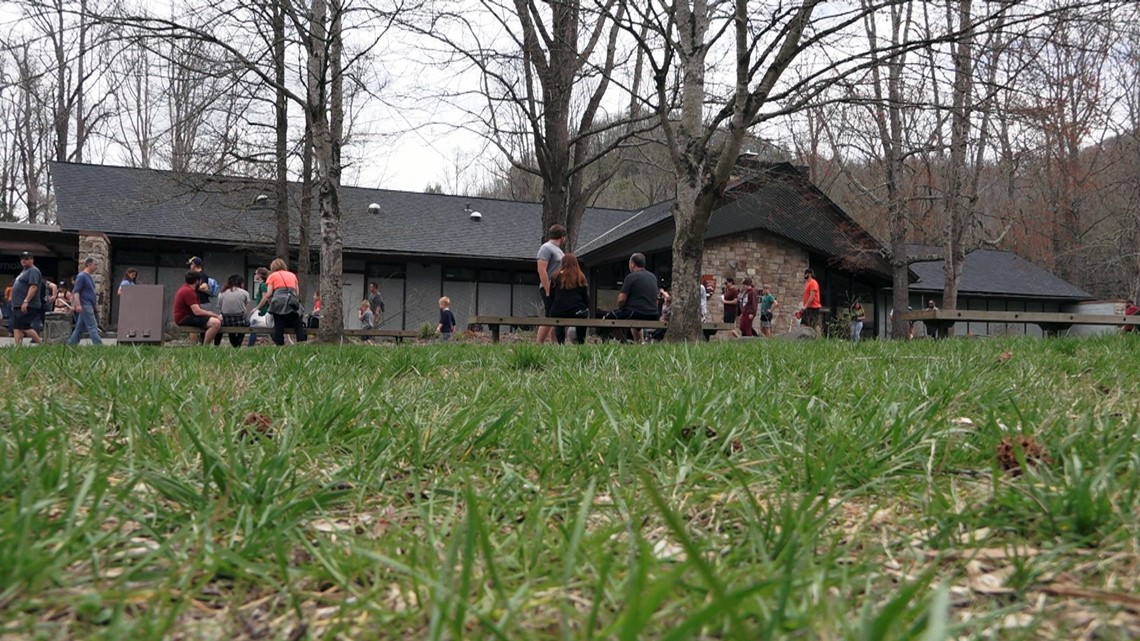 Werner noted he is personally taking steps to minimize contact with others.
"We are doing self-isolating and quarantining with our family. The sooner we do this the sooner we'll get past this whole virus," said Werner.
Sevier County leaders are working to set up a website to provide the latest COVID-19 information. The county has already been approved for Small Business Administration (SBA) assistance due to the COVID-19 crisis.