Stories from The Strip: How Cumberland Avenue's history could come full circle
Over the last century, Cumberland Avenue has evolved from an affluent neighborhood to a nightclub hotspot to The Strip. New developments may bring it full circle.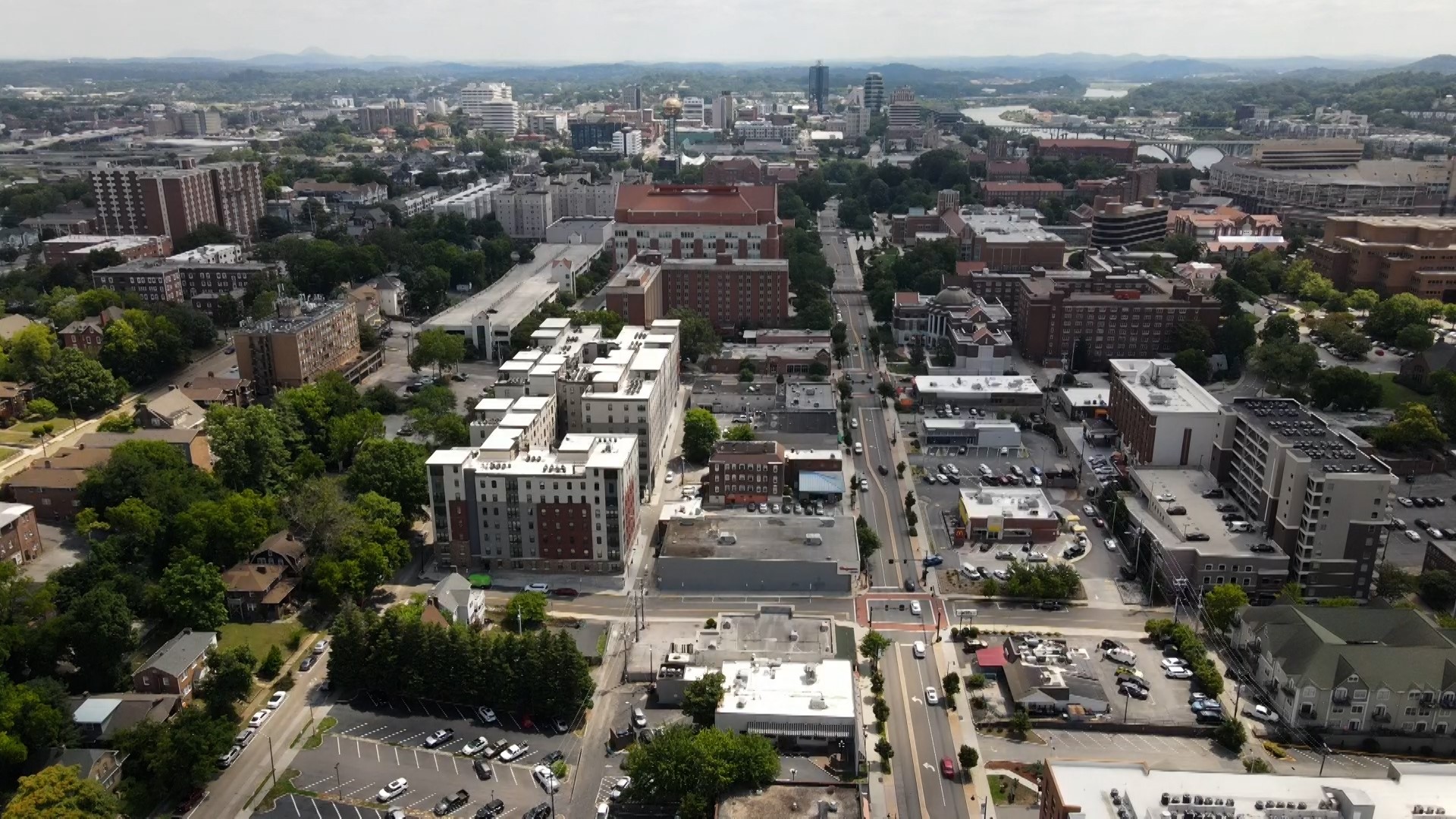 The history of Knoxville's Cumberland Avenue starts more than a century ago. Each decade seemed to bring something new to the Scruffy City.
From a neighborhood of mansions to restaurants and a theater to the place for nightlife, it was always the main route to the west.
"Name a decade and Cumberland Avenue had a different identity in that time than it did the decade before," Knoxville historian Jack Neely said.
From mansions to The Strip
:
In the early 1900s, Cumberland Avenue was residential.
"There are enormous mansions that the Woodruffs and the Cowans and these people had these, some of the biggest houses ever built in Knoxville in those days," Neely said.
In the '20s, that quiet affluent neighborhood began to change, making way for more attractions like the city's first Italian restaurant.
Neely said the small restaurants and the Booth Theatre that sprang up were geared toward families who lived in the Fort Sanders area, not students at the then-small University of Tennessee.
"UT had a couple thousand students but that was it in those days," he said.
However, as the university grew after World War II, Cumberland Avenue adapted again.
Neely said Sam & Andy's on Cumberland Avenue and 18th Street served Knoxville's first slice of pizza when it opened in 1946.
"When something happened new, there's a good chance that showed up on Cumberland Avenue first," he said.
Photos: Cumberland Avenue through the years
By the '50s and early '60s, it was the place to be for Knoxville's nightclub scene.
The jazz clubs drew musicians like Louis Armstrong and Duke Ellington, and UT constructed its first pedestrian bridge over the street in the 1960s.
"There were all these things going on, especially appealing to kids, and music, especially," Neely said.
The late '60s and '70s saw a shift to folk music venues and rock and roll clubs, bringing artists like the Allman Brothers and Jimmy Buffett to town.
"Jimmy Buffett played there a lot in the early days. In fact, he used to say that he put together his first Coral Reefer Band on Cumberland Avenue," Neely said.
The 1970s also ushered in a notorious reputation for Cumberland Avenue. A massive drug raid, called the "biggest" in Tennessee, made headlines in 1971.
"A lot of people were arrested. It was a big deal, and that's when people started calling it The Strip. I don't remember people calling it The Strip before that," Neely said.
Newspapers from 1974 detailed concerns over streaking on The Strip.
One headline said 5,000 people caused thousands of dollars in damage. Another column simply said, "let's call it quits."
Through the '80s, The Strip remained the spot to wander for food, music and shops.
"It was such a diverse place," Neely said. "You might walk up and down the street and you'd hear country music and you'd hear punk rock and you'd hear bebop jazz, you know, just in the same couple blocks walking along the sidewalk."
As its offerings evolved through the decades, Cumberland Avenue's appearance stayed relatively unchanged from its early days.
"It was all these things and it was all unpredictable, and it was partly because there were all these old '20s, '30s buildings that were built right up to the sidewalk," he said.
Cashing out and tearing down
:
Then the transformations of today began in the 1990s.
"People began just cashing out and selling their property to various chains, mostly, who would say, 'Well, we can't survive unless we have a parking lot in front of our store,'" Neely said.
The nightclubs and little shops were torn down to make way for parking.
It seemed Cumberland Avenue would never be the same.
"People would say, 'Gosh, we've lost our Cumberland Avenue.' It was nothing like it used to be. But then this idea of kind of rebuilding Cumberland Avenue to the sidewalk again, the old-fashioned way, came about," Neely said.
From the late 1990s to the 2000s, the need for change on Cumberland Avenue became apparent.
The city had a plan to reduce traffic lanes so pedestrians would have more room to walk around.
"We've lost a lot of the driving clientele we use to have and it's because people don't feel safe walking up and down the street," Rob Dansereau with the Cumberland Ave. Merchant's Association told 10News in 2007.
"Ultimate goal is to change it from a through street to a 'to street' where people want to come here, spend time here," then-Cumberland Avenue project manager Anne Wallace said in 2012.
The project was set to start after the Vols football season in 2013 and take around two years to complete.
Change seemed to be just on the horizon, and streetscapes were the name of the game.
Coming full circle
:
After years of planning and delays, the Streetscape Project broke ground in 2015.
"It's a patience thing. Everyone's just got to be patient," said a UT student biking to class at the time.
As construction continued on the ground, developers started looking up.
"When we make an investment in the public realm, we want to make sure we're seeing the private realm come in and invest as well," Wallace said in 2018.
At the time, the city said the $25 million investment along Cumberland Avenue improvements triggered more than $190 million in private investment.
Multi-use apartment buildings with retail on the bottom and living spaces up top became the new standard over the last five years.
"The walking developments are the premium developments. As long as you can walk to school, go ahead and build it," Rick Gentry said.
Some said these developments are replacing decades of history. In this case, Core Knoxville plans to build on the original sites of University Liquors, Stefano's Pizza and the first-ever Ruby Tuesday.
"It was just tradition. It's tradition, and they're gonna miss it," Stefano's general manager Sandra Hobbs said in 2022 when the original location closed.
Neely said that feeling is familiar in a way.
"There were people when I went to Cumberland Avenue who were saying, 'I remember when there were nice houses here. Where are all the nice houses?' You know, that's what they were saying 40 years ago," he said.
He said these developments bring Cumberland Avenue back to its residential roots where it all started more than a century ago.
"It's up to you to decide whether it's like it was in the old days or not, but it's different. It's something I think that's been interesting to try to see if they can bring back that old spirit," Neely said.
As of Feb. 8, 2023, the city is preparing to knock down decades of history on the Cumberland Avenue Strip to make way for more housing, bringing its story full circle.