KNOXVILLE, Tenn. — A Knoxville lawmaker with a history of financial troubles now faces questions from Tennessee campaign finance officials about his 2019 campaign expense claims.
Rick Staples has faced civil lawsuits for unpaid bills in Knox County, been evicted from an East Knoxville home and gone to court to resolve thousands of dollars due in unpaid child support in Knox County Fourth Circuit Court for a child in Georgia, records show.
He's now trying to resolve numerous questions raised by the state Bureau of Ethics and Campaign Finance about his 2019 disclosures, which include claims for hotel expenses in Jacksonville, Fla., this year and trips to Georgia and Las Vegas last year along with restaurant bills in numerous cities.
"This office's review of this matter is ongoing and not yet concluded," Bill Young, executive director, told 10News on Tuesday.
Staples issued a statement Wednesday afternoon through a spokesman addressing his campaign expense reports and his history:
"I am currently conducting an internal audit to improve the current accounting practices and systems to more accurately reflect expenditures. The audit will be complete Feb 21st and sent to the State Ethics Committee and available for public review. I have not misappropriated any funds.
"The fact that I experienced these financial issues gives me the ability to connect with and relate to many of my constituents who also have experienced financial difficulties. That is why I am so passionate about workforce development and addressing the issues of the working poor and those experiencing extreme poverty. I continue to be with the people, for the people working to create opportunities for thriving people and communities."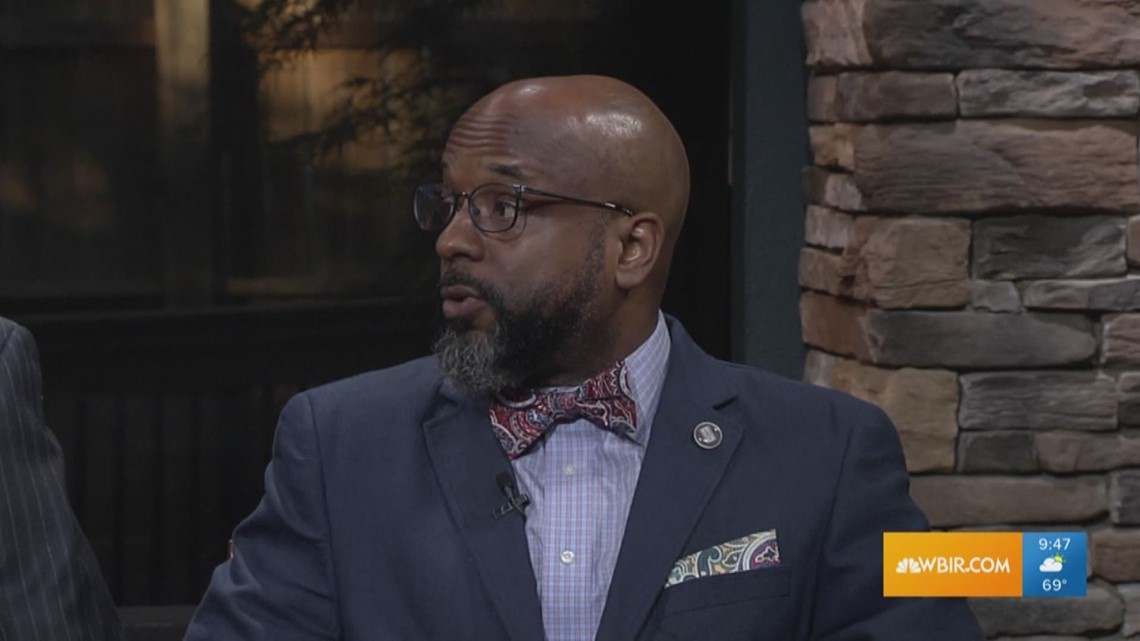 Generally speaking, state law says campaign funds can't be used for personal expenses. That includes anything a candidate would have to report as gross income to the Internal Revenue Service.
They can be used for expenses "...to defray any ordinary and necessary expenses incurred in connection with the office of the officeholder. Such expenses may include, but are not limited to, the cost of advertisements, membership fees and donations to community causes."
The law also allows candidates to give money to other candidates, to a PAC, to a charity and to a school.
The Democrat first was elected in 2016 to represent House District 15. Matthew Park has announced he's a candidate for the seat, and former Knox County Commissioner Sam McKenzie told 10News on Wednesday he has picked up a petition to run in the race. The petition must be returned by April.
Thousands spent on Florida, Las Vegas trips
Staples' year-end supplemental campaign report filed Feb. 10 for 2019 shows spending from his campaign account of $44,438 and total contributions of $56,382.
Spending included $300 for a hotel stay in Las Vegas in July for "sports betting research." It's dated July 19, 2019.
On July 14, he listed a $250 expense for Joe's Seafood in Las Vegas. On July 16, he paid $106 for an item identified as "UNLV Web tix," records show.
There's also an item listed for July 19 for $945.68 at the Hard Rock Hotel for "sports betting research," records show.
On July 23-24, a week after Staples' billed events, the University of Nevada at Las Vegas was the host site of a two-day seminar on gaming regulation.
It covered sports wagering and sports betting. Staples has pushed to allow online betting options in Tennessee.
The seminar enrollment fee was $925.
"The fee includes all classroom materials and a certificate of completion from the University of Nevada, Las Vegas. A continental breakfast, lunch, and parking will also be provided. All other expenses, including airfare, ground transportation, accommodations, evening meals, and incidentals are the responsibility of the participant," the event listing states.
There's no bill to Staples' campaign for the fee.
He also had his campaign pay for more than $3,300 in expenses covering several dates in December 2019 for "travel" at a beachside Marriott hotel and resort on Holiday Drive in Fort Lauderdale, Fla.
His records show at least eight stays at the Clarion Hotel in Nashville in late summer and fall after the legislative session.
There's also more than $300 for food and "travel" Jan. 6 of this year at the Omni Jacksonville in Jacksonville, Fla.
On Jan. 2, the University of Tennessee played Indiana University in the Gator Bowl in Jacksonville. That night, Staples posted a photo on Facebook showing the scoreboard at the stadium.
He noted: "I love 'em...but my VOLS like to make it interesting."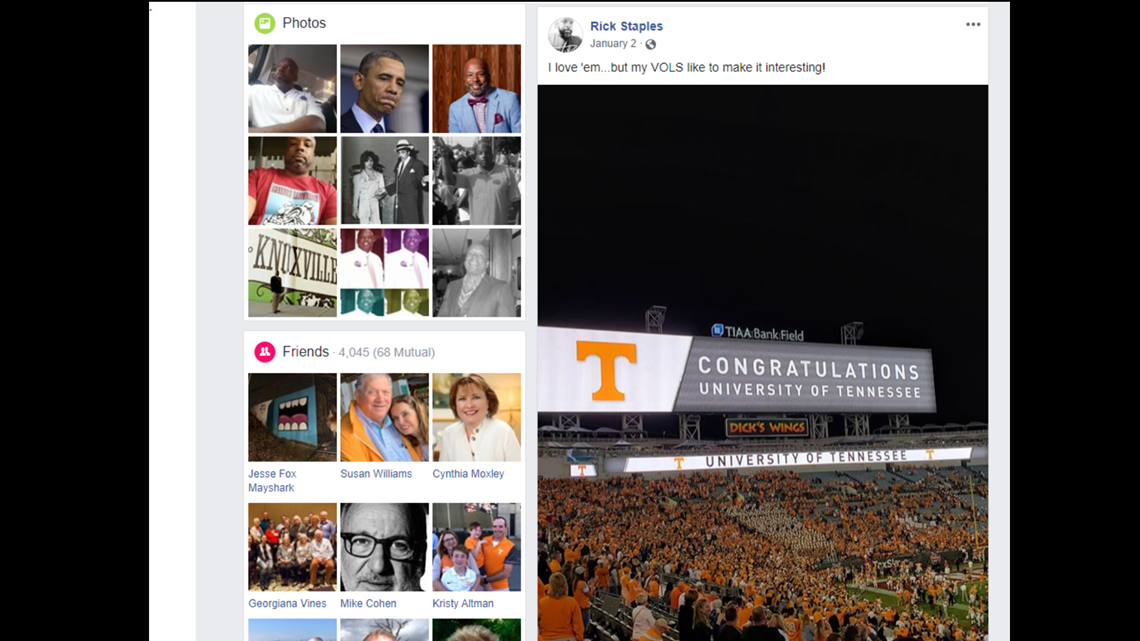 He submitted a $132 bill for a Jan. 3 meal at Blue Fish Restaurant in Jacksonville, records show.
Also on Jan. 6, 2020, he showed a $317 bill for renting a car from Budget Rent A Car at Knoxville Center mall.
On Staples' behalf, Debra Johnson is currently communicating with ethics and campaign finance officials in Nashville about numerous questions they have about the most recent report. She started as his treasurer Feb. 1, according to emails obtained by 10News.
The office noted Staples twice claimed expenses for renting a car with Budget in Knoxville, including the Jan. 6 transaction.
According to Johnson, after checking with Staples, "...it seems that the rental on 10/10/2019 (for $410) was to travel to GA for the sports betting research and the rental on 1/6/2020 was to travel to FL for the Geo-Fencing research. Is it still allowable?"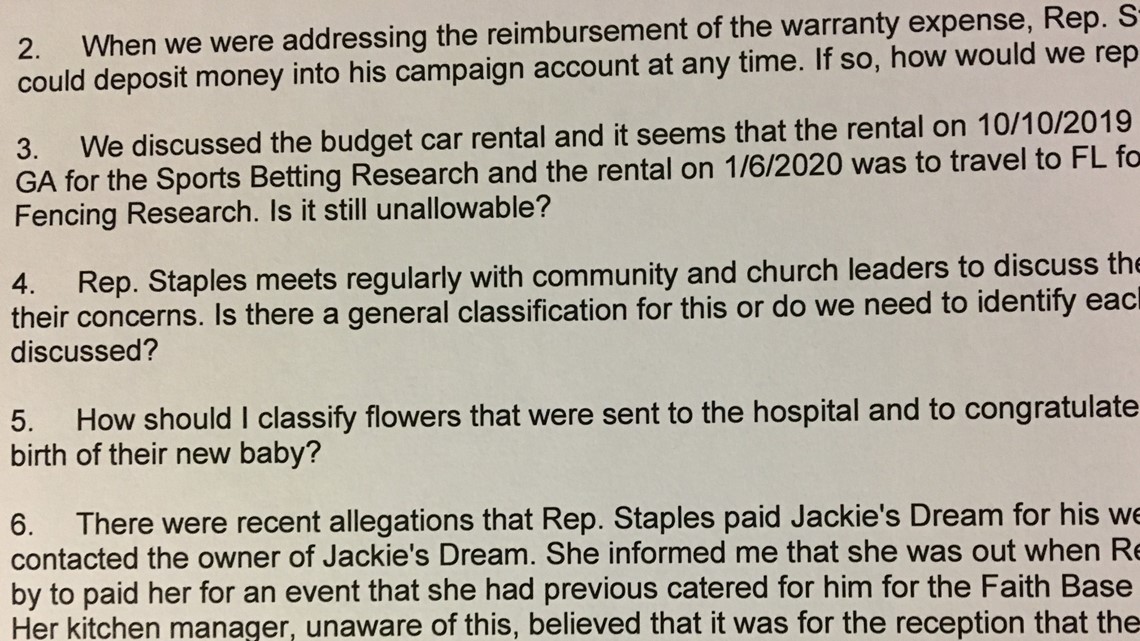 In response Feb. 18, Jay Moeck, the office's audit director, replied that campaign expense reports need to offer details. Candidates also need to keep information on who they meet with during travel and what the purpose was.
The officeholder needs to be more specific about the uses for the cars as billed including the purpose of the travel, an email states.
The email also includes this message: "Note for future disclosures: this additional information should be added to similar travel type expenses, including hotel accommodations, airlines tickets or car rentals."
The report also shows a contribution of $756 in Tennessee Titans tickets under "In-Kind Contributions."
The office questioned that, observing that tickets must be associated with a "legitimate" campaign activity and not for personal use. Tickets can be given to students or constituents, according to the office's correspondence with Staples.
The candidate's reply, as contained in a response: "The tickets were not for me, they were for a mentee and guests."
Ethics and election officials also questioned a $1,906.09 billing for Ford Credit. When Johnson said it was to cover a warranty for Staples' Ford vehicle, the office said that didn't appear to make it a qualifying expense.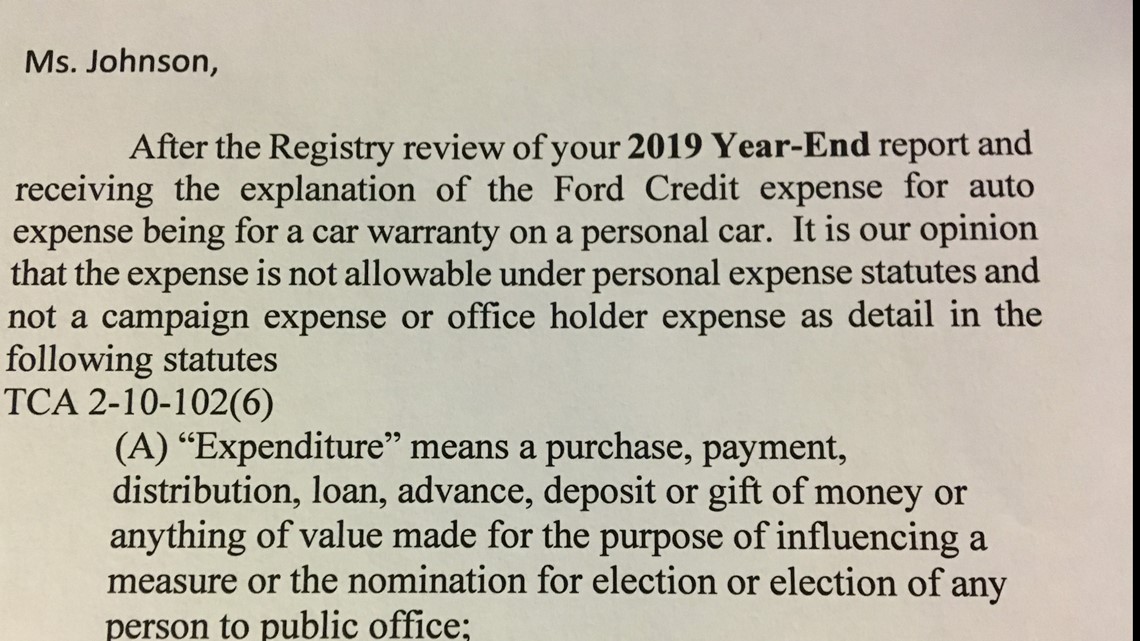 It appears Staples is violating state law in claiming the warranty, according to Moeck. He could face a civil penalty from the Registry of Election Finance of up to $10,000, according to Moeck.
Staples should repay the warranty expense, according to Moeck.
"When such a reimbursement is paid the board has generally" not assessed any penalty, even though "technically when the disbursement occurred it was a violation," Moeck's email states.
Questions also have arisen based on media reports about a $1,200 expense at the popular North Knoxville restaurant Jackie's Dream near the time he got married in October.
According to Johnson, the owner of the restaurant said payment was to be made for a previous catering job for a "Faith Base Leadership" event.
"Her kitchen manager, unaware of this, believed that it was for the (wedding) reception that they were currently working on for the couple and entered the incorrect information on the receipt. She is sending us a statement to explain this."
Moeck replied in part: "The thing to remember, report the proper purpose what occurred, keep the records, if not allowable return the funds and report."
Staples and his family were evicted last fall from a house they leased on Holston Court in East Knoxville. They hadn't been there long -- KUB records indicate only since May 2019.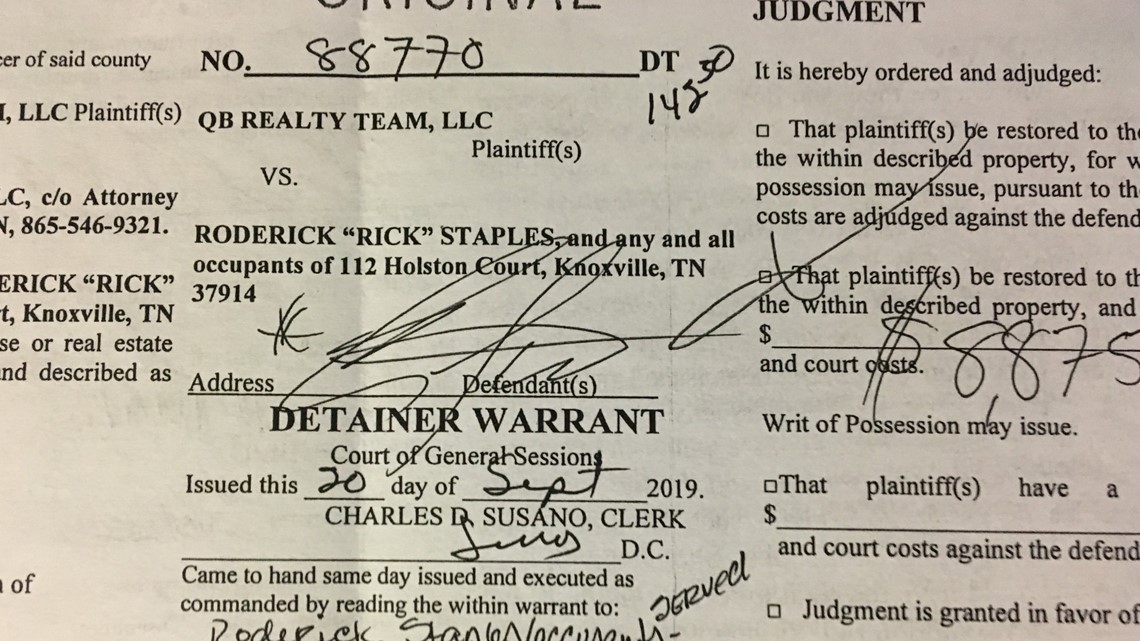 Knox County General Sessions civil records show owner QB Realty Team won a $8,875 judgment for unpaid rent on the home. A warrant was issued in September 2019, only about four months after KUB service started at the house, and granted in October 2019.
Staples shows that Holston Court address as his current address on recent expense filings, even though he's been forced out of the home.
Staples said last week in a statement he was temporarily living outside the 15th District while he and his wife search for housing that will accommodate their disabled son.
"This process has taken much longer than I anticipated and while frustrating has made me more aware and sensitive of the needs of my constituents with disabilities in all aspects of accessing public services and private establishments," the statement reads.
Sessions Court records show Staples has been sued in the last 18 years for debts by the University of Tennessee, Credit Central Inc., Med-1 Solutions LLC, Lakewood Capital LLC, Mercy Medical Center St. Mary's, and Ruth's Chris Steak House.
The restaurant bill from Feb. 5, 2014, amounted to $9,845.24, according to the record.
In the 2010s, a Georgia woman sued Staples in Knox County for failing to pay more than $6,000 in child support for a child they shared. The matter was later resolved for a lesser amount.