KNOXVILLE, Tenn — Knoxville Police Department deputy chief Ron Green has submitted his retirement amid an internal review into "serious and troubling allegations" of sexual misconduct after multiple women came forward, according to the department.
Knoxville Mayor Indya Kincannon and KPD Chief Eve Thomas made the announcement Wednesday, saying they received his retirement letter on Friday.
Thomas said she was made aware of an allegation of sexual misconduct on August 13, 2021. Based on the severity of the allegation, she placed Green on administrative paid leave.
The chief said internal affairs investigated and learned about other incidents of alleged inappropriate behavior between Green and other females dating back as far as 1998, one including a 17-year-old. Five females were involved in the investigation, including two current and two former KPD members. Internal affairs said there was adequate proof that the violations were against KPD's Code of Conduct policy in four of the five cases.
WBIR 10News reached out to Green about the allegations. His lawyer sent a press statement, with Green saying, "I categorically deny each and every one of them, as I have from day one."
However, information released from the KPD investigation makes it clear Green confirmed some of the details in the allegations occurred -- but Green's statement does not acknowledge any wrongdoing.
As to why he retired, Green said it was because he found it "impossible" to contest the allegations.
"I found it simply impossible to meaningfully defend accusations that were anywhere from four to 23 years ago. Reconstructing events and conversations from that long ago is not realistic," he said. "At the end of the day, I did not want to be responsible for bringing any dishonor to the KPD family or the community I have dedicated my life to serving. So, rather than dragging this out and causing further embarrassment to my fellow officers, I ended the process by retiring. Despite the controversy being reported, I am very proud of my career with the Knoxville Police Department, and I wouldn't change any part of it."
Chief Thomas said she was "horrified" by the allegations.
"I was horrified that allegations of this type would be made against any member of the KPD, much less one of the members of our command staff," Thomas said. "I hope this case proves that nobody is beyond reproach or above the law."
Thomas said Green had not formally responded to the city's complaints beyond his initial interviews, saying he submitted his retirement in the final stages of the internal investigation before any disciplinary hearing could be held on the findings. Green was serving as commander of the patrol division.
KPD said the investigation is over without any formal punishment on the city's end now that Green has retired and left the department.
"No one was happy with this [resolution]," Thomas said.
KPD's Investigation
KPD released the summary of its internal affairs investigation shortly after the announcement Wednesday.
The first woman who came forward submitted a written complaint that Green had sexually assaulted her around 2005 while on call. According to the investigation report, Green was a lieutenant at the time, and she was a sergeant. The woman said Green had fondled her while on a call.
"I didn't mention it to anybody. I was mortified. I was humiliated. And I was embarrassed," the woman said.
She also mentioned another alleged incident that occurred between Green and a former officer around 2010.
"I had thought about coming forward then and telling what happened to me, but then I saw how it unfolded and how it was not addressed and nothing happened to him, and I heard some of the comments made by our peers... joking about it and the situation and some of the remarks that were made and how it was not handled," she said.
KPD said it was told of eight more incidents of alleged inappropriate conduct, but said five women agreed to speak about it -- and four gave sworn statements.
The department interviewed Green twice, the first on September 20. Green denied having any contact with the woman who came forward first. His attorney then claimed the woman had "flirted" with Green, claiming she had a motive against him. KPD's investigation into conduct violations, in this case, was inconclusive, saying Green's polygraph was inconclusive and there were no witnesses to corroborate any of the statements.
KPD said sexual misconduct was also not added to its code of conduct until 2012.
Another woman came forward saying Green, who was her supervisor, had tried to flirt with her on duty. She asked him to stop and said he showed up unannounced to her home roughly a month later and tried to flirt with her again and brushed her hair back from her face.
"The only concern I have here is I think he's a predator. I really do," she said. "And it sickens me to see somebody like that that uses that power against people or for reasons that aren't professional."
KPD said Green had been "adamant" he did not go into the woman's home and had been there once before, but a witness contradicted that claim saying he was inside the home and that this was the first time he had ever shown up. Green claimed he had arrived at her home that day to see if she needed help bringing cupcakes to work.
KPD said a counseling claim from 2010 also supported the woman's claims, saying any performance issues she had were to be referred to someone other than Green, saying such a response today would have led to an internal affairs investigation.
"When he told me that nothing was gonna be done, and you can imagine my surprise, that I broke down crying. I mean... I said are you serious, I have to work for this man now," the woman said.
The report concluded Green's actions, in this case, were inappropriate for a supervisor to a subordinate, saying it was "bad judgment" on his own admission to show up at her home.
A third woman said she had gone to Green's apartment for advice as a cadet after dealing with personal family difficulties at the age of 19 or 20, saying he had been drinking and asked her if she thought he was attractive and to sleep with him in the middle of her crying.
"It was a very awkward question in the middle of me having a breakdown and he was a lieutenant and I was brand new. I didn't really know how else to answer that question without like... potentially ruining my reputation or my career since I was so new," she said.
The woman said she agreed at first because she was intimidated, but knew she needed to get out of the house. She claimed Green offered her a drink and had backed her up against a kitchen counter, and she said was scared and made an excuse to get out of his apartment.
The woman said she was also concerned with incidents on duty after she became an officer where Green would ask to meet up with her during DUI enforcement night shifts, saying she thought it was "extremely odd" his patrol car had no camera or recording equipment because the recordings are considered necessary in DUI investigations.
KPD's internal affairs unit said it interviewed an investigator who works with a different agency, saying the woman had told them about the incident at the apartment months before Green's investigation began. Green claimed he remember her coming to his apartment for a personal matter, but denied remembering the conversation or offering her alcohol.
KPD said the woman had not come forward with a formal complaint against Green during her time working at the department, but said she did tell several people about it while still employed. The investigator said it found her statements credible.
A fourth woman not employed by KPD came forward, saying Green had made her incredibly uncomfortable and feel "violated" after a few meetings, including at a Cars and Coffee event and another at a UT football game. She claimed Green had put his arm around her waist at the game and whispered something in her ear that was inappropriate while her husband was around. She said she and her husband moved away from Green and told him about it.
KPD interviewed the husband, who said she told him "something was off" about Green that made her feel uncomfortable. He also said she lost interest in going to events she used to love going to, saying it made sense in hindsight why after she told him about the incident at the football game.
"She told me that he said that she had a really pretty dress on, but it'd look prettier on the floor," the husband said about what his wife told him about Green. "I was gonna go back down there. I was pissed. Pissed is an understatement."
Green claimed he did not remember the husband or wife and denied the allegations. KPD's investigators said it received sworn statements from another witness who was told about the incident after it happened, saying the husband and wife also initially identified Green from a picture.
The final incident on record was reported by a woman who said she was 17 at the time it happened in 1998, saying she was a KPD Explorer in high school from 1995 through 1998.
She said she and then 28-year-old Green met one day when he was directing traffic at a blind intersection, saying traffic had been stopped and he had walked up to her window to speak with her. She told him she was an explorer with KPD and said he told her to pull into a parking lot so they could talk more. She told him she lived down the road and was getting her senior pictures made before leaving.
The next day, she said Green showed up in her driveway off-duty in his personal car, offering to drive her to get her senior pictures taken. She said okay, and he took her to her high school and waited for her to drive her home.
On the way home, she said Green leaned over to kiss her. She said she jerked back and told him she needed to get back home. The woman said she didn't remember talking for the remainder of the drive home, saying she was scared, nervous and freaked out.
A few days later, she said she was visiting her boyfriend at his house and her mother called and told her "this officer is here again." She asked her mother to tell him to leave.
The woman said she was embarrassed about the incident and didn't tell anyone in the department until decades later. Her mother said she "trusted a police officer" to drive her daughter at the time when interviewed about the incident.
During the investigation, Green said he remembered meeting the girl at the time, saying he thought she was 18 and that he did not remember ever going to her house. He denied ever touching her.
Investigators said the woman's statements were detailed and supported by her mother's sworn statement, saying Green had shown up at least twice unannounced at their home.
Kincannon and Thomas commended the women who came forward to report the allegations.
Before the Retirement
Green was initially placed on paid administrative leave for five days beginning August 17. It lasted approximately 17 full weeks before he retired.
According to KPD, it is standard protocol that employees who are placed on paid administrative leave are paid their full salary. That means Green had been paid more than $30,000 while on administrative leave.
Prior to Wednesday's announcement, KPD had reported the following about its internal investigation:
• On August 13, KPD Chief Eve Thomas sent Green a letter informing him that he would be placed on administrative leave for five working days with pay.
• Text messages obtained by 10News show Chief Thomas extended Green's administrative leave multiple times because the internal affairs unit had not interviewed him.
• Green is not allowed to work any extra jobs while on administrative leave, according to the text messages.
• Thomas texted Green "it is not good for you or the Dept to be on extended admin leave."
• Green texted Thomas he still has "no idea what any of this is about anyway."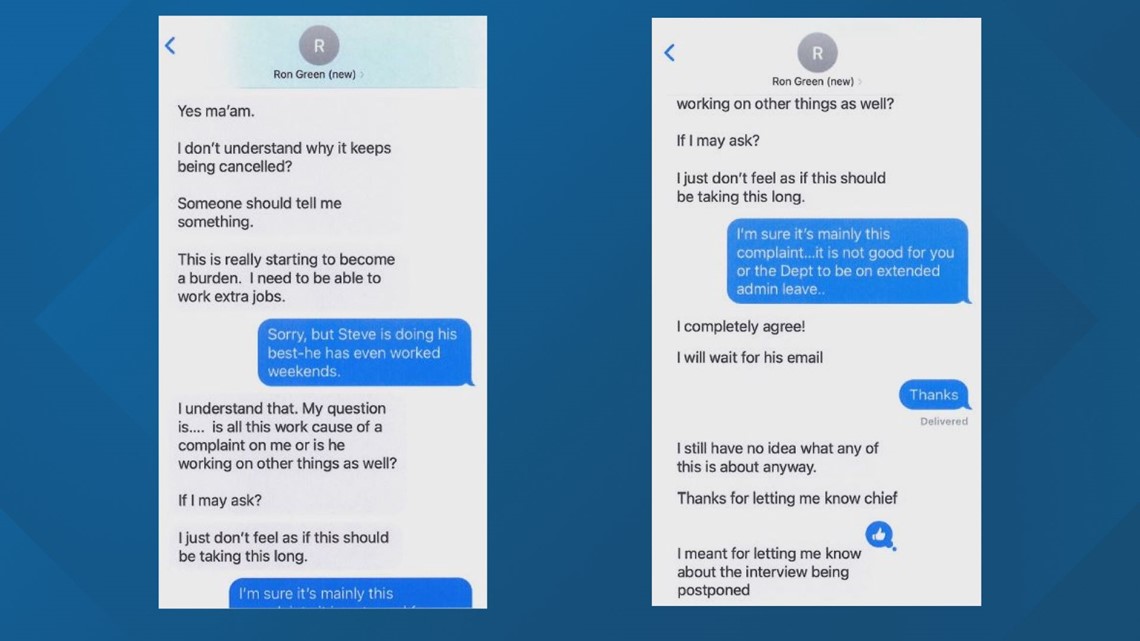 Inside Green's Personnel File
Twenty-seven years of documents revealed how he rose from through the department's ranks from recruit to deputy chief.
Records show this isn't the first time he's gotten in trouble. He was reprimanded for a "preventable with negligence" automobile crash, not doing enough traffic enforcement, accessing explicit websites on city computers and violating the department's take-home vehicle policy.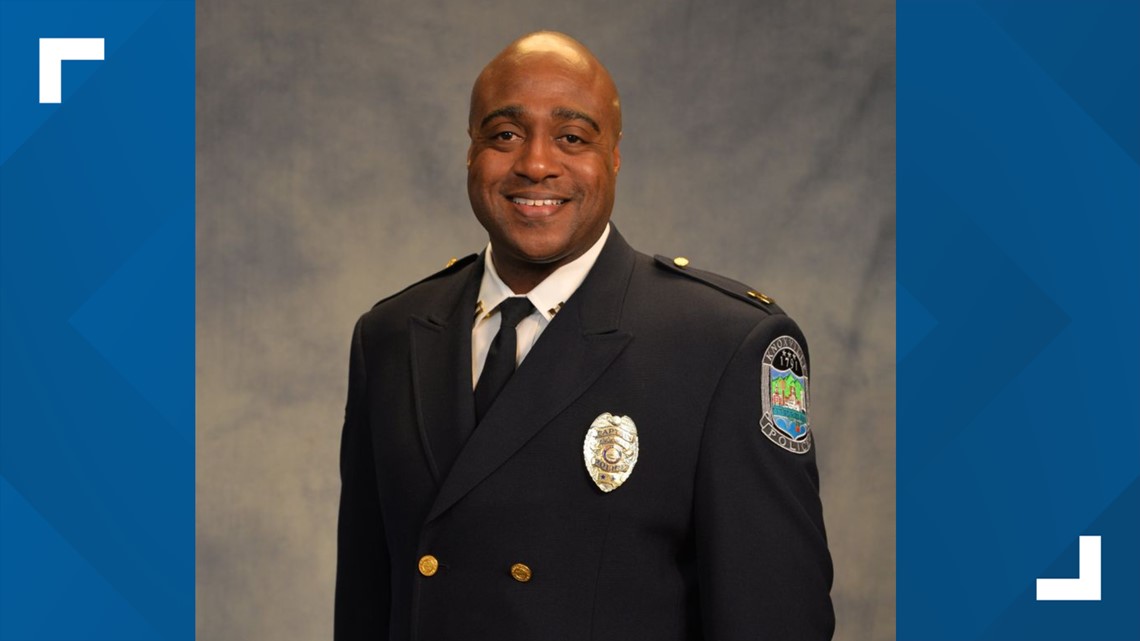 In his early days, annual performance evaluations showed a new officer who is reliable, professional and dedicated to the force. A supervisor wrote he has "good potential for promotion through the PO ranks" in 1995.
The next year, he received his first oral reprimand for an automobile accident. The review board told him in a 1996 letter that it found the accident was "preventable with negligence."
Green's 1995-96 review showed more areas that needed improvement. An evaluator said he should strive to improve self-initiated activity and overall performance.
He was in the lowest 25% of his unit in terms of productivity that spring. He was promoted to police officer that fall.
Records show he improved in many areas the following cycle. He was awarded "Officer of the Month" in July 1998 and received multiple letters appreciating his work.
He applied for police sergeant shortly after, barely passing the required examinations and oral boards, records show.
"[He has a] shallow understanding of supervisory problem solving + disciplines," one rater wrote.
"Shows no skills in being able to carry out the responsibilities," wrote another.
His average score on the oral board examination was a 2.41/5. He was officially promoted to sergeant in December 1998.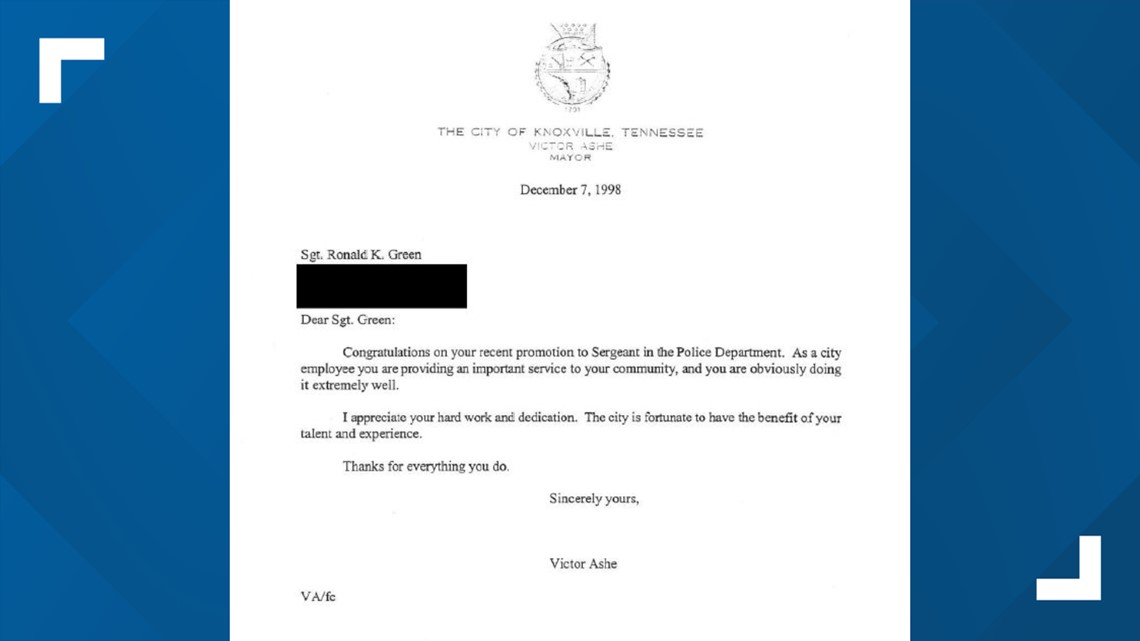 Performance reviews from 2000 to 2003 show he struggled with his new position.
In June 2002, he was reprimanded because he "failed to perform required traffic enforcement during the Memorial Holiday Traffic Enforcement," according to documents.
He wrote a detailed response to the reprimand, citing staffing issues as the main reason for his unit's low number of tickets.
That fall, he was suspended without pay for 10 days for violating a number of city and department policies.
Internal affairs documents said he admitted he would "randomly put female names onto a city computer and search the website under 00domain.com to see what would come up under whatever name he was searching."
The report goes on to say he would enter names such as "Icandy" and pornography would be associated with the name.
Then-Sgt. Green said he attempted this "10 to 20 times" and that he would "attempt to X out of them, but pornographic sites would continue to pop up on the screen."
Records show he also accessed inappropriate sites such as Man Cow that were "sexually explicit in nature." Ten other police officers were reprimanded during this investigation.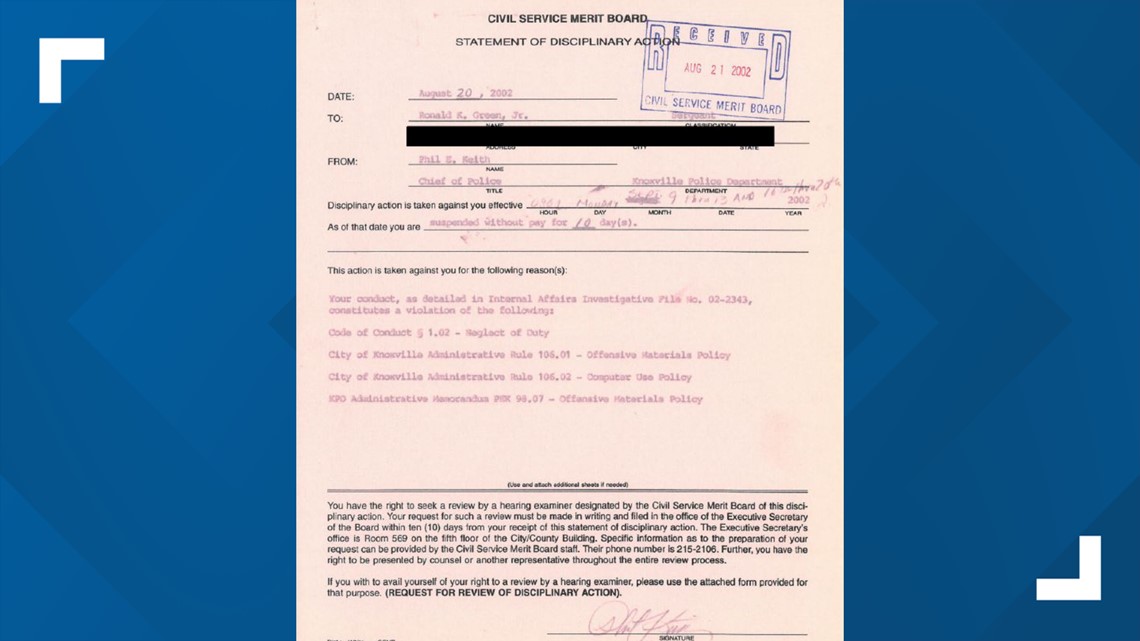 In the years that followed, formal reviews said he was "in tune with department procedures and policies" and that he had "learned from his mistakes."
He was promoted to police lieutenant in 2005 after his supervisor recommended he apply for promotion opportunities.
From 2005 to 2010, his performance reviews were mainly positive, describing an "excellent patrol supervisor" who "leads through enthusiasm, [has] excellent motivational skills and constantly strives for excellence."
In 2012, he received his third documented reprimand for violating the drive-home vehicle policy. Documents said his "actions brought discredit on the department."
In 2014, Green's performance review was nearly perfect. A reviewer wrote he is "indicative of a supervisor who is prepared to advance in this organization."
Shortly after, he was selected for a promotion to captain.
His superiors wrote in subsequent performance reviews that he adapted to his new role well. They said he was eager to learn more and take on new responsibilities.
He was promoted to deputy chief in 2018.
"Ron Green through his career at KPD and in his position as District Commander has demonstrated that he possesses the skills and abilities required of this position," Chief Eve Thomas wrote as her reason for selecting him.
His review the following year said he was progressing in his new position and always willing to learn more.
He took 400 hours of leave on FMLA from the end of October 2020 to the beginning of January 2021.
In a letter sent to employees ahead of the public announcement of Green's retirement, Chief Thomas said she was not at the point where she could schedule Green's disciplinary hearing.
"Deputy Chief Green elected to retire/resign and did not receive the opportunity to speak before me regarding these serious and horrible allegations. Nonetheless, this file will still be reviewed by PARC and become public record," she said. "As for those victims who are or were KPD employees, no one should have to be a part of the KPD family and feel victimized -- this is unacceptable and contrary to all we hold dear and work to uphold."