KNOXVILLE, Tenn. — State Rep. Rick Staples easily billed for more hotel stays, ate more meals and spent more of his campaign funds in 2019 than fellow lawmakers from the Knoxville area, finance reports show.
The Knoxville Democrat spent about $51,000 during the year. Some of it went to political groups, churches and charitable organizations and to cover office expenses.
But thousands of it went to trips to Jacksonville, Fla., Fort Lauderdale, Fla., Atlanta, Las Vegas and elsewhere, records show.
His spending exceeds even that of state Sen. Randy McNally, of Oak Ridge, the lieutenant governor and most senior member of the Legislature, records show.
After questions arose last month about his spending, Staples said in a letter to the Bureau of Ethics and Campaign Finance that he was ready to pay back about $8,900 in "unallowable" 2019 spending.
The mistakes in his report, he said, are due to his misunderstanding of what he could claim. He's told WBIR he had no bad intent.
Auditors for the bureau notified his treasurer Monday on office letterhead that they had additional questions for Staples about hotel stays in Atlanta and Jacksonville as well as a $1,201 dinner at North Knoxville restaurant Jackie's Dream.
"Please provide any additional information and/or documentation that these donations are appropriate campaign expenditures," the March 9 letter from Lance Frizzell, the bureau's assistant director, states.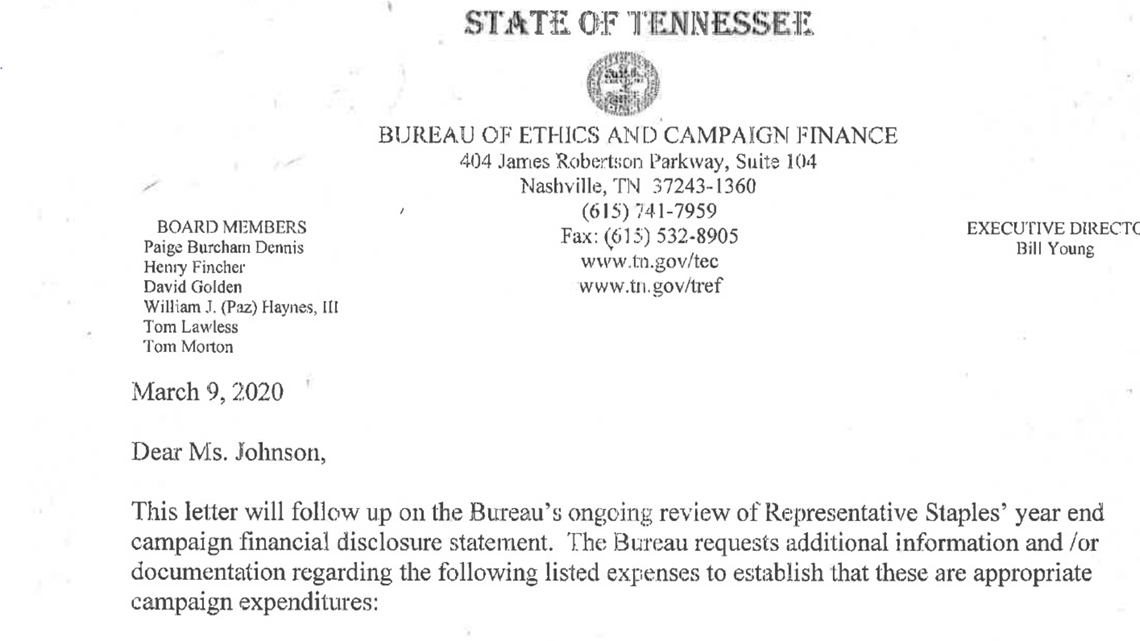 They're giving the treasurer an April 1 deadline to respond.
Most previous communication between the parties has been by email.
Staples, first elected in 2016 to represent an East Knoxville district, has a history of financial problems, records show.
He was evicted last fall from a Knoxville home he'd been leasing about five months, and several small-claims lawsuits have been filed against him in Knox County for non-payment, including a bill for $9,845 for an event at Ruth's Chris Steak House in Knoxville -- before he became a lawmaker.
Late Wednesday, a Staples spokesman sent WBIR an email: "Rick has been in contact with the state and is in the process of providing additional clarification and documentation regarding his expenditure items."
'SUPPOSED TO BE GOOD STEWARDS'
Several of Staples' legislative peers said they're reluctant to spend much of what donors, often PACS, give them.
"In terms of how the money is spent, I just personally don't believe that money should be spent on anything related to entertainment or even travel," Republican Jason Zachary of Knoxville said. "Most of the time, I cover my travel expenses myself.
"The same with the per diem (lawmakers get). Many times I come here when we're out of session and I don't claim a per diem."
Zachary's 2019 reports to the state show he received about $65,300 and spent about $18,000. Some of that went to groups like Farragut High and the Farragut High Band, part of his constituency. He also spent money twice at the Heritage Hotel in downtown Nashville for fundraising, which is allowed.
He had no billed hotel stays, records show.
"Campaign-wise, we're supposed to be good stewards," he said.
Maybe it's his guilty conscience, but first-term state Rep. Justin Lafferty said he almost feels bad about spending campaign contributions.
"Frankly, this whole thing about campaign finance and tracking the money and all of that -- it makes honest people nervous," the Republican said.
"I don't know where the lines are, they seem quite blurry in places," he said. "When you try to get your questions answered, I've felt like if I just asked a different person that I'd get a different answer."

Lafferty's 2019 reports show he took in about $28,000 last year and spent about $7,200. That included no hotel stays.
As part of that spending, he gave $3,000 to the Knox Liberty Organization, which calls itself on Facebook a political group of "Liberty minded individuals working together to help make Knox County the most Liberty friendly county in the United States and Tennessee the most Liberty friendly state in the world."
Still, Lafferty said, he's enjoyed being a state representative and already is running for another term.
Staples' fellow Knoxville Democrat Gloria Johnson took in about $31,000 and spent about $4,900 last year. Her spending included a $650 donation to the Democratic Party of Knox County. It's permissible to donate to political organizations.
She attended a conference in Washington, D.C., for her sole claimed trip of the year.
Johnson said she's careful about what she spends money on.
"The vast majority of my money comes from individual donors that work for a living," she said Wednesday. "They trust I will use that money to advance their ideals. I try to honor that in my spending."
OTHER LAWMAKERS' SPENDING
Here's a summary of what some other area lawmakers spent, according to their reports filed with the bureau.

Rep. Martin Daniel, R-Knoxville: Received $20,600, spent $9,506 with $4,500 of that going to the House Republican Caucus. He had no hotel stays. He has an outstanding self-loan balance of about $395,000.
Rep. Dave Wright, R-Knox County: Received $12,050, spent about $1,600 with some of that going to the House GOP Caucus. Had no hotel stays.
Rep. Bill Dunn, R-Knoxville: Received $5,000, spent about $16,000, with some of that going to the House GOP Caucus and Tennessee Right to Life. He had no hotel stays.
Rep. Dale Carr, R-Sevierville: Received $16,700, spent about $23,600, with $2,500 of that going to the Sevier County Board of Education and $2,000 going to the House GOP Caucus. He had no declared hotel stays.
Rep. Jeremy Faison, R-Cosby: Received $117,825, spent $41,804 on items that included a cabin rental for caucus workers, attendance at an ALEC conference in Austin, Texas, and a Nashville hotel expense while running to be caucus chair.
Sen. Randy McNally, R-Oak Ridge: Received $101,525, spent about $20,000, with one big event -- "food and beverage" at Calhoun's in Oak Ridge costing $4,260. He had no billed hotel stays.
Sen. Richard Briggs, R-Knoxville: Received $62,200, spent about $10,500 including to cover a fundraising event, a donation to Bill Powers for state Senate and a Lincoln Day Dinner expense. He had no hotel stays.
Sen. Becky Duncan Massey, R-Knoxville: Received almost $119,000, spent about $35,000 for items that included a meeting at a Kingsport Marriott, a few lunches and events and $1,379 for a "transport and safety staff dinner" at Ruth's Chris Steak House in Nashville.
Staples got a new treasurer, Debra Johnson, earlier this year.
She's been engaged in frequent back-and-forth email and phone conversations with bureau staff members including auditors to clean up Staples' reports, records show.

In addition to clarifying what expenses are legitimate for Staples to make, she's also been getting guidance on how to report contributions from online giving sources like ActBlue.
Communication is ongoing as recent as Tuesday.
Staff already has informed Staples he probably broke state law by using campaign funds to pay $1,900 for a warranty for his personal Ford.
As his reports have changed, he's added more specific information about what he says he was doing.
For example, he's now saying he took more than 55 Lyft trips. He's held several meetings with community leaders at Knoxville restaurants including Merchants of Beer, Texas Roadhouse and O'Charley's.
He also ate last summer at Ruth's Chris Steak House in Knoxville, the same place he left with a $9,845 bill in 2014.
On Monday, Johnson asked Frizzell if someone had filed a formal complaint against Staples' expenses.
"We have not received a complaint regarding Rep. Staples," Frizzell's Tuesday morning reply states.