KNOXVILLE, Tenn. — UPDATE 3:30 THURSDAY: Three Knoxville Police Department supervisors including the chief herself have received some form of discipline as a result of an internal investigation into how a complaint of sexual misconduct and other episodes were handled last year.
In addition, a police lieutenant resigned this week, according an announcement Thursday afternoon.
KPD Chief Eve Thomas and Mayor Indya Kincannon talked Thursday afternoon about the findings of the department's Internal Affairs Unit.
"Nobody skated, for lack of a better word, in this investigation," Thomas said Thursday.
Thomas said discipline was "appropriate" with the information they had to work with.
"I think they were handled appropriately," she said. "We hire from the human race, as my predecessor (David Rausch) said."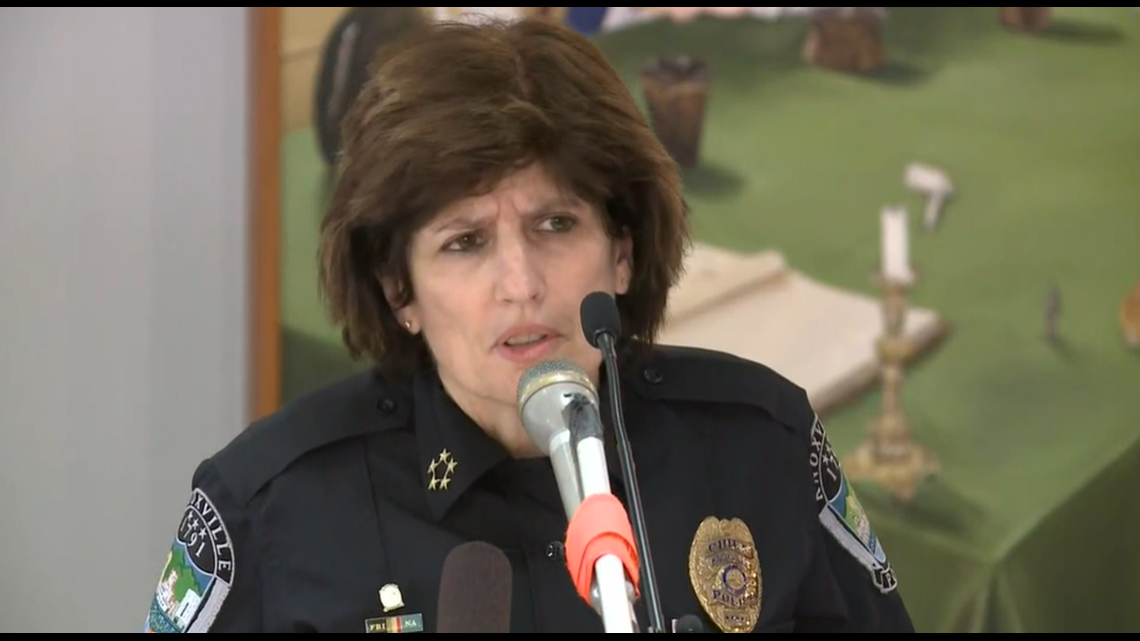 Thomas said, as she did last summer as the investigation was just beginning, she doesn't think KPD has a "culture problem."
"I can't guarantee you we won't make any more mistakes. But we will do training and we will reinforce that training so as to mitigate that from happening again."
The city and KPD said last summer after reports of the incidents emerged that the department might look at new training steps.
On Thursday, Kincannon said she wanted Thomas to add workplace harassment training for all KPD employees. That'll include what someone should do when they see or hear of "inappropriate behavior or language" by a fellow employee.

Internal Affairs independently checks out complaints both internal and external that are lodged against officer. Sometimes their reviews result in discipline; sometimes a staff member leaves in the midst of an IA review, resulting in termination of the investigation.
The Police Advisory Review Committee, an independent citizen group, also reviews IA investigations.
*KPD Officer Tyler Wiggins was suspended without pay for eight days by Chief Thomas. He secretly recorded a video of Sgt. Bob Maxwell last summer making sexually vulgar remarks at roll call. The recording became public, ultimately leading to an investigation. What Wiggins did was a code of conduct violation, the investigation found.
*Thomas received "verbal counseling" from Kincannon, who took office in December, for not promptly alerting the city Law Department or the Civil Service Department when an anonymous complaint was submitted about the video.
"Thomas, who was out of town at the time, directed a Deputy Chief to immediately address the complaint, and the Law Department, Civil Service and IAU were notified a day later," according to a city announcement. "The failure to specifically direct that the complaint be forwarded to the Law and Civil Service departments, and the one-day delay, resulted in a finding of a violation of policy."
*KPD Deputy Chief Kenny Miller was reprimanded in writing. The investigation showed he failed to document to Internal Affairs how he handled a complaint over an alleged sexual relationship involving a young officer and the wife of a Knox County deputy.
"Miller concluded that no violation of KPD policy had occurred, but he did not submit required paperwork to IAU within 72 hours," according to the city announcement.
*KPD Capt. Tony Willis got two written reprimands.
"Willis' actions that merited reprimand included failure to document to IAU (along with Miller) their handling of a complaint over an officer's alleged sexual relationship; a singular inappropriate remark about women; and following incorrect protocol in handling a sergeant's performance evaluation," according to the city.
KPD Lt. Kenneth Bush resigned Wednesday. He was facing a disciplinary hearing.
"Bush was found to have made contradictory and deceptive statements under oath in separate interviews with IAU investigators about his knowledge of a video taken during roll call of Sgt. Bob Maxwell's crude and inappropriate language," according to the city.
"Bush apparently had no role in the inappropriate behavior or the making of the video, but he failed to report both the existence of the video and his knowledge of its contents as required by KPD and City policy," according to the city.
Maxwell resigned July 1, 2019. WBIR obtained and reported about the video.
Lt. Travis Brasfield, who acted as a whistleblower in raising concerns about the video and other matters including an affair that an officer was having with a Knox County deputy's wife, also resigned last summer. He'd been moved to desk duty after his complaints became public and IAU began its investigation.
According to the city, "Following an initial interview, Brasfield then declined investigators' requests for a follow-up interview and failed to provide documentation regarding his complaint, including additional evidence he claimed was in his possession. Brasfield then resigned from KPD. IAU reports that Brasfield's refusal to cooperate hindered and delayed the investigation," the city stated.
Internal Affairs cleared or couldn't verify some of the allegations raised by Brasfield, who also is a practicing lawyer.
For example, he suggested there was evidence Willis in a past investigation withheld proof that would have exonerated someone in a federal case. IAU reviewed that and dismissed it as "untrue," according to the city.
IA officers also found to be untrue a statement - later recanted - by a woman that an officer had offered a favor in exchange for sex.
OFFICIALS DISTURBED BY VETERAN'S CONDUCT
Kincannon said Maxwell's conduct at roll call last year was unfortunate.
"We were all disappointed and embarrassed by that infamous roll call video," said Kincannon, who was a candidate at the time to become mayor. "That's why this thorough investigation was needed."
She also said Knoxville has outstanding officers and a department that does "a tremendous job."
Thomas said Thursday of Maxwell's behavior in the video, "Obviously it was an egregious thing."
Maxwell had been a decorated and respected veteran officer. He'd also been involved in shooting and killing two people in Knoxville during on-duty confrontations in 1997 and 2014.
PREVIOUS STORY: The eight-month-long Knoxville Police Department probe into allegations of sexually inappropriate conduct and explicit comments by officers and command staff has ended, the police department said Thursday.
Police Chief Thomas will announce the findings of the internal affairs investigation in a press conference alongside Mayor Indya Kincannon this afternoon.
WBIR will live-stream the announcement.
The internal investigation began in mid July after 10News published a whistleblower's allegations of misconduct within in the department and a video of a now-former sergeant at a department roll call meeting making sexually explicit comments, including instructing patrol officers on forcible oral sex with female suspects.
10News also obtained audio recordings that show how commanding officers reacted to reports of inappropriate conduct, later identified in the whistleblower complaint.
The recordings include foul language and sexist comments as officials reacted to allegations that an officer dropped a marijuana charge against a suspect in exchange for oral sex, that an officer had an affair with a Knox County deputy's wife (also a county employee) and that officers withheld potentially exculpatory evidence in a case that sent a defendant to prison.


The internal investigation was expected to establish whether those allegations were true—and what if any punishment officers involved would face.
On the recordings, Capt. Anthony Willis is heard calling estrogen "a poison that destroys the logic center of the brain."
Deputy Chief Kenny Miller, head of the patrol division, was present for at least one of the recorded meetings.
At a press conference shortly after the revelations, Thomas said, "The alleged comments are not reflective of who our police department is and what we want to be."
She is expected to announce new harassment training and department protocols at the press conference Thursday, a goal she outlined as the investigation began.
A KPD spokesperson previously told 10News the department would make changes once the internal probe was complete.
The whistleblower, Lt. Travis Brasfield, left the department within weeks of the start of the investigation, claiming retaliation.
Months later, internal affairs investigators cited his refusal to sit for further interviews as a major roadblock in their investigation.