Tennessee's top dog is a bluetick coonhound named Smokey.
Ten dogs have carried the legacy of the Vols beloved mascot since 1953, each lovingly cared for by members of one family and adored by thousands of Big Orange fans. Smokey leads the Vols through the T before each home game, and celebrates each time the Vols score with a sprint through the endzone.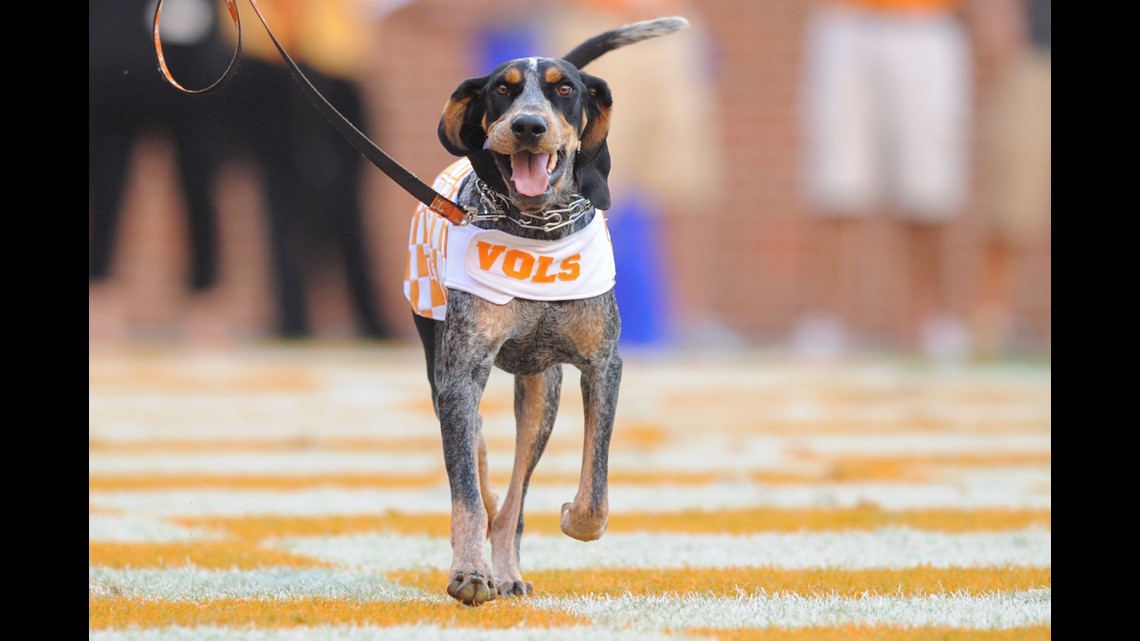 Here are 10 fun facts about Smokey:
He was selected in 1953, during a contest to select a live mascot for the school. Announcements for the contest read, "This can't be an ordinary hound. He must be a 'Houn' Dog' in the best sense of the word." At halftime of the Mississippi State game, the contenders were brought onto the field. The last dog announced was Brooks' Blue Smokey, who barked when his name was called. The students burst into applause, which only made Smokey howl louder. Tennessee had its mascot.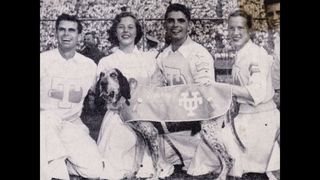 Smokey has had some interesting adventures over the years. Smokey II was dognapped by Kentucky students in 1955 and later survived a confrontation with the Baylor Bear at the 1957 Sugar Bowl.
Smokey VI, who suffered heat exhaustion in the 140-degree temperatures at the 1991 UCLA game, was listed on the Vols injury report until he returned later in the season. He was on the sidelines for three SEC championships.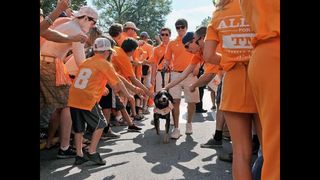 Smokey VIII is the winningest Smokey, having compiled a record of 91-22 (.805), with two SEC titles and the 1998 national championship.
In 2006, Smokey IX nipped an Alabama player during pregame warm-ups. The Tide faithful claimed the dog bit the receiver after he fell on him while running out of bounds for a pass. UT said the dog just got a bite of uniform, not skin.
On game days and for his official mascot duties, Smokey is handled by members of the Alpha Gamma Rho fraternity. For home games, he usually spends the weekend in the fraternity house on UT's campus.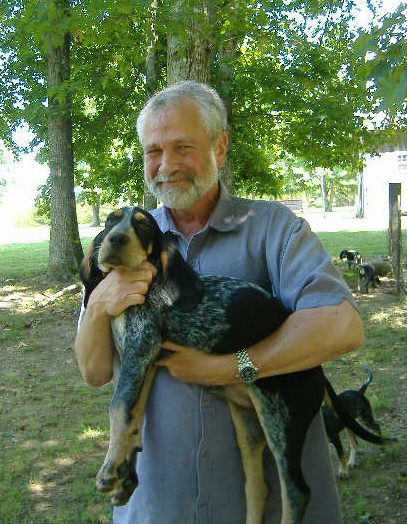 During the week, Smokey X is a pampered pooch who lives with Charles and Cindy Hudson. He is the 1st Smokey not descended from the original Smokey bloodline, but he is the first from a new Tennessee born and bred bloodline.
When Smokey X was two months old, he was 26 pounds. He was so much bigger than the rest of the puppies, the breeder, Wendy Davis of Davis Branch Blueticks, knew she'd found the right dog!
Smokey X gets his size from his daddy, Pokey Joe, weighing 90 pounds, but his howl, that infamous bluetick bawl, is courtesy of mom, Little Lucy LuLu.
Smokey X is already siring the next generation of little Smokeys, with his mate-for-life, Goodnight Gracie.