KNOXVILLE, Tenn. — The soothing vibration of gongs and singing crystal bowls fill the basement of Jan Coe's West Knoxville home.
The former Oak Ridge scientist turned sound therapist has performed healing sound baths for her clients for years.
"That was a bit of an odd route," Coe said. "I love figuring out how things work so even when I got started in this, I'm looking at research and what really works."
"It's like dipping yourself in a bathtub. You've got the warm water all around you. That's what the sound does," Coe said.
The vibrations help you release pent-up stress, anxiety, grief and past trauma to enter a deep state of relaxation.
"I've actually had people say, 'I watched a cloud float away from my body,'" Coe said.
Veteran musician Wendell Werner describes the lying-down concert experience as spiritual.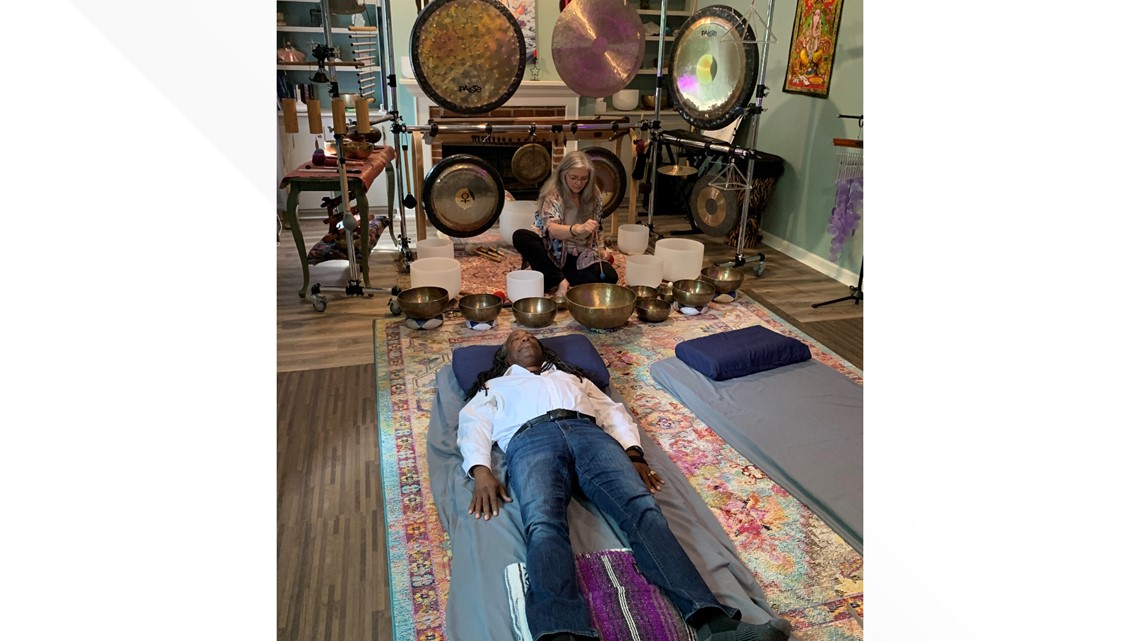 "It's made me more open as a person," Werner said. "Getting rid of negativity, having positivity come in—I experienced all of that."
Coe and Werner have spent years studying sound bathing's effects on Alzheimer's disease.
Before opening Whole Notes Harmony, Coe owned a homecare agency where many of her clients were diagnosed with dementia.
"Those musical memories are stored also with the emotion of how that music made the person feel. So the trick to bringing the brain back to life, to the extent that it can be with music, is finding what the music was that the person thought was really important to them," Coe said.
The ancient practice of sound bathing has been around for generations but has seen a renewed surge in popularity.
Coe said she has seen more people interested in the therapy's healing effects.
She is planning to offer 'pay what you can' sessions this year and looking for a venue.
"I think people are looking for all the natural ways they can find to feel better," Coe said.
Martha Yarnell has been trying to find a way to finally relax in retirement.
"It's a way I can get more relaxation without having to take another drug, which I think is not necessarily beneficial anymore," Yarnell said.
Yarnell and Mary Jo Tarvin believe sound bathing rivals traditional therapy, an experience that can be life-changing.
"You can go and see a therapist for six months, and you're kind of like, 'Well, am I any better?' But I think the difference is, with the sound concert especially, you know something's different, and you feel different, so the proof is in the pudding," Tarvin said.
If you want to try sound bathing, Whole Notes Harmony has free videos on its Facebook page.