For the first time since the 80s, The University of Tennessee's Homecoming parade will return to "The Strip."
This year's parade is Friday, Nov. 3.
The parade will roll along Cumberland Avenue from 4 to 5 p.m. The post-parade celebration will be from 5 to 6 p.m. The street will remain closed to vehicles during that time and the floats will be parked on display.
People can choose their best entry through the #VotefortheFloat contest. Cumberland Avenue merchants will be providing prizes to the teams that create the top floats and also to spectators selected with random drawings.
The theme for this year is "HC 101: Intro to Rocky Top." According to the release, the parade's grand marshals include Del and Dane Bryant, sons of Felice and Boudleaux Bryant, a husband-wife songwriter team who generated a string of hits – none more celebrated in Knoxville than "Rocky Top."
Cumberland Avenue has been under construction for 28 months. During that time, it transformed into what city leaders call "a safer, more pedestrian-friendly corridor."
The parade will march north on Volunteer Boulevard from Circle Park Drive to Cumberland. From there it will turn left and head west on Cumberland before exiting onto 21st Street.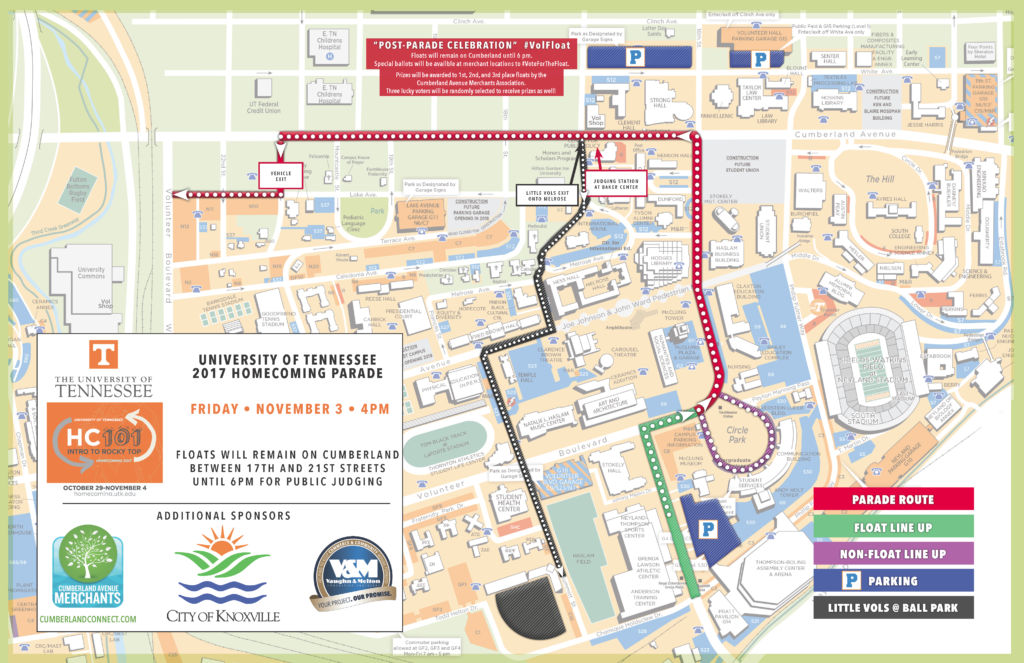 Crews will close Cumberland Avenue at 3:30 p.m. and reopen it at 6:30 p.m.
Two lanes of Lake Loudoun Boulevard will be closed from 3 to 4 p.m. for the float lineup.
Volunteer Boulevard from Lake Loudoun Boulevard to Cumberland Avenue will be closed from 3:30 to 4:30 p.m.