Rule High School opened in 1927. It was named after Captain William Rule, a former Union Army captain who went on to be mayor of Knoxville and the editor of the Knoxville Journal.
The first addition was finished in 1949, and the second addition was completed in the 1970s.
However, the school closed in 1991 due to low enrollment numbers.
Gallery: Rule High School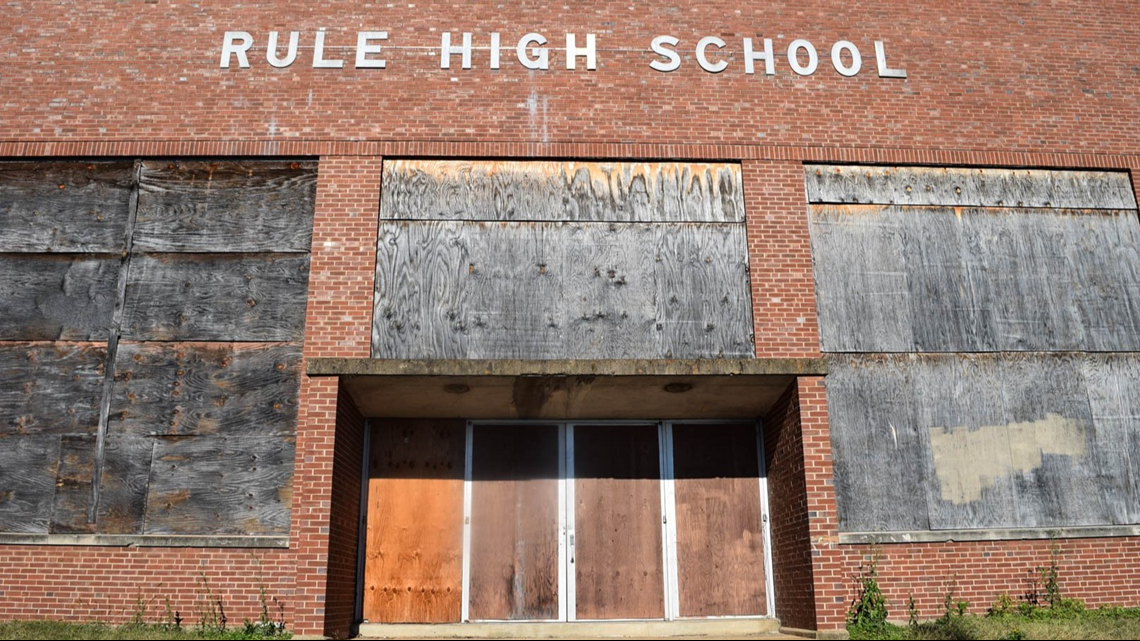 Knox County obtained it from Knox County Schools in 2016 as a surplus property.
The hilltop football stadium overlooking the downtown Knoxville skyline was demolished in September 2016.
Today, the original structure is completely off limits.
RELATED: Know of an abandoned place? Suggest a location
The 1949 addition looks more like a haunted house than a school. Parts of the roof have caved in, and the floor is littered with debris. Some rooms and hallways are completely impassable, and a flashlight is the only way to see in most areas.
Knox County uses the 1970s addition as a garage and storage facility. It is dusty. The blue and gold paint is chipping. Some of the ceiling tiles have fallen.
But it still resembles a school.
Writing remains on some chalkboards, giving the appearance everyone left in the middle of a lesson and never returned. The teal lockers and yellowing classroom decorations are ghosts of the school's glory days when students still roamed the halls.
Click Play and drag to interact with the 360 video. Mobile users click here to interact.
At this point, Knox County officials do not know what the future holds for Rule High School.
They have attempted to find proposals for its redevelopment, but there have been no offers since the most recent effort ended in January 2018.
Knox County officials cited redevelopments of the old Knoxville High School and Oakwood High School into senior living facilities as ideal examples of what the school could become.
For now, the Golden Bears' former home sits quietly on its hill, waiting for a time when people fill its halls again.
"They may close down the school, but we still Rule," said 10News' own Eric Foxx, who graduated from Rule High School in 1981. "We're a family."
Explore the rest of the series, and suggest other places for us to visit.
Reporter's note: Though many of these buildings are unused and empty, they sit on private property that is still actively used in some cases. DO NOT attempt to unlawfully enter any of these places without permission. Many of them are structurally unsound and pose potential health hazards, like asbestos and lead paint. 10News contacted all owners prior to visiting.
►Make it easy to keep up-to-date: Download the WBIR 10News app now and sign up for our Take 10 Lunchtime Newsletter.
Have a news tip? Email 10Listens@wbir.com, or visit our Facebook page or Twitter feed.