She was somebody's daughter - and maybe somebody's mother and sister.
The human remains found back in December 1974 up at what's now Ober Gatlinburg in Sevier County deserve to be known as more than just the Body Under the Tramway.
That's part of what drives Todd Matthews, director of communications and case management for the National Missing and Unnamed Persons System, or NamUs, a National Institute of Justice registry of missing and unidentified people whose bodies have turned up through the decades in the United States.
Largely forgotten with the passage of decades, the woman once had a name, Matthews said. Her family - whoever may still be alive - deserves to know that she's been found.
According to Matthews, the Smithsonian Institution is ready to help. They can conduct something called stable isotope analysis, a process using bone samples that can identify the kinds of food a person ate, which can in turn perhaps pinpoint their geographic origin.
This Jane Doe could be from anywhere in the world, he said.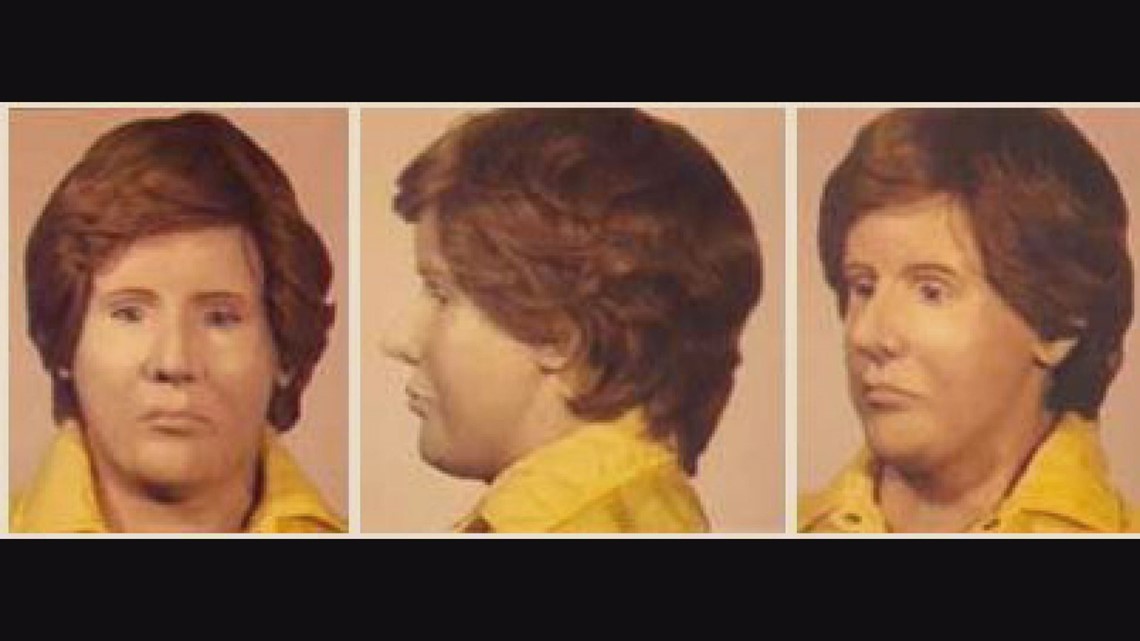 "You come up here and you visit and you wonder what brought that person here," he said last week during a visit to Ober Gatlinburg. "Did they come on a vacation? Did they come looking for something? I don't know."
It's been so long since she was found, hardly anyone remembers her in Gatlinburg.
But Russell Gifford does.
It should have been cold, but December 1974 offered little in the way of snow weather for what was then known as the Gatlinburg Ski Lodge. Daytime highs reached the 50s and low 60s and nighttime lows only dipped into the mid 30s, records show.
The staff up on the mountain above downtown Gatlinburg couldn't make snow. The best they could do was get the place ready for ski season.
"We had nothing to do but run around and look at stuff," said Gifford, a lifelong Gatlinburg resident who worked at the time as a rental manager in the attraction's rental room.
The discovery of a body is something you don't forget.
It was Dec. 22, 1974. The tramway that took people up and down the mountain was still new.
Word spread around the grounds that a woman's body had been found near the tramway. Police were already on the scene when Gifford scrambled down with another man to the site.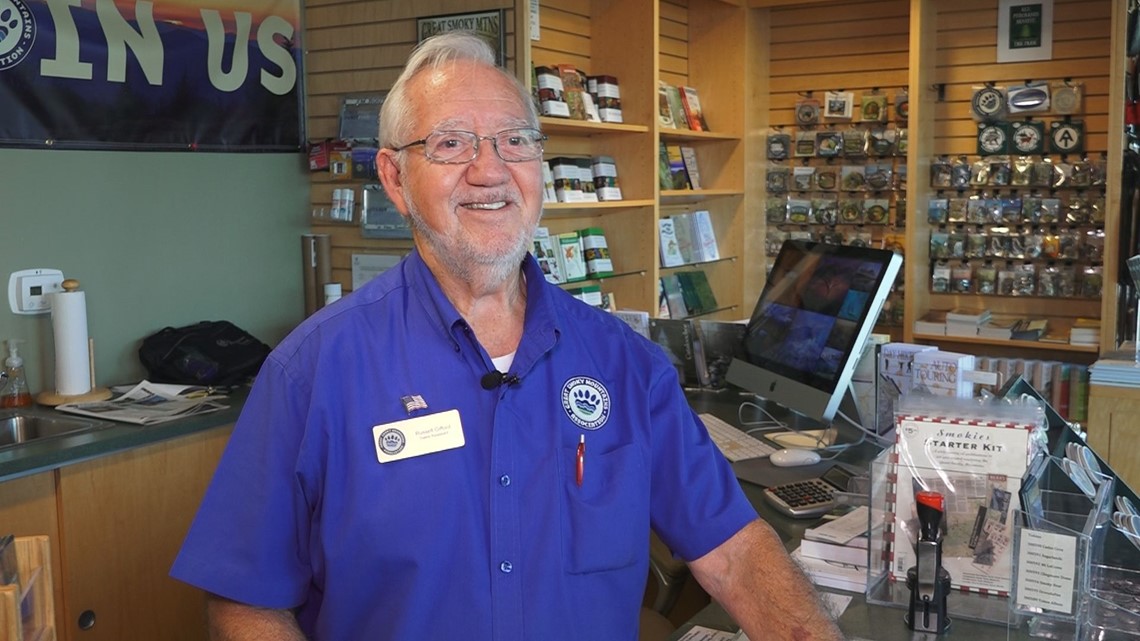 "We went down there, and I thought, Man, this is bad.," Gifford recalled. "It was more bones than anything. She had clothes on. But it was scary. I'd never seen anything like that before."
Authorities hoped they'd find identification on the body, but she had nothing that would help. No driver's license. No credit card. No name.
Gifford assumed she might be wearing a wedding ring but a check of her hand revealed no such jewelry, he said.
She appeared to be age 30 to 45, according to the NamUs database, which is free and accessible to anyone trying to find a missing loved one. She had brown hair.
Matthews discounts the likelihood that the woman was a local resident because no one came forward to claim her or speak for her. He thinks she may have been from outside the United States.
Matthews said a folded sweater was found by the body, as if she'd set it there herself and then died.
The discovery that day nearly 43 years ago appeared to draw little press attention. A search of old newspaper records offers nothing. Channel 10's archives offer nothing.
The woman wasn't a homicide victim, according to Matthews, so there wasn't as great a sense of urgency to resolve the mystery. With the passage of time, attention to her case fell away. As always happens, people got busy with other tasks, other duties, other details that needed attention.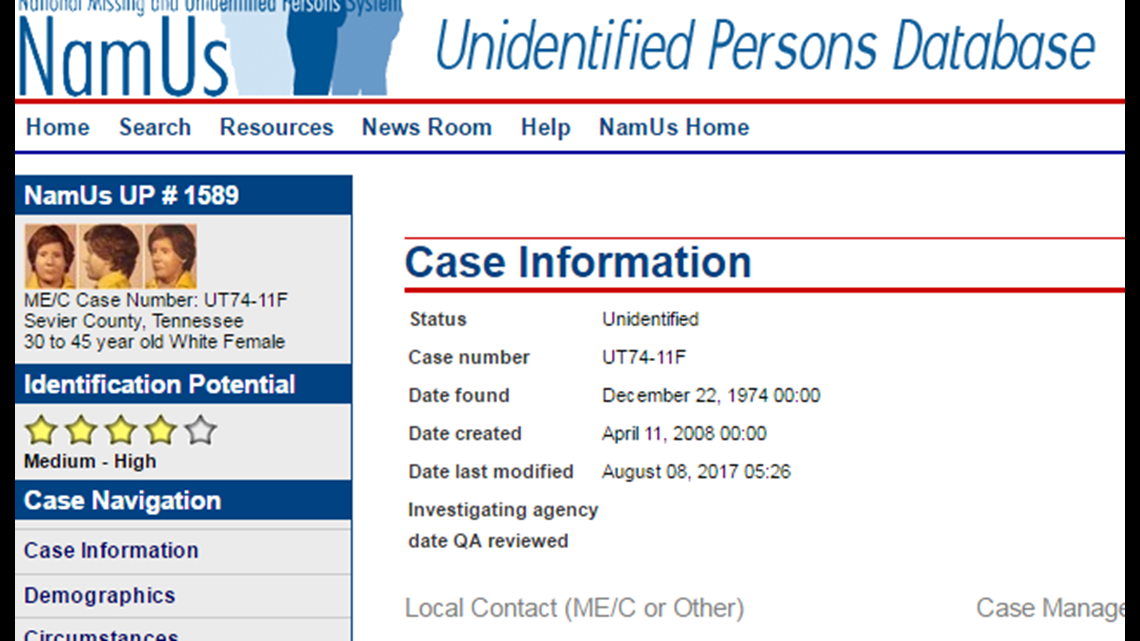 "It just went away," said Gifford, who remained at the resort and eventually was promoted to mountain manager.
At NamUs, the goal is to eliminate the mysteries, to name the nameless dead who turn up regularly across the United States.
According to Matthews, NamUs has used every tool at its disposal to identify the woman at the ski attraction, so far without success.
The Smithsonian has agreed to do the testing for free. Matthews said the Sevier County Medical Examiner's Office has given its approval for a bone sample to be sent to the institution for the testing.
The woman's remains are currently held by University of Tennessee forensics authorities.
Isotope analysis has already been used in two Knox County cases, according to Matthews. It's been used in archaeology to help understand more about old human remains.
"You never know what might be the clue to get you a direction to walk," he said. "With this case, it's the planet. I don't know which direction to go with."
According to Matthews, NamUs knows about more than 100 John or Jane Doe cases in Tennessee. The Middle Tennessean hopes they'll learn enough from isotope analysis -- and public attention to the case -- to cut that amount by one.
"I think this was someone's kindly old grandmother that they found," he said. "Now, here it is well over 40 years later and she is still unidentified. Nobody imagined back in the day that we'd still be here wondering who she was."
Russell feels sorry for the woman and her family.
"Hopefully when this gets out something will come out of it," he said. "Good news will be there."