For more than a decade, Dr. Tim Gaudin at the University of Tennessee at Chattanooga has studied an armored invader from the south. The biology professor and his students were the first to document the nine-banded armadillo residing permanently in East Tennessee.
"They've spread tremendously in the last five years. We first found them in Tennessee in Sewanee in 2013, which was a surprise because we thought they would avoid cold places at higher elevations on the Plateau and in the mountains. Now we've had reports of sightings throughout the state in Middle Tennessee and East Tennessee," said Gaudin. "They seem to be spreading more quickly than they have in the past. They're actually accelerating their rate of expansion."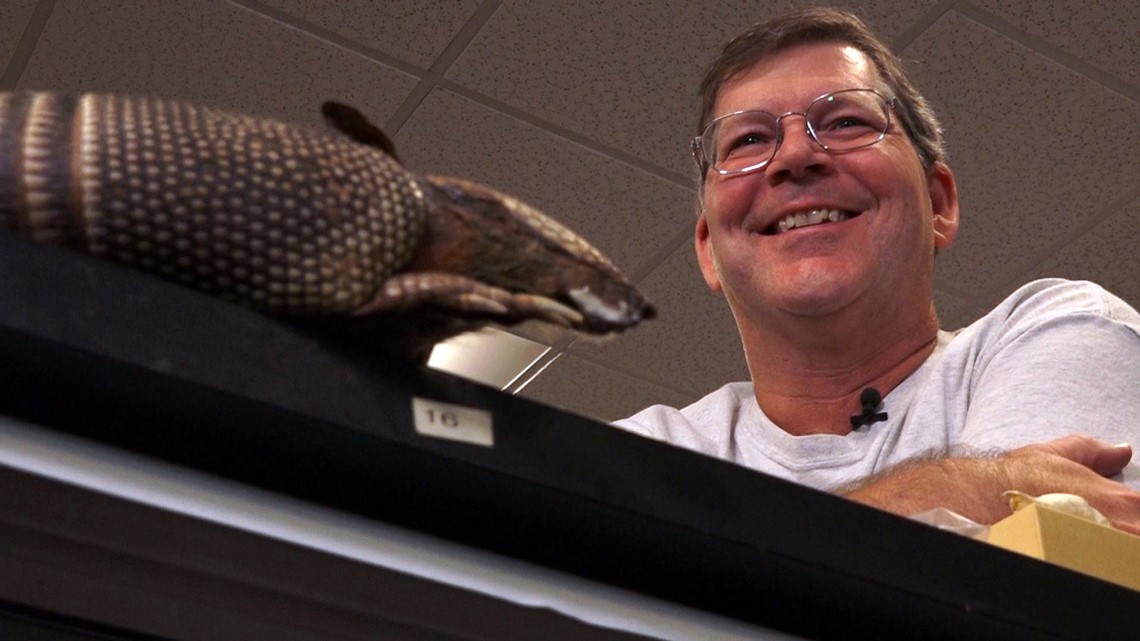 The animals usually show up as roadkill. In the last few years, dead armadillos have been found on roads surrounding all sides of the Great Smoky Mountains National Park.
"The sightings are still rare, but we've had roadkill armadillos all around the park," said Bill Stiver, National Park Service wildlife biologist in the Great Smoky Mountains. "As of yet we have not documented an armadillo within the park boundary. The closest is a specimen we found hit by a car just inside the Pigeon Forge city limits at the edge of the Spur (Highway 441 between Pigeon Forge and Gatlinburg)."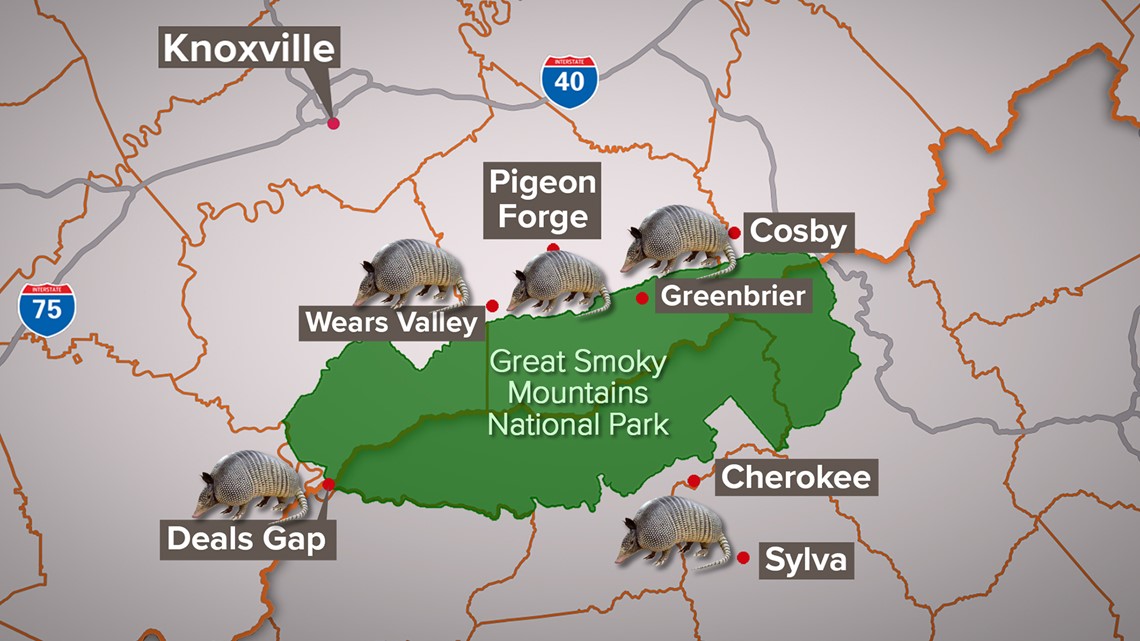 Stiver said armadillo roadkill has been verified in five locations along the edge of the national park:
Pigeon Forge at the Spur on Highway 441.
Deals Gap at the North Carolina state line on U.S. 129.
Wears Valley on Highway 321.
Between Greenbrier and Cosby on Highway 321.
Between Cherokee and Sylva, North Carolina, on Highway 74.
Gaudin said it is somewhat surprising to have armadillos already verified all around the Smokies just a few years after they were discovered in the southern portion of the state. However, he says there are plenty of things in the area to attract armadillos.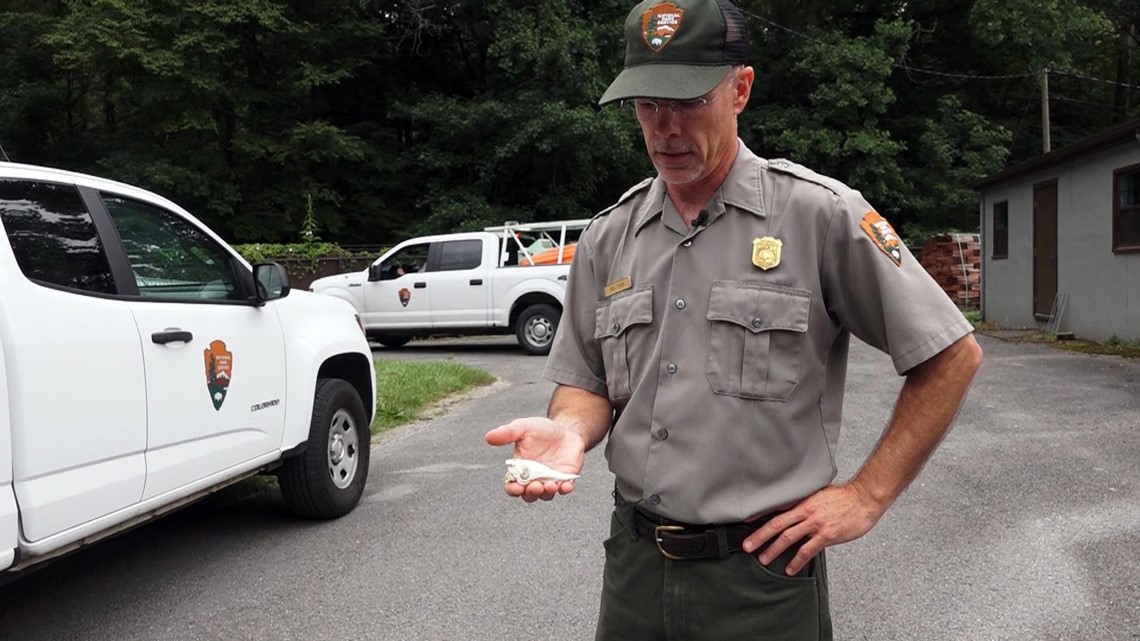 "They like water. People think of them as being in some dusty desert in Texas, but they do not like dry habitats. They are almost always found within a half-mile of a body of water. In South America, they live in rain forests. They are burrowers and want wet soil that's easy to dig and find insects. There is plenty of water and the insect density is great in the Smokies. They mostly eat beetles. They'll eat ants, bees, bird eggs, lizards, a whole host of things."
"We don't know what impact they might have on other species that are here," said Stiver. "We do know they are primarily insectivores and they are obviously burrowers that will do some digging in the ground."
Gaudin expects armadillos to continue marching into new locations throughout the region. He has received reports of armadillo sightings in Big South Fork and parts of Kentucky. Although the animals have quickly expanded their range, Gaudin believes their overall population on these new frontiers remains low.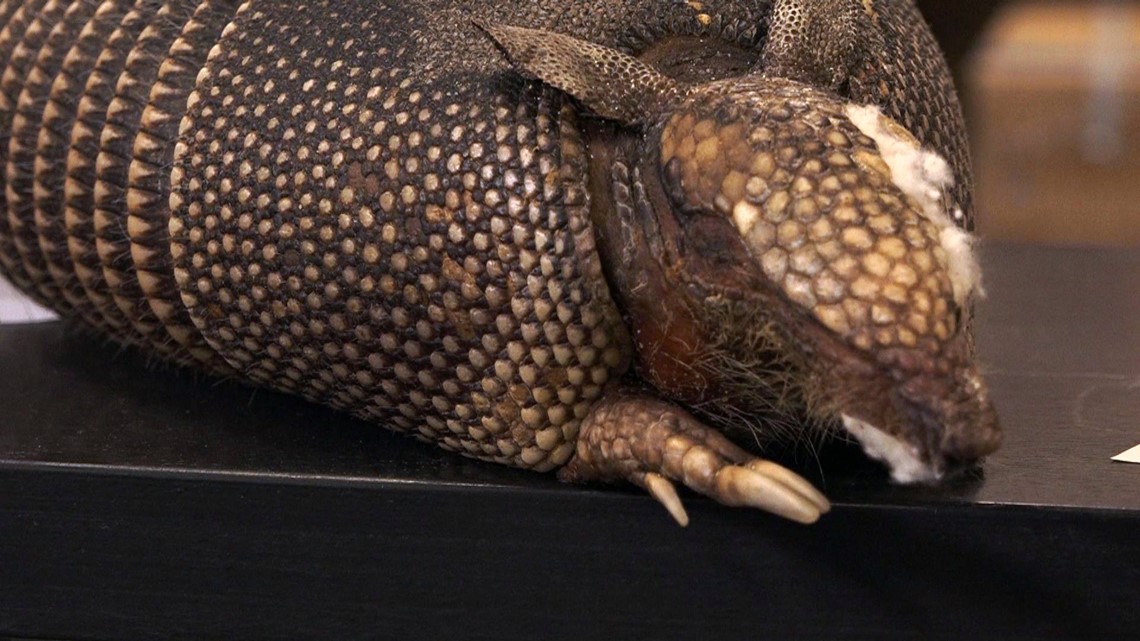 "There aren't a lot of them. We know they live in these areas, but an armadillo is still an unusual sighting in Tennessee," said Gaudin. "Their overall impact on humans is fairly low. They will dig holes in your yard. They also tend to tear up the nicest yard in the neighborhood because flower gardens and irrigated lawns have soft soil that's easy for them to dig."
Gaudin says the main reason people should care about armadillos is they are unique wildlife.
"They are the only mammals that have a shell. It's not hard like a turtle shell. It is flexible, like an old leather football helmet, and covered in scales made from the same thing as your fingernails. When they reproduce, they have four identical quadruplets. They're just really interesting and unusual animals," said Gaudin.
HELP TRACK ARMADILLOS: DEAD OR ALIVE
Gaudin wants your help tracking the spread of armadillos in East Tennessee. He relies on reports and photographs from the public to map their expansion.
"My favorite thing is when the general public contacts me. They have way more eyes than I do. Just send me an email at timothy-gaudin@utc.edu and tell me what you saw, send me a picture, tell me where you saw it, and I'll add it to the database," said Gaudin.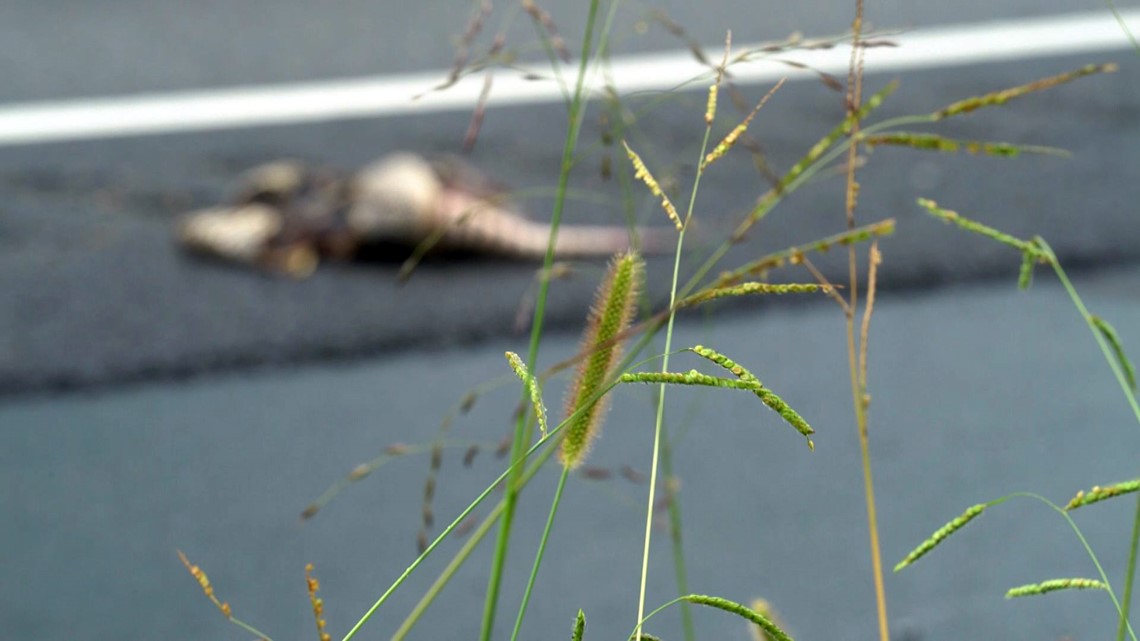 Gaudin cautions people to avoid handling roadkill or live armadillos due to the risk of disease. The animals are one of the only mammals other than humans that can carry leprosy.
"We have not had any cases of someone in Tennessee contracting leprosy from armadillos, but do not handle them. If you have to touch one, always wear gloves and wash your hands because there is a risk [of disease]," said Gaudin.