At least four people in Tennessee have been killed in crashes involving a controversial model of guardrail endcap since 2016, state records show.
At the center of this controversy is the Lindsay X-LITE guardrail terminal, which the Tennessee Department of Transportation removed from their approved list of devices in October 2016, citing "concerns about potential long-term performance issues" when struck at speeds greater than 45 miles per hour.
Guardrail terminals are designed to redirect the end of the rail away from cars in the event of a crash. However, some are raising concerns that thousands of devices installed on Tennessee roads can malfunction, skewering the car.
Questions of the X-LITE's safety came to light after Hannah Eimers struck one in the early morning hours of Nov. 1, 2016. The 17-year-old was driving along I-75 North in McMinn County when her vehicle left the road.
The guard rail impaled the car, striking Eimers in the head and chest. She died instantly, according to the Tennessee Highway Patrol crash report.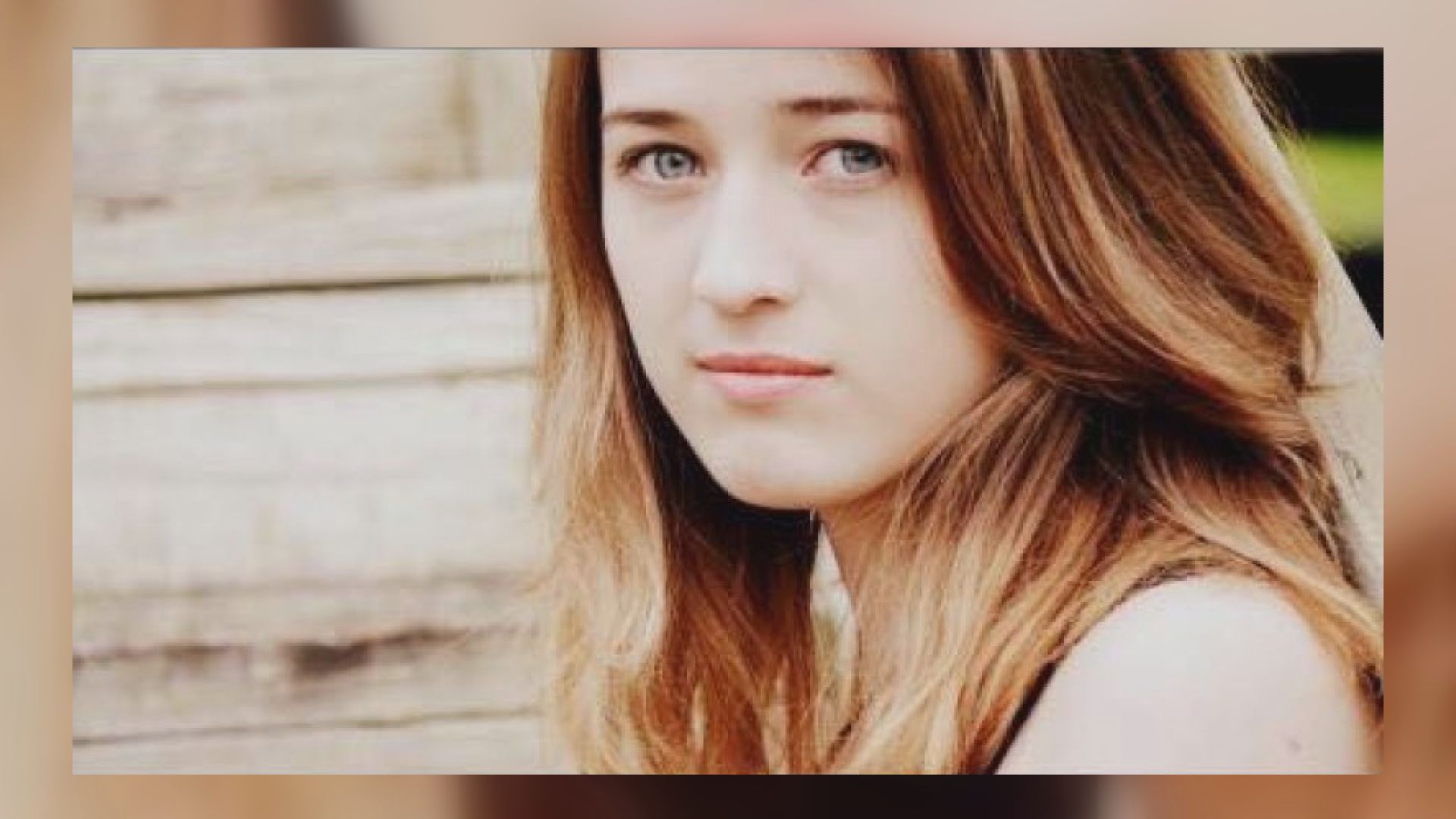 Eimers' story has recieved national attention. Legislation was introduced in New York state to addres X-LITE safety concerns.
Gov. Bill Haslam reached out to the Eimers family. They had a 'good convorsation,' according to a spokesperson.
"I spoke with Steve today about the tragic and shocking events, and we're going to do everything we can to help," U.S. Sen. Lamar Alexander said in a statement to 10News.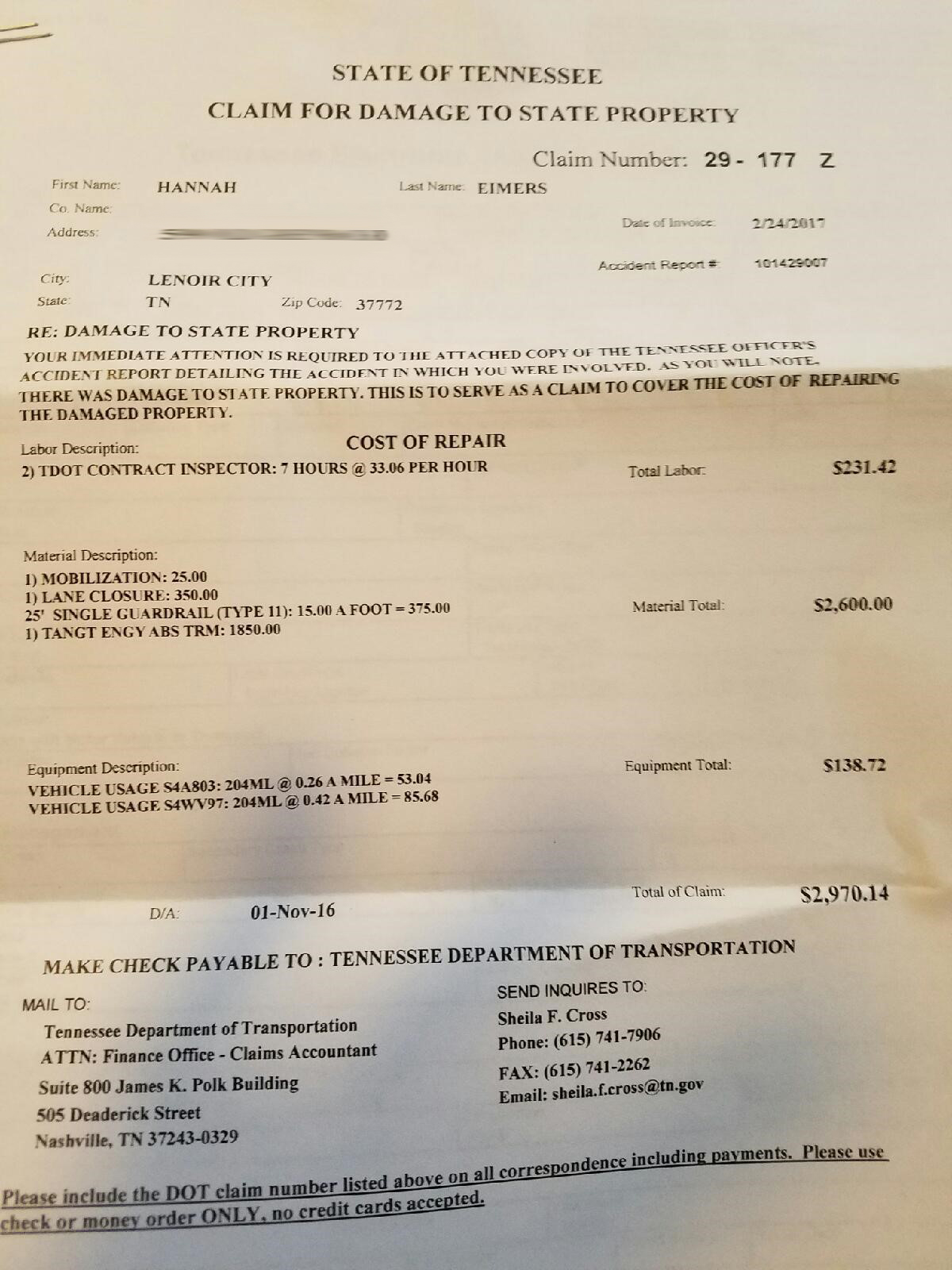 "That bill was tasteless," Stephen Eimers said. "But the real travesty is that TDOT knew that they had a dangerous device on the road. They left it in place and it killed my daughter. And those devices are still on this road today."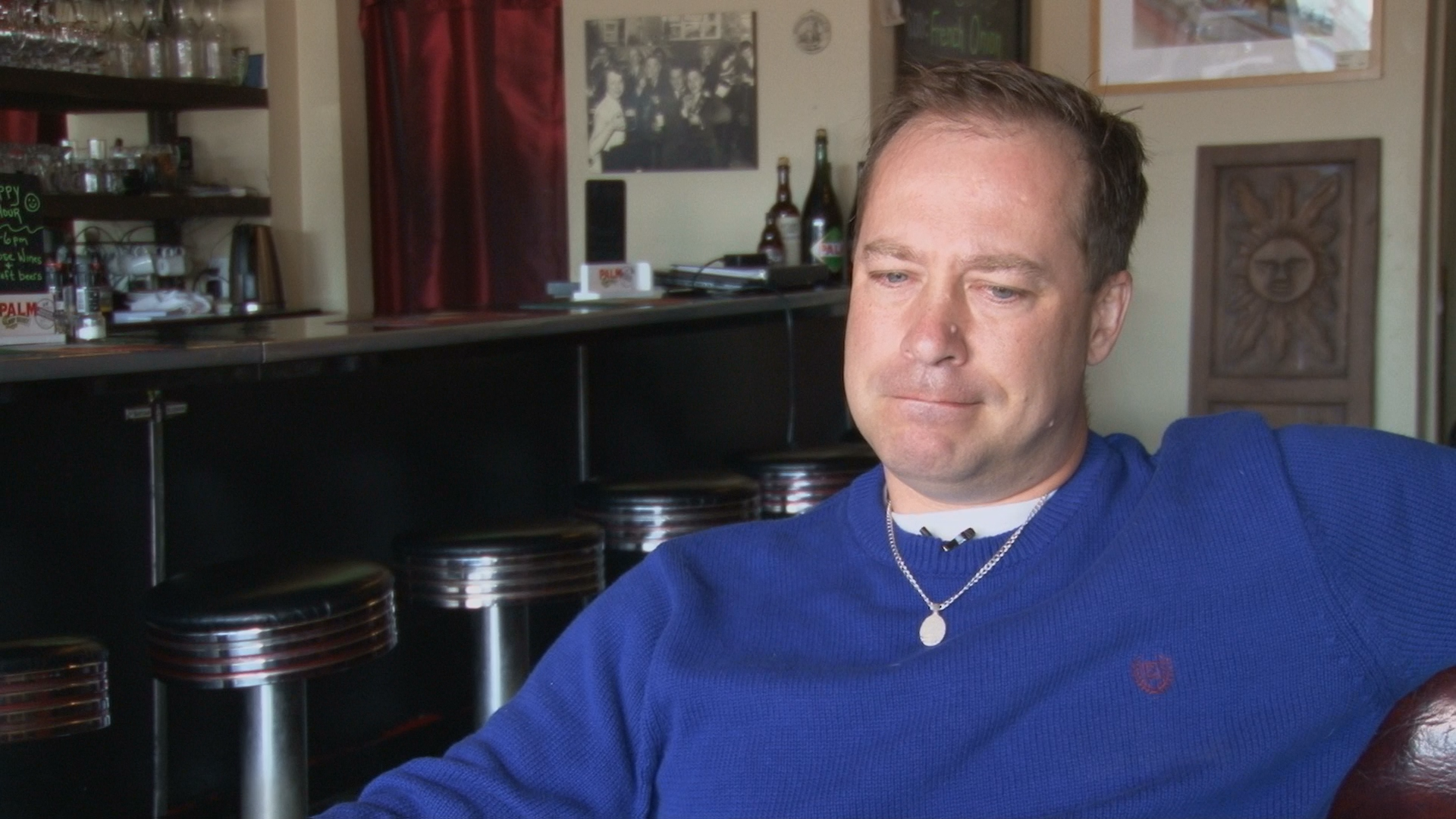 TDOT has apologized for the "processing error," and said the family does not need to pay the bill.
Stephen Eimers told 10News he is now represented by the law firm Cohen Milstein and is considering legal action.
The department estimates about 1,000 Lindsay X-LITEs are installed statewide.
At least three other people have been killed in crashes where the X-Lite penetrated their vehicle in the last 15 months, according to TDOT spokesman Mark Nagi and data from the Tennessee Department of Homeland Safety and Security.
On June 29, 2016, two people were killed on I-40 E in Cumberland County after an X-LITE penetrated their vehicle.
On July 2, 2016, one person was killed near the I-75/I-24 interchange in Hamilton County. Again, an X-LITE terminal pierced the vehicle.
In both cases, the damaged rail was replaced with another X-LITE terminal, Nagi said. After Hannah Eimers' death, an SKT-SP was installed.
X-LITE manufacturer Lindsay Corporation sent the following statement to 10News:
"The X-Lite guardrail terminal has successfully passed crash and safety tests in accordance with federal standards and criteria, and remains qualified for use on America's roadways," a company representative wrote. "It is widely recognized that there are impact conditions that exceed the performance expectations of all safety equipment. While federal crash testing is intended to assess a variety of conditions, no test can replicate every possible scenario."
The X-LITE is not the only guard rail terminal used in Tennessee with a questionable safety record. In 2015, Trinity Industries lost a $663 million lawsuit involved the ET Plus rail endcap. The company was accused of modifying the design without notifying the Federal Highway Administration. Critics said the change made the caps more dangerous, and more likely to impale a car that struck them.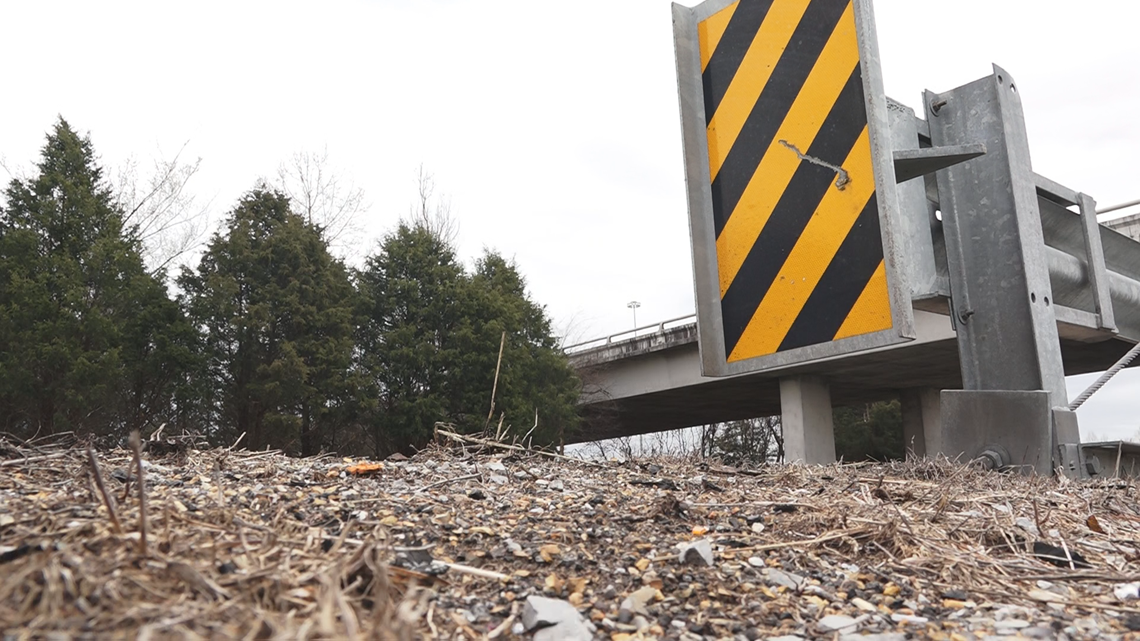 This led Virginia to implement a risk-based assessment program to replace terminals that might contribute to more severe crashes. The Virginia Department of Transportation found four vehicles that had been pierced by modified ET Plus terminals from October 2014 to July 2015.
TDOT estimates 21,000 ET Plus endcaps are installed statewide. Any number of them could be the modified design.
"When properly installed and maintained, the ET Plus system works as designed," wrote Trinity spokesperson Jeff Eller. "As the Federal Highway Administration has repeatedly reconfirmed, the ET Plus system meets the applicable safety performance criteria and is eligible to be used in all 50 states."
TDOT has decided to remove any X-LITE devices installed on roads with a speed limit of 45 miles per hour or greater. This is 'most' of the terminals, TDOT said.
"We're going to pull all those installed units and replace them with a different product," said TDOT deputy commissioner and chief engineer Paul Degges.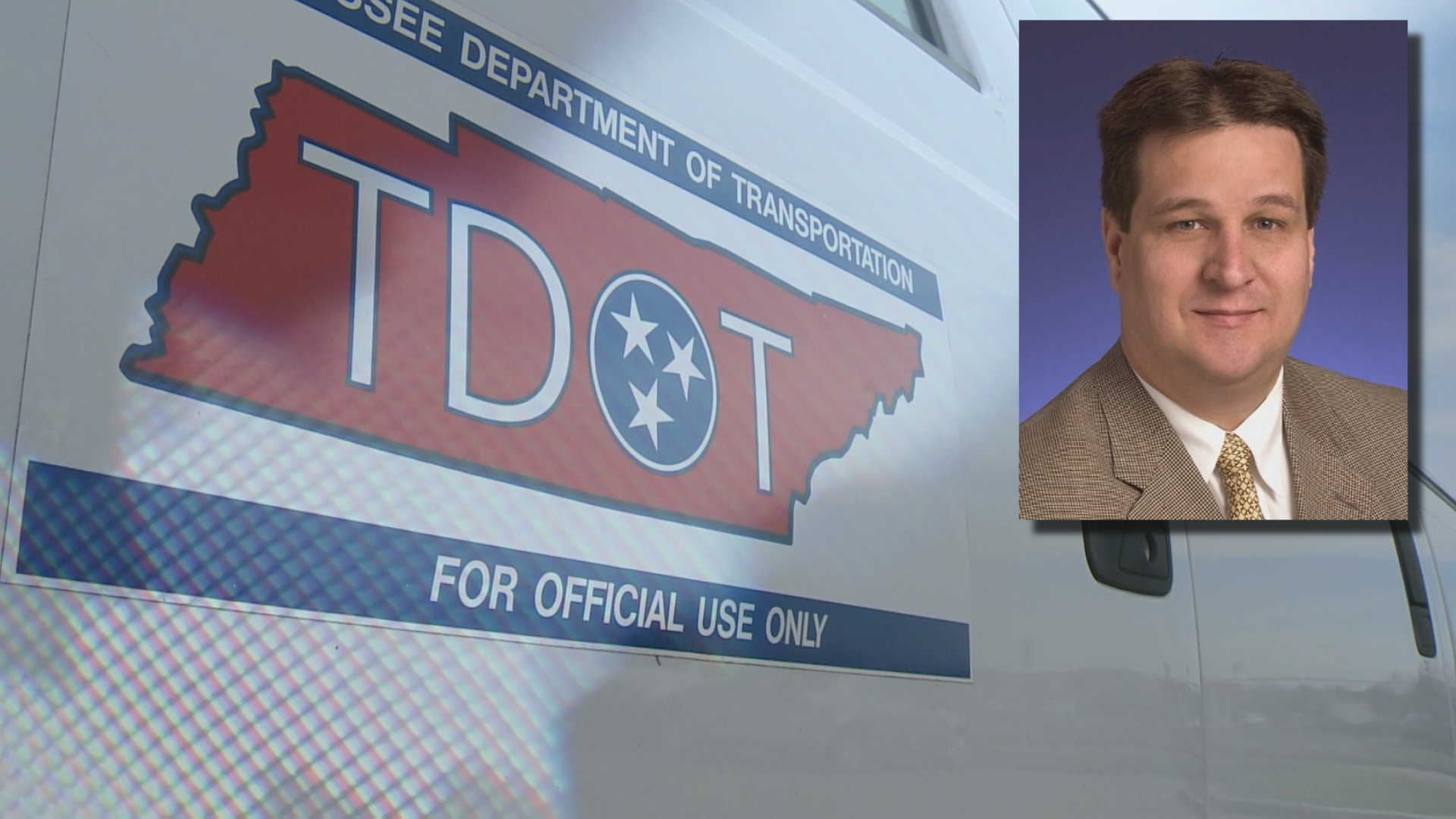 Degges said the department had concerns about X-LITE's potential for vehicle penetration in the months before Hannah's death, but didn't have enough data to warrant their removal. The decision to remove the terminals was made in the last few weeks.
"At the time, there just wasn't enough information," Degges said of the decision to wait. The department did ask staff to monitor X-LITE performance in the meantime, to see how they react in crashes over several months.
The bidding for this contract will begin March 31. Nagi was not able to give a cost estimate or timeline for the project, though he anticipates work may begin in late spring to early summer.
Degges approximates the cost to replace the X-LITEs might be $2.5 million. He added that no safety device can prevent all deaths.
"Certainly, we are saddened anytime someone perishes on the state highway network, and we're trying to everything we can to make roads safe, but there were over 1,000 people that perished on the road last year, and you know it weighs on our minds up here," said Degges.
Still, Eimers is frustrated TDOT didn't move more quickly to remove the X-LITEs before he lost his daughter.
"We see a culture in TDOT of what I would characterize as indifference towards safety," he said. "They seem to be more concerned right now with winning awards for catchy slogans on their billboards than they are with installation, maintaining and mowing around their devices. And that's just not satisfactory."