Black History: Knoxville's Black Experience - Firsts
We're highlighting stories that played an integral role in the foundation and development of African Americans in East Tennessee.

Black History Month is a time for people to honor and focus attention on African Americans who made contributions and sacrifices that helped shape the nation.
East Tennessee has many stories of how African Americans made improvements within its region.
From Knoxville's first Black millionaire to the first Black-owned radio station to Knoxville's first Black cemetery, there is so much history that is explored.
This is the journey through East Tennessee's Black history.
First Black DJ
:
Born in Greeneville, Tenn. in April 1911, Albert "Acey Boy" Wilson was Knoxville's first Black DJ.
Wilson made his way to Knoxville and picked up work waiting tables at various restaurants around the city. He started hosting R&B shows such as "Sunset Serenade" in 1949, starting out on WKGN before moving to WIVK.

From 1955 to 1956, he appeared on local television, hosting "Teen Tavern" on WTVK Channel 26. He also operated the Pitch-Fork Drive-in, a popular food spot in Mechanicsville.
Wilson died in 1959 and historians tried to search for recordings of Acey Boy's radio shows but they have been lost to time.
First Black-owned radio station
:
The first Black-owned radio station in Knoxville was owned by James Brown. The station was WJBE, which stood for James Brown Enterprises.
Brown purchased the previously defunct WGYW station for $75,000 in 1967 and hit the airwaves with his brand new soul station in Jan. 1968. Eddie Bacon was one of the DJs for WJBE.
"I was just a young guy in '68, right out of Fountain City. I was excited to death," Bacon said. "He was such a gentleman and he was concerned about the community. He was concerned about the kids and his main purpose was to try and improve the community."
James Brown owned WJBE until it was sold to Knoxville-based Broadcast Media in 1979.
First UT graduate
:
The first undergraduates to take classes at the University of Tennessee were Theotis Robinson Jr., Charles Blair and Willie Mae Gillespie. The first Black graduate, however, was Brenda Peel.
In 1961, UT was desegrated and Peel was one of several Black students to enroll as an undergrad after integration. It was history in the making.
"That's the thing about UT, when they decided that they would open up they did it... They did it in a very civilized way," she said.
But her college experience was unlike most of her peers. Peel was one of the only black faces at a predominately white school during the Civil Rights Movement.

"I knew when I enrolled, basically what to expect," Peel said. "But I knew what I was there for. My goal was to complete my education and get a degree."
Three years later, Peel became the first Black student to receive an undergraduate degree from UT. Her contributions have not gone unnoticed.
Peel was inducted into the UT African American Hall of Fame. In 2011, she was recognized during the university's 50th Anniversary of African American Achievement. Brenda Peel paved the way for thousands to follow.
"I always thought that there should be [an] emphasis on the one who graduated. The one who went to school did what they planned to do and finish the course," Peel said.
First Black cemetery
:
Odd Fellows Cemetery is the first dedicated Black graveyard in Knoxville.
An offshoot of the Odd Fellows of England, a group that did odd jobs as opposed to professional labor, the Black Odd Fellows group was started by Black sailor Peter Ogden. Their mission was to help the poor, widows and orphans and people that had no means to help themselves, especially in burial.
The symbol for Odd Fellows is three chain links. Within each chain link is the letter F, L and T, which stands for friendship, love and truth.
The cemetery serves as the resting place for some of Knoxville's most prominent early Black residents, including Cal Johnson, Knoxville's first Black millionaire.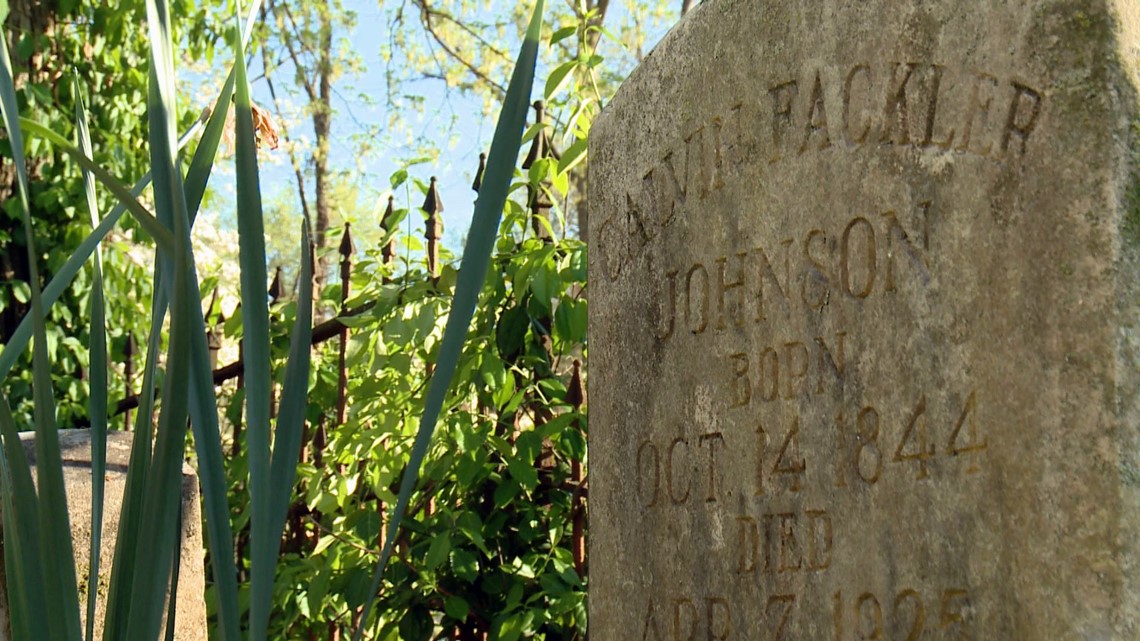 First Black millionaire
:
Starting at the bottom of the economic ladder, former Knoxville slave Calvin "Cal" Johnson became the first Black millionaire in the city.
Johnson's father, Cupid Johnson, was a slave who trained horses and was a winning jockey in the Knoxville area during the mid-1800s. This is where he developed a love for horses.
After saving money from doing odd jobs, he used it to open saloons and a racetrack, known as Speedway Circle, in downtown Knoxville.

His businesses soon took off, but it wasn't until the early 1900s that Tennessee outlawed whiskey and horse racing which forced Johnson's businesses to close.
Johnson's various investments in rental homes, business properties and building a three-story warehouse on State Street worked out well financially.
At the time of his death, Johnson's fortune was valued between $300,000 and $500,000, which is equivalent to between $4 and $6 million in modern times.
First Black Alcoa mayor
:
Tanya Martin made history as the first Black female mayor of Alcoa. She was elected into office in 2022.
"There's no other place like Blount County," Martin said. "I am just believing that God allowed [my parents] to take a glimpse of this and that it was happening."
Along with Martin, her vice-mayor is Tracy Cooper and together, they intend to excel in their positions.
"Her name is Tracy, mine is Tanya, that's T and T for just has come out dynamite. And that's what we intend to be," Martin said.
With two women holding such prominent positions, Martin hopes she can be an inspiration for the younger generations.
"I will not be the last woman to hold this position. I'm looking at our young girls and letting them see you too can have the same thing," she said. "In the past women, have been put in a place. Now, we get to step outside of that place."
When Martin's time as mayor comes to an end, she hopes she is remembered as someone that was compassionate and fair.
"I want to continue to be a voice not for Black, not for White, Hispanic, but for everybody."
First Black Miss East TN
:
In 2019, Brianna Mason Broady became the first Black woman to win the Miss Tennessee pageant in its 84-year history.
Broady is using her platform to spread awareness for autism.
"I remember my first year that I competed, there was a miss Tennessee room and it had all the winners of the past competitions and I didn't see anyone that looked like me," she said. "And from that moment on, I wanted to be that fill that space for someone else who would come after me."
And on her fourth attempt, Broady accomplished her goal.

In 2016, along with her husband, Terrell, Broady started Advocates for Autism in honor of Terrell's sister, Bethany, who has autism.
Advocates for Autism has chapters on college campuses statewide and helps those living with autism find resources and creates a community of acceptance.
Like Broady, Bethany is creating a legacy of her own.
"It's been a really amazing journey, being able to not only honor you know, today's family in his sister, but also in press upon our mission of including informing, collaborating and celebrating those with autism, all across the state," Bethany said.
Edye Ellis
:
WBIR Channel 10 signed on the air on August 12, 1956. In that time, our airwaves have welcomed many different anchors but few have left behind an impact like our first African American anchor, Edye Ellis.

Former WBIR anchor Edye Ellis began her career at WBIR in 1982.
"Edye was Edye. It didn't matter if she was Black, white, or yellow. It didn't matter to me, and I don't think it mattered to the audience," said 10News Anchor Emeritus Bill Williams.

Ellis immediately left an impact on a young Robin Wilhoit.
"I was struck by her warmth, her graciousness. What also hit me was in times of crisis, when there were big stories, she was able to deliver these stories with just a sense of calm," Wilhoit said.
As WBIR's first Black anchor, Ellis proved to be a role model and always took time out for those who looked up to her.
"I remember being with her when she would have young Black children or adults and they would ask her for advice and consultation, and she was always very encouraging," Williams said.
Straight from the heart is more than just a slogan, it's something Ellis embodied.
"Edye Ellis was, is straight from the heart. Everything she did was for the benefit of the viewer, the benefit of East Tennessee. That to me is straight from the heart," Williams said.