KNOXVILLE, Tenn. — Look for parts of the downtown multi-use stadium to start sprouting from its Old City site in the coming months.
That's according to Tennessee Smokies owner Randy Boyd as he looks ahead at 2023. It'll be a crucial year for construction as the estimated $100 million project finally begins to take shape above ground.
"We spent the last six months doing all the prep work, all the things that you can't really see -- digging holes, putting in trenches, electrical wiring," Boyd told WBIR on Sunday on "Inside Tennessee".
The stadium, expected to seat some 7,000 people, is being built on top of a 100-year-old industrial site, a "brownfield," Boyd said. The Lay's plant once operated there between Jackson and Willow avenues east of the James White Parkway.

"There are all kinds of things under that ground that we had to replace, move " he told WBIR. "It's been a lot of work doing things that you don't see, but in the next few months things are going to start coming out of the ground and that's going to be exciting."
Boyd and his Boyd Sports are building the stadium in a "turnkey" agreement with the city, county and a sports authority created specifically for the project.
It's a project dear to the South Knoxvillian's heart. He wants to move the Chicago Cubs-affiliated Smokies from Sevier County, where they've played about 20 years after leaving Knoxville, to downtown.
The goal is to play ball in spring 2025. The stadium also could accommodate soccer, concerts and community gatherings among other events.
The current cost estimate is $100 million. That figure has grown over the last 18 months or so.
Does that remain a solid estimate? Boyd said project principals will find out "in about two weeks."
True costs are still being finalized, he said.
"Everybody wants to be really sure we have the best and final offers from all of our different subcontractors," Boyd said. "But we believe it'll be close."
Boyd assembled the tracts for the stadium site and will donate them ultimately to the public.
The sports authority will issue long-term bonds to pay for the stadium. Revenue streams will include annual team rent and sales tax collections from inside the site.
In addition to the stadium itself, Boyd Sports and private developers envision separate, surrounding commercial and residential space. GEM Community Development Group is partnering with Boyd Sports.
For example, 42 condos will be built, and they've all already been sold he said. If you want to get a condo down there you'll have to get on a waiting list, he said.
The private plan also includes 250 apartments in the outfield with balconies that would look into the playing space. The apartments also will have a swimming pool and "party deck" from which residents can watch the action, Boyd said.
It's possible naming rights will be sold for the stadium. That's pretty common today, Boyd said.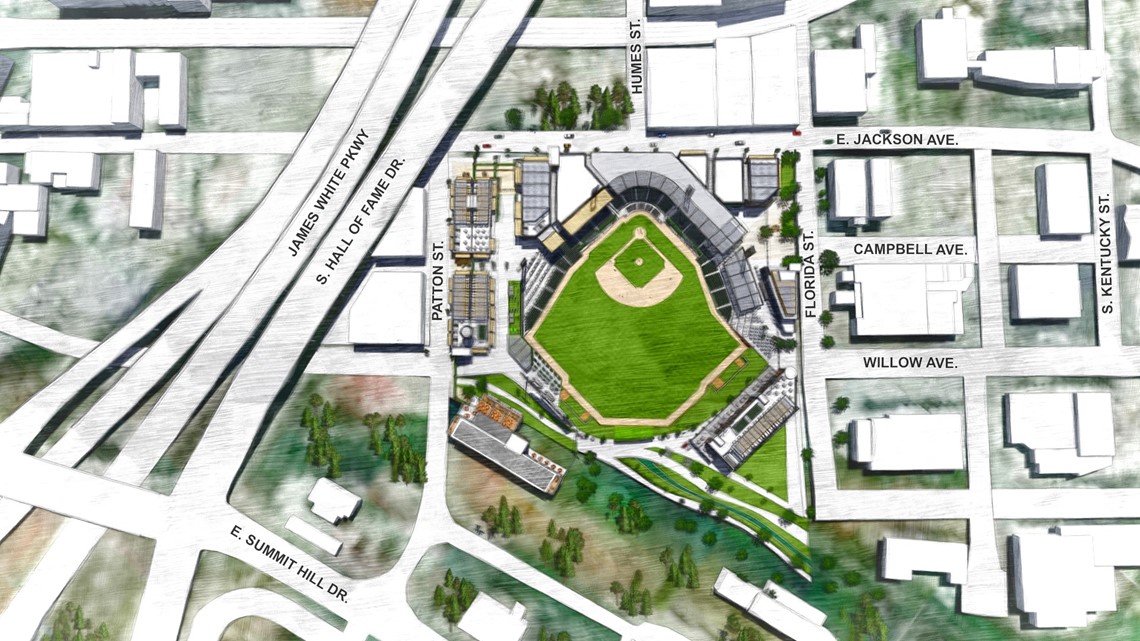 The entrepreneur, who also is president of the University of Tennessee System, said he remains dedicated to encouraging minority involvement and benefit in the project. Minority contractors and minority-owned businesses should have a role in the construction, he said.
The Knoxville Area Urban League is partnering with project principals to assist with worker training and to provide leads to minority-owned businesses.
Boyd told WBIR he has no doubt the stadium will be ready for baseball in 2025.
He said he's also excited to watch how the area grows, with the stadium serving as a catalyst. Smelling opportunity, developers are buying up nearby property with plans for their own commercial projects.
"You'll be seeing a lot of exciting thins happening there," he said. "I'm hopeful other people will be making exciting announcements about projetcs."