WEARS VALLEY, Tenn. — UPDATE 3:45 PM WEDNESDAY: The brush fire that broke out Tuesday in Wears Valley is now 100 percent contained, according to Sevier County authorities.
"We don't have any smokes that are coming up on it. And, you know, this should be good. And you know, we will make sure that was completely out. didn't want anybody to have concern," assistant district forester Nathan Waters said.
He said the damage could have been worse if not for the measures homeowners took after the 2016 wildfires.
"When they rebuilt a lot of them, you know, took time and thought about it. And you can see they've got defensible space, they've cleared back from the woods. And that definitely helped, especially up here on top," he said.
He said these brush fires are a good reminder to always be careful with fire.
"You always need to take time for fire safety, it could always you know, there's always the potential it could get into some dead material if you've had beetle kill or something. So always be safe with fire," Waters said.
UPDATE 10 AM WEDNESDAY: A brush fire that broke out Tuesday in Wears Valley is now 85 percent contained, according to Sevier County authorities.
No homes are threatened by fire, according to county spokesman Perrin Anderson.
Residents were allowed to go back to their homes about 8:30 p.m. Tuesday after the fire broke out near Little Cove Road.
Crews remained on the scene overnight.
Numerous agencies responded Tuesday afternoon as the fire spread on the hilly terrain dotted with numerous cabins and homes. One structure suffered damage.
PREVIOUS STORY: A 20-acre brush fire in Wears Valley threatened nearby cabins Tuesday afternoon, prompting all fire agencies in Sevier County to send equipment or personnel, authorities said.
The blaze was reported about 3:30 p.m. Tuesday. By 9:30 p.m., authorities said it was 70% contained. Around 100 firefighters responded, and crews are expected to work through the night according to a release from officials.
Authorities said at least one building was damaged and one minor injury was reported.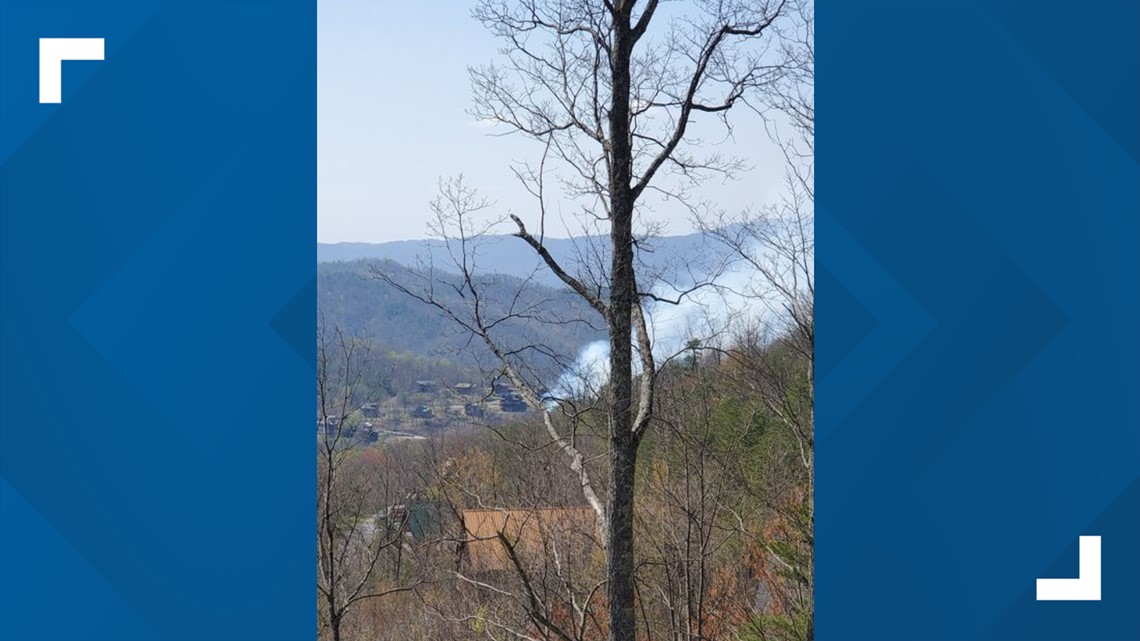 Sevier County dispatchers said the fire was off Little Cove Road.
Matt Henderson with Sevierville Fire Department said every fire department in the county either had equipment and personnel there or en route.
Some had to evacuate cabins in the area, including Mitzi Reckart and her family, who were visiting the Smokies from North Carolina.
"I noticed there was ash heading towards us when I was grilling on the balcony, and we looked over and there was smoke coming from a couple cabins away from us," Reckart said. "Firemen just came and said that we had to evacuate because it was about to hit the tree line."
As the night approached, crews were worried about the wind, and advised the Reckart family to try and find a hotel for the night to be safe.

The blaze is located in Wears Valley Fire Department's service area, according to Henderson.
In Sevier County, authorities can activate a wildland fire task force to serve as mutual aid if a fire appears threatening enough.
In November 2016, amid very dry and near gale weather conditions, wildfire swept in from the Great Smoky Mountains National Park and heavily damaged parts of Gatlinburg. Fourteen people died, and scores of properties were burned or damaged. Thousands of acres in the park burned.