UPDATE 1 PM THURSDAY: Selling diesel fuel to trucking firms could be very lucrative for some Pilot Flying J employees, testimony Thursday showed.
You could make thousands -- if not much more -- in commissions and bonuses each year. And if you were the company president, you could collect millions, figures showed.
Federal prosecutors are presenting evidence in the government's case against four former Pilot Flying J employees, including the former president.
They're seeking to show that the defendants took part in a rebate scam for several years that cheated some customers and helped boost their own pay significantly as well as that of the company bottom line. The alleged fraud went on at least five years, according to the government, until the FBI and IRS raided the company's Bearden headquarters in April 2013.
Calling a Pilot payroll manager to the stand Thursday morning, prosecutor Trey Hamilton elicited testimony about the pay for ex-president Mark Hazelwood, Scott Wombold, Heather Jones and Karen Mann from 2008 through 2012.
Hazelwood, a Pilot employee since 1985, had a deferred compensation agreement with the billion-dollar privately held company that called for him to get a small share of after-tax earnings.
Prosecutors also allege he knew about and encouraged sales employees to use what was called a manual rebate program to manipulate the fuel rebates that some customers would receive.
Hazelwood's compensation included a "growth partner bonus," testimony showed, that greatly added to his annual pay.
In 2008, according to testimony, his total compensation was almost $14 million, including the growth partner bonus. The next year the total was $15 million.
By the end of 2012, according to figures, his bonus was at $14 million and total compensation reached almost $27 million.
On cross-examination, defense attorney Rusty Hardin sought to show that 2012 was an company aberration because it involved a multimillion-dollar distribution tied to CEO Jimmy Haslam's move to acquire the Cleveland Browns football team.
Pilot Flying J vice presidents also saw large commissions if sales went well.
Testimony on Thursday showed Scott Wombold, formerly a vice president, made a base salary of anywhere from $128,000 to $133,000 from 2008-2012. Commissions, however, could be much greater.
In 2008, his year-end compensation was $522,000. In 2011, it was $720,744 and the following year it reached $1.156 million, according to testimony.
Jones and Mann also saw higher incomes in that time period, when the government alleges the fuel rebate scam was in full operation.
Jones and Mann made commissions each year that ranged from the mid $20,000s to the low $50,000s, according to testimony, which the government alleges included boosted revenue from scamming some fuel customers.
Fourteen former Pilot employees have pleaded guilty to taking part in the fraud, and some are testifying at trial.
Pilot has paid a $92 million penalty and civil settlements of more than $80 million to trucking customers.
After the 2013 raid, company leaders announced a review and overhaul of company operations to ensure customers were being billed fairly. They paid some customers back.New leadership also was put in place.
Pilot has cooperated with the government in its ensuing investigation.
PREVIOUS STORY: Email - as every worker knows - can be a blessing and a curse.
Federal prosecutors in the trial of four former Pilot Flying J employees are using old company emails to illustrate what they say was a widespread sales plan to cheat some trucking company customers out of promised fuel rebates.
Testimony resumed Wednesday in Chattanooga after a one-month break and continues again Thursday morning.
On Wednesday afternoon before a jury and U.S. District Judge Curtis Collier, prosecutors Trey Hamilton and David Lewen began presenting emails from the defendants written in 2011 and 2012.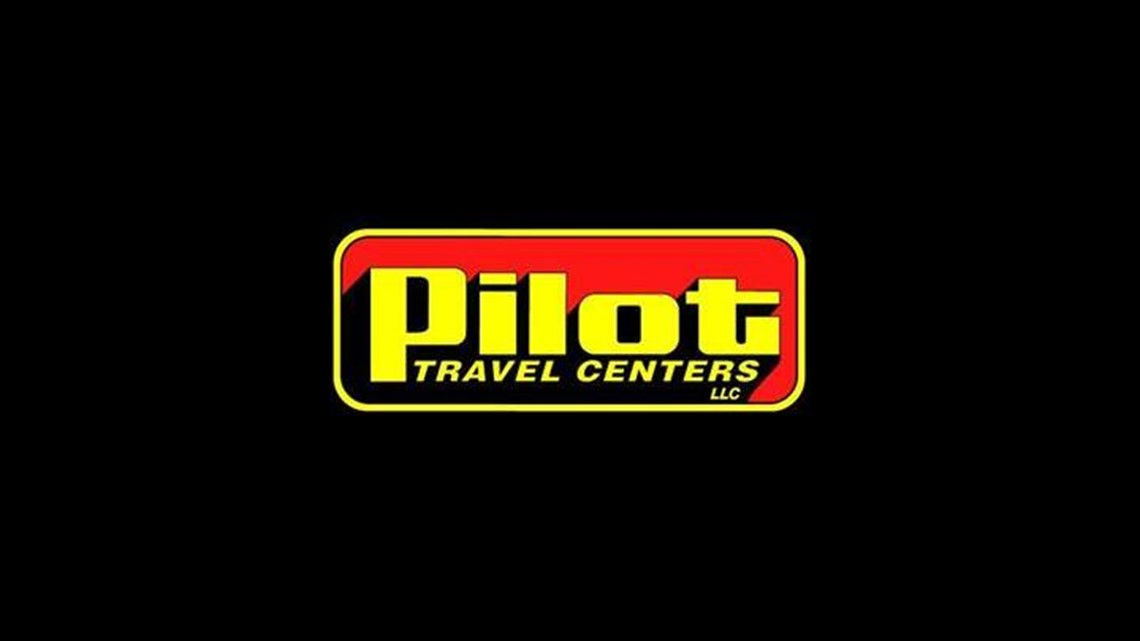 The internal notes celebrated moments when sales staff made money and offered glimpses when they needed guidance on how to proceed with the alleged scheme that was known as a "manual rebate," or even "Manuel."
Former Pilot Flying J president Mark Hazelwood, Karen Mann, Heather Jones and Scott Wombold are on trial.
Emails show that during one rebate discussion about a customer with John Freeman, an alleged company leader in the manual rebate plan, Hazelwood made a reference to a sexual act and continued, "...make him feel special."
The government alleges Pilot made tens of millions of dollars from promising and then shorting fuel customers before getting caught. The Knoxville-based corporation has paid a $92 million penalty as well as more than $80 million in civil settlements with fuel clients.
Standing trial are former president Mark Hazelwood, Scott Wombold, Heather Jones and Karen Mann. Fourteen other former employees have pleaded guilty, and some of them have testified at trial.
The trial began in early November but has advanced slowly, rarely occurring more than a few days in a week. Jurors from the Chattanooga area got a four-week break that spanned Christmas and New Year's.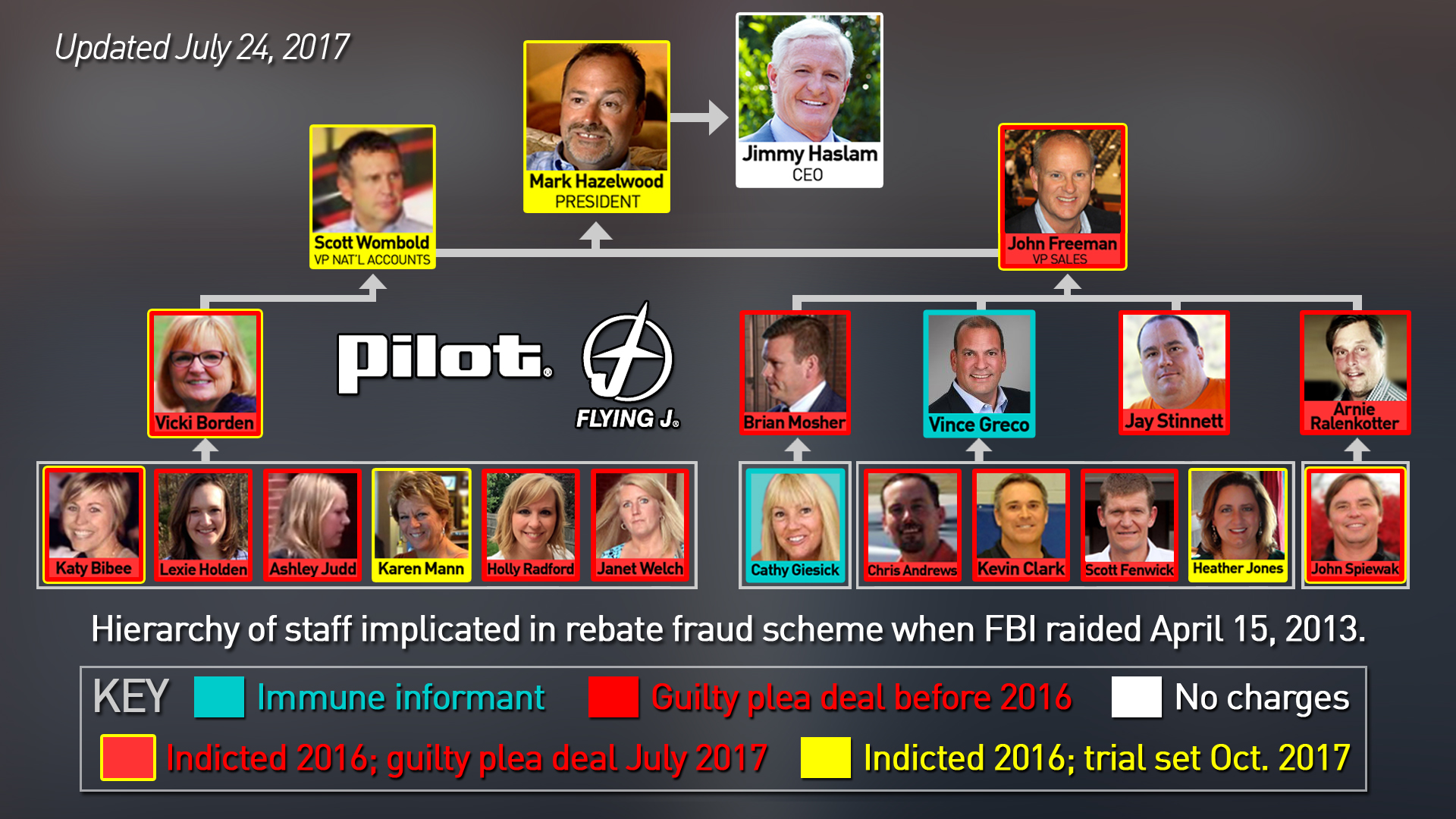 Collier said Wednesday he'd like to quicken the pace.
It appears likely the trial won't end until at least early February.
The trial is being held in Chattanooga because of publicity about Pilot Flying J and the prosecution in the Knoxville area.