FOLSOM, Calif. — Sept. 6 1:15 p.m. update:
California Independent System Operator (CAISO) says today will be the most challenging day of the heat wave for the power grid. Temperatures are supposed to peak throughout the state today.
According to the CAISO grid operators, the energy outlook is "tight and constrained" during the Flex Alert from 3 to 9 p.m. CAISO says that power outages are likely if people don't conserve energy during the Flex Alert.
California Independent System Operator (CAISO) officials said they lifted the Stage 2 emergency. They are not going to conduct power shutoffs on Saturday night.
CAISO officials said there is still a Flex Alert from 3 to 9 p.m. on Sunday.
California Independent System Operator (CAISO) officials said it remains a Stage 2 emergency and there are no outages at the moment. Officials credit residents conserving power as to why the power didn't need to be shut off.
Sept. 5 6:40 p.m. update:
California Independent System Operator (CAISO) officials announced there could be possible rolling blackouts on Saturday after declaring a Stage 2 emergency.
CAISO uses blackouts as a way to relieve stress on the power grid.
The Flex Alert was announced Thursday and calls for voluntary electricity conservation from 3 - 9 p.m. Saturday through Monday. Labor Day weekend temperatures are forecast 10-20 degrees above normal for California, leading to an increase in electricity demand, primarily from air conditioners.
CAISO does not expect there to be any blackouts for this Flex Alert, but they say they will know more the day before each day in the alert.
Valerie Long of Georgetown, Calif., was one of the residents whose power was shut off last month when CAISO issued a Level 3 emergency to off-load power from the state's power grid. She said she has anxiety whenever she hears of a Flex Alert, because she and her husband both rely on oxygen machines that plug into power.
"I hope people kind of listen and do their part to conserve because there are people that really are dependent on needing as much electricity as they can get," Long said.
Overnight lows will be dangerously warm, only dropping to the mid-60s and low 70s. This provides little relief from the intense afternoon temperatures.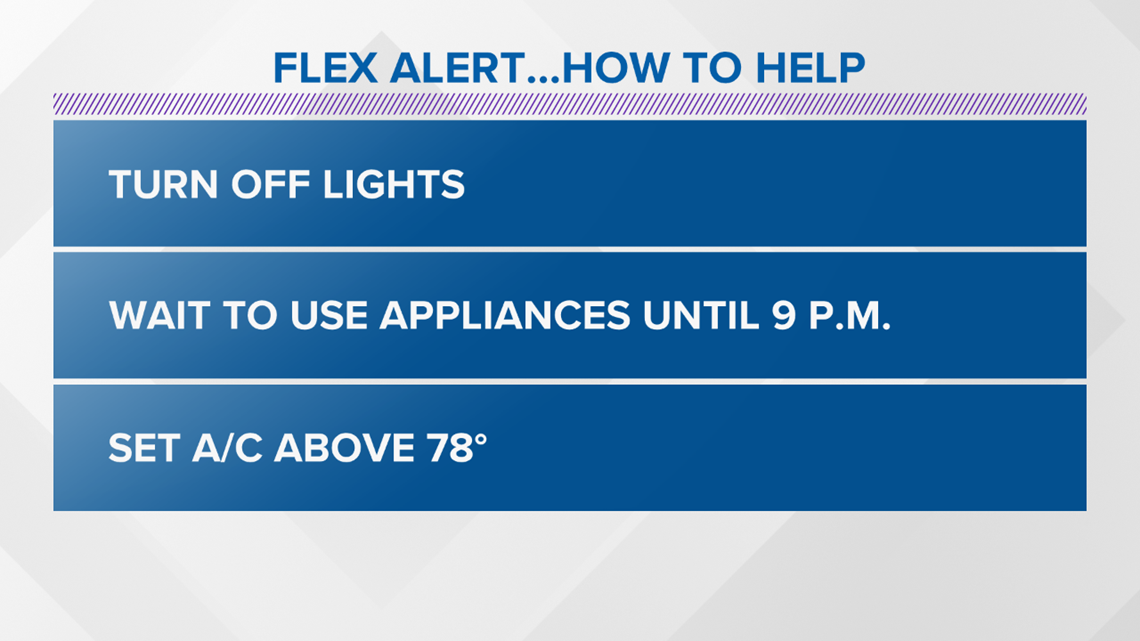 Energy conservation can lessen the chances of power outages or interruptions.
CAISO is asking Californians to do the following during the Flex Alert hours:
Set air conditioning thermostats to 78 degrees, if health permits
Try not to use major appliances
Turn off unnecessary lights
Unplug unused electrical devices
Close blinds and drapes
Use fans when possible
Limit time the refrigerator door is open
Californians can also do these things to prepare for energy conservation before 3 p.m.:
"Pre-cool" homes by lowering air conditioning thermostats to 72 degrees
Charge electric vehicles
Charge mobile devices and laptops
Run dishwashers, washing machines and other major appliances
Set pool pumps to run in the early morning or late at night
The former president of the California Public Utilities Commission said California ISO weighed in on a tweet from President Trump blaming democrats.