A symbol of Smoky Mountain resilience is finally safe at home.
Charles the Pig survived last month's Sevier County wildfires by burrowing into the mud. His owners, the Holmes family, had to run for their lives with just the clothes on their backs.
Charles has quite a tale to tell, spending the last three weeks at the UT Veterinary Medical Center in Knoxville, recovering from serious burns and smoke inhalation.
But on Tuesday, with his backside happily wagging, it was time to go home with his family.
"Been a long three weeks," Rob Holmes said, walking up to the pen at the veterinary center.
Holmes and his family visited their pet pig daily. They were excited to finally take him back to Sevier County.
"I cannot wait to get him home in his new pen," Rob's wife Amy said.
To fully appreciate Charles' survival, however, one must look at what's left of the Holmes' Gatlinburg home, which they fled with minutes to spare on the night the Sevier County wildfires broke out.
"It's survival at that point," Rob Holmes said.
Unable to drive over trees and power lines downed across the driveway by high winds, the Holmes family ran to a neighbor's waiting vehicle.
They had to leave Charles behind.
"There is where he was when the fire hit," Holmes said, pointing to a now-burned section of what was the family's back porch.
Only Charles knows how he escaped his enclosure during the fire, Holmes said.
A neighbor found him the next day, near the bottom of the Holmes' driveway, alive and burrowed into the mud.
"You can see how he rooted the mud and ran around," Holmes said, showing WBIR 10News the spot where his neighbor found Charles. "Even the stump was on fire, and he still managed to survive in that spot."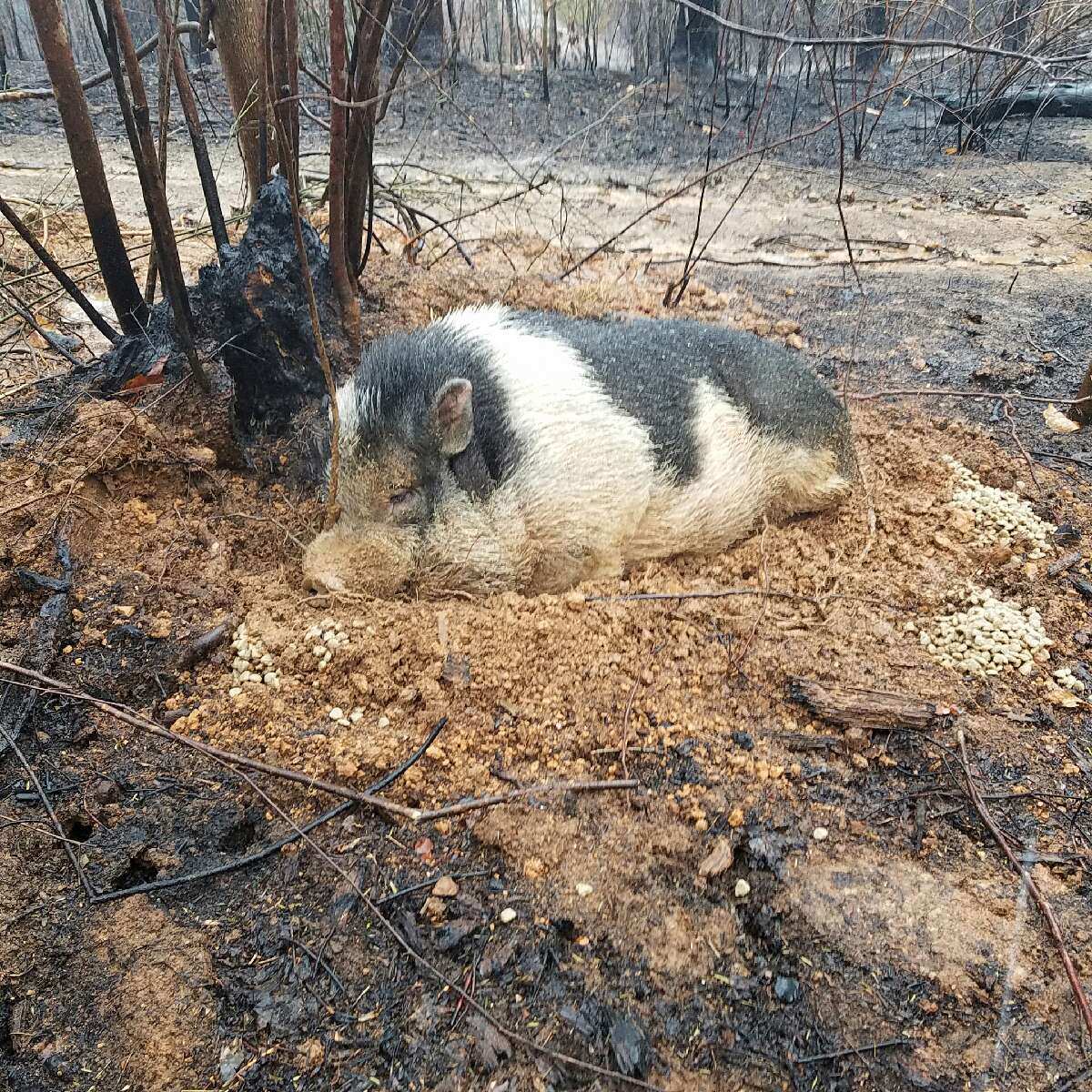 Holmes calls Charles' survival a miracle.
"There's no other way to explain that," Holmes said, standing amid scorched earth and trees. "I mean, take a look around. There's nothing left. The Lord had something to do with this. He had to."
Finally, at Rob's mother's house, where the family is staying until they can rebuild on the spot where their house burned down, the Holmes welcomed Charles home.
"So good to have you back," Holmes said.
Charles' once-again-wagging tail was a sign that the pig was pretty happy, too.
"He's a strong, strong pig. He's definitely given everybody a lot of inspiration and hope," Holmes said. "This is probably the best Christmas present we could ever have."
A spokesperson from the UT Veterinary Medical Center said an anonymous donor paid for all of Charles' medical bills.
The public can meet Charles face-to-face! He'll be at the family's restaurant, Smoky Mountain Shakes-N-Dawgs in Gatlinburg, from noon to 6 p.m. on Thursday and Friday. The family has built him a pen there, too, in addition to the one at grandma's house.
Smoky Mountain Shakes-N-Dawgs is located at 103 Mills Park Road, near Gatlinburg-Pittman High School. More information is HERE.
Follow Charles the Pig on Facebook HERE.
Rob Holmes created a Charles the Pig design that's available on t-shirts and bumper stickers. Proceeds are helping the Holmes pay for expenses not covered by insurance.