Family, friends and an entire community are ready to move forward after a Knox County jury found three men guilty in the murder of Zaevion Dobson.
It's been almost two years since the 15-year-old was fatally shot on a porch in Lonsdale.
Investigators say the teen was an innocent victim and died shielding friends from gunfire on Dec. 17, 2015.
Friends of the Dobsons say at the very least, they hope Dobson's family is getting some closure or relief, and they say Zaevion will long be remembered in the community.
At Fulton High School, there are signs and symbols that serve to honor Dobson.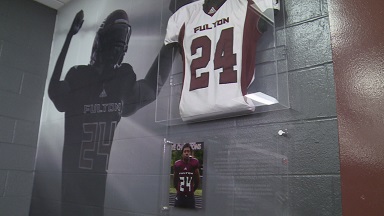 "I just feel fortunate that I had that short opportunity to be around Zaevion," Fulton High School Head Football Coach Rob Black said.
Black said remembering Zaevion brings a smile to his face.
"He was mature beyond his years, yet playful like a child, always had a smile and always having a good time," Black said. "December 17, 2015, seems like so long ago. And so I think we're at a point now where I guess my hope is that the family finally gets to rest a little bit."
Community leaders say they hope the same, and they also hope the trial's end will bring closure to the community.
"So hopefully this verdict, getting this trial behind us, can kind of mark a chapter saying that we are moving forward," state Rep. Rick Staples, D-Knoxville, said.
"So how can we take this example of what happened and transform our community more than we have when he first passed, because there's been a lot of good that happened since he died," said Andre Canty, a member of 100 Black Men of Greater Knoxville.
Canty said he helped mentor Dobson.
At Fulton High School, the number 24 will always represent Zaevion.
"This past season on senior night, which should have been his senior night, we retired the number 24 jersey, so it will never be worn here again in football," Black said. "He chose to be selfless. That's who he is and that's what he'll be remembered by."