KNOXVILLE, Tennessee — The Christmas tree looks pretty sitting there in your front window. But it can't stay forever.
Knox County will accept live trees for recycling starting Saturday. No, they don't want your fake tree. Throw that away or sell it if you don't want it anymore.
The city of Knoxville also has suggestions for how to dispose of your tree.
Participating Knox County convenience centers will accept trees, no charge, for recycling at drop-off.
Their hours are 8 a.m.-6 p.m. Monday-Friday and 7 a.m.-3 p.m. Saturday. Centers are closed Sundays.
All centers will be closed Friday, Jan. 1 for New Year's Day, but will be open and following normal business hours on Saturday, Jan. 2.
Centers accepting trees for recycling:
*Carter (8815 Asheville Highway)
*Dutchtown (10618 Dutchtown Road)
*John Sevier (1950 W. Gov. John Sevier Highway)
*Karns (6930 Karns Crossing Lane)
*Powell (7311 Morton View Lane)
*Tazewell Pike (7201 Tazewell Pike)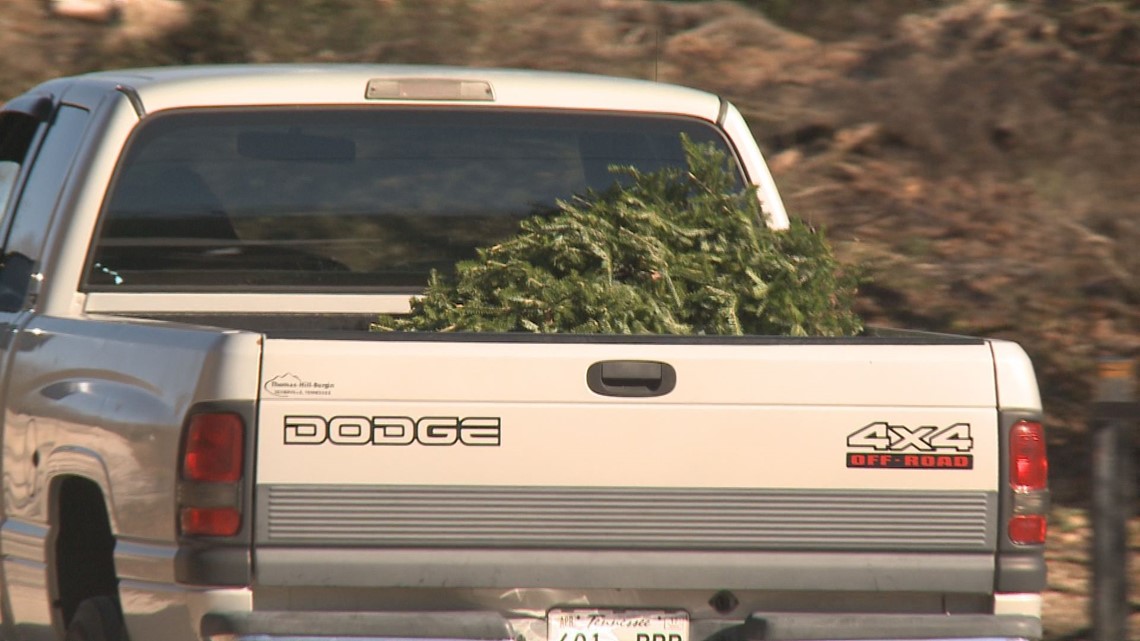 You can't just leave them as is, tinsel and all. Be sure to take off all the decorations, string, popcorn, candles and lights. Don't forget the angel on top of the tree. Save that for next year.
The county said Tuesday no other "green waste" or tree limbs is being collected as part of this effort.
Trees will be accepted through the end of January.
You can leave electronics and non-working tree lights at the Dutchtown, Halls, John Sevier, or Karns Convenience Centers.
"Please note that the centers may experience significant wait times following a holiday closure. Center users are urged, if possible, to postpone their regular waste trip until Tuesday or Wednesday the following week when centers are less busy," a county announcement states.
For more information, please call the Solid Waste offices at 865-215-5865.
City of Knoxville tree tips
According to the city, city residents can simply strip the tree of its decorations and drag it to the curb for pickup.
The Public Service Department will pick it up like they pick up brush.
"Christmas trees, like leaves and other brush, are delivered to Living Earth, where they are mulched and composted with other organic material into various yard products that the company markets and sells. Each year, Living Earth provides up to 1,000 cubic yards of hardwood mulch and 200 cubic yards of playground mulch to the City that City horticulture crews use to landscape public beds and parks," according to a city statement.
You can also take that tree to one of the county's convenience centers.
In some places, you can simply burn the tree, but you will need to check your local ordinances to see if it's allowed and if you need a burn permit. In Knox County, you will need to have one. Tennessee is currently requiring burn permits for all debris.
Larry Wilder with Knox County Rural Metro Fire says if you're planning to burn your tree it'll likely take some time to dry out -- so it'd be much quicker to simply recycle it.
"These new types of trees that are being grown now is a safe tree. They're hard to burn, so it'd probably have to sit out in the yard for a week or so just to dry out to get it to light up," he said.
Wilder said to burn your tree away from your house, forested areas and vegetation, and to make sure you have a water supply on hand.