PIGEON FORGE — "This Christmas we've got the best Christmas present ever!"
Dolly Parton was in town Friday to open Dollywood's Smoky Mountain Christmas, which is bigger than ever before this year!
The new Glacier Ridge, the largest holiday expansion ever, imagines a frostier version of the Smoky Mountains and features a 50 ft. tall animated tree, a walk-through version of the northern lights, and a variety of other light show spectaculars set to classic holiday tunes.
"It glistens like ice and shines like the spirit of the season. It celebrates friendship and the bright light of love," is how Dolly described Glacier Ridge.
RELATED: Dollywood announces expansion coming 2019, marks 'largest capital investment ever'
Dolly thanked the theme park staff for getting the park ready for Christmas, especially since they had a pretty tight turnaround!
"They did it in just five days," she said.
The park just wrapped up its fall Harvest Festival and Great Pumpkin Luminights last weekend. The park was closed on Sunday and will reopen, decked out for Christmas on Saturday, decked out with over 5 million lights!
The addition spans across the Timber Canyon, Wilderness Pass, and Craftsman's Valley areas of Dollywood.
"Christmas is so important to me for so many reasons," Dolly Parton said. "I'm so thankful that it's a time when our family comes together to share stories, remember old times, and make new memories we'll take with us through the next year and beyond."
Dolly will be back at the park on Saturday for a ceremonial tree lighting as Glacier Ridge at 6 p.m.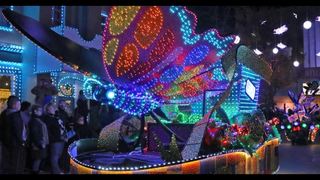 Guests can experience Glacier Ridge from Nov. 10 to Jan. 5. Dollywood's Smoky Mountain Christmas also features traditional holiday shows like "It's a Wonderful Life" and the annual Parade of Many Colors. Many of Dollywood's signature rides and attractions will be operating throughout the event.
At the event on Friday, Dolly took the stage with her brother Randy, several of her nieces, and several other singers to perform her song "Circle of Love."