Downtown Vibes: Construction brings more than just a new look
All the construction in downtown Knoxville and the Old City is bringing tons of new residential areas, something that was hard to find 10 years ago.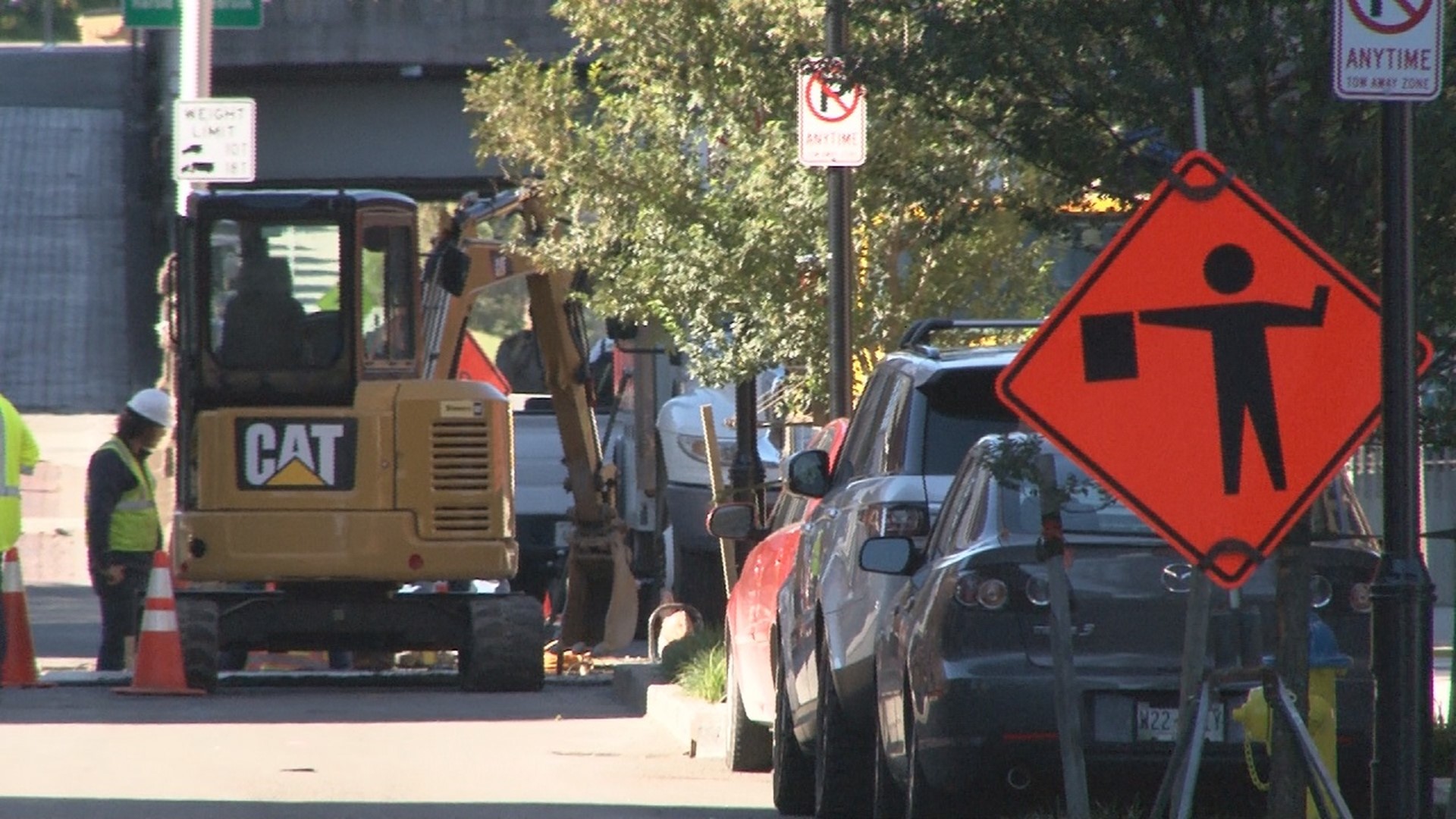 If you were to walk the streets of downtown Knoxville and the Old City 10 years ago, you would have seen multiple buildings in need of some TLC. There weren't very many places to eat, shop or live.
But in recent years, the City of Knoxville has worked to change that, and there's been a boom of construction all over the area.
Updates on Current Projects
There are multiple construction sites and revitalization efforts going on right now in downtown and the Old City, and plenty of projects have not broken ground yet, but are in the works. Overall, the majority of what's being added are residential living areas, hotels and restaurants.
Rick Emmett, downtown coordinator for the City of Knoxville, said the reason they are focusing so much on residential development is because more and more people are becoming drawn to the downtown area.
"Well, we already have around 2,500 residential spaces [downtwon]," Emmet said. "We're probably going to be having another additional 500 to 1,000 spaces in the next year, I would say."
Chapter one
:
Downtown
Residential
The Cal Johnson building, which, according to Emmett, is "a historic structure we've been trying to get redeveloped for many years," is currently being renovated into a mixed-use development which will have living space on the upper floors and restaurant/retail space on the bottom floors.
Hotels
According to Emmett, a Marriott Courtyard and Residence Inn is going in where the News Sentinel building used to be on the corner of Church and State. Construction is already pretty far along and the hotel is slotted to open in early 2019.
On Gay Street, the former Conley Building, right across the street from the Regal Downtown Cinema, is being renovated and will become an Embassy Suites. According to Emmett, the Embassy Suites will more than likely open in late 2019.
Parking
Emmett said to make room for all the residents coming to downtown, the city is adding some more parking. Two levels are being added to the State Street Garage. The addition will create close to 600 more parking places; however, the construction on the garage brings with it some road closures.
The area of road in front of the garage on South Central Street between Union and Clinch Avenues will be closed while crews work on the expansion, Emmett said.
"That's going to add almost 600 parking spaces, so that's going to be a pretty cool thing, but it's going to be a little difficult to get there," Emmet said.
The garage construction should be finished up by June of 2019.
Old City
Residential
There are multiple living areas that have recently popped up in the Old City, and there are plenty more planned on the horizon.
Once finished, the Crozier will become a multi-functional building at the corner of South Central Street and Willow Avenue. There will be room for restaurants and retailers on the street-level floor of the building, and the floors up above will be suites, apartments and condos. Emmett said the building should be ready for residents sometime in November.
In Regas Square on Depot Avenue, another mixed-use development is going up. There will be restaurants and retailers on the bottom of the building and living spaces up top. This building is slotted to be finished sometime in 2019.
According to Emmett, the Stockyard development will be going in soon behind Southbound where the parking lot is now. It will have 160 apartment spaces.
Restaurants
Plenty of restaurants will be popping up in the Old City soon as the mixed-use developments finish up construction. A Mediterranean restaurant will be going in near Southbound in the Old City.
The Crown and Goose in the Old City has been closed after being bought by the Boyd Brothers. There is no word yet on what will take the place of the long-standing restaurant.
Ten Years Ago to Now
Emmett explained that when he first started as the downtown coordinator 10 years ago, downtown and the Old City were not in the best shape.
"Ten years ago, it would have been drastically different. Lots of empty buildings back then, not many residents, a couple of restaurants possibly. Pretty much rolled up the sidewalks at 6 or 7 at night. There wasn't really much to do down here," Emmett explained.
Emmett said the downtown transformation started with adding some simple improvement to the 100 block of Gay Street that made a big difference.
"We rebuilt the 100 block of Gay Street for instance, and that led to a transformation of the 100 block. [We] just improved the sidewalks, did some plantings down there, did some benches, that moved on to other parts of Gay Street as far as streetscaping goes," Emmett explained.
In the Old City, Emmett gives credit to the Jackson Avenue streetscaping project as being a catalyst to the Daniel Building getting approved for revitalization.
The Daniel Building is another mixed-use development with retailers and restaurants on the bottom and living spaces up top.
Emmett said most of the streetscaping is done, apart from small projects.
Since construction started and new businesses and restaurants have been coming in to downtown, like Cruze Farm, Maple Hall, Blackhorse Brewery, and many more, the area has become more appealing to current residents and made people want to move closer to the action.
Overall, Emmett said all of the growth and revitalization is a good thing for the Scruffy City.
"It's a vibrant place to be-- everyone wants to be here," he said. "That's why we're building all of these apartments and condos, and restaurants and retailers are all coming here," Emmett gushed. "It's exactly where we wanted to be, and we're just trying to maintain that momentum going forward."