UPDATE Thursday, Nov. 16, 2017
Bearden High School's appeal for ACT scores from a Oct. 17 test has been denied, following a "mis-administration" of the test.
ACT refused to certify the results of the test for 409 Bearden students because the school gave students a test booklet intended for Oct. 3. Because the test occurred on Oct. 17, students could theoretically have obtained test answers from others.
"It's very frustrating," said Dr. John Barlett, Bearden High principal. "We've done everything we can as a school. We tried to do everything as a school properly."
Bartlett said he believes the school did everything correctly in ordering the test, but somehow, they ended up with the wrong booklets. ACT spokesman Ed Colby would not say how the wrong booklets were sent.
The Tennessee Department of Education filed the appeal to validate the test results. Thursday morning that was denied, according to Bartlett.
"ACT has to make the decision related to their own policies whether they will count those tests or not," Tennessee Commissioner of Education Candice McQueen said.
The rejected appeal means 409 Bearden students will need to retake the exam on Dec. 9. Barlett believes the scores of that exam should come back by Dec. 31. His office is currently scrambling to get all affected students signed up for the emergency re-take.
In the meantime, Bearden High is reaching out to college and scholarship boards directly to apologize for the error, and ask them not to penalize students for late score submissions.
"They can blame us, blame ACT, blame whoever they want, but don't blame the students," Bartlett said. "It's not their fault. They took it in good faith, and should have received a score for the test."
Tennessee requires all students take the ACT to graduate. Only 10 students of the 409 impacted had not taken the test before, Bartlett said. Still, for those hoping to improve their scores, thousands of dollars in scholarships or admissions to schools of their choice could be in jeopardy.
Among those students are seniors Mason Stivers and Michael Clubb. Both were hoping to improve their scores for significant amounts of scholarship support.
"It makes me feel nervous because there's a lot of money on the line," said Stivers.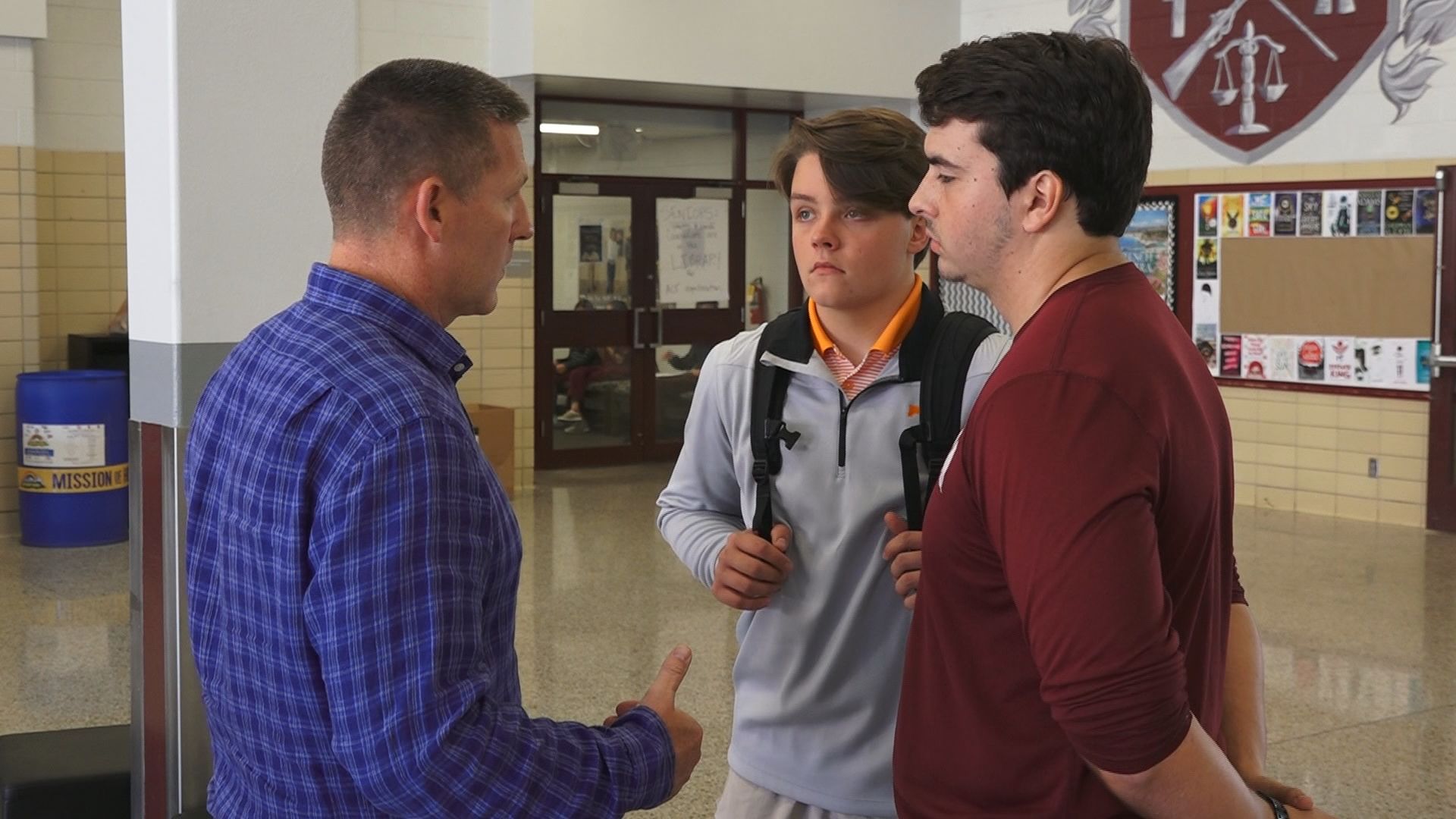 The pair are trying to organize a meeting of parents and students to discuss a way forward.
"Our futures depend on the outcome of this test, for the majority of it," said Clubb. "And for them to push us aside like this is very unfair."
UT Knoxville has been very understanding of the issue, Bartlett said.
A statement from the university was released Thursday in response to the denied appeal:
"UT Admissions officials are aware of the ACT issue at Bearden High School. They have already contacted high school officials to let them know they will be working with impacted students so they are not disadvantaged. UT's December 15 deadline is for students who applied for admissions by November 1 and wish to apply for competitive scholarships and UT's Honors and Scholars Programs. UT will accept the December ACT scores for those students. UT will remain in contact with the high school."
Still, some parents are frustrated by the situation.
Lynn Benko has a senior at Bearden who will have to retake the test.
"It's huge and mind boggling that a company has this much control, when it's very easy for them to go ahead and continue scoring the rest of the tests," she said.
She also worried that this retake could affect scores negatively.
Even with Bearden's ACT score appeal denied, two seniors are still fighting to get the test validated. Big scholarship money on the line, they say. @wbir pic.twitter.com/AihW7pYiwj

— Michael Crowe (@MichaelReports) November 16, 2017
"Retaking a test in December, after they know the submission deadline has passed, and they're in a high-stress situation, and it's around final -- there's no way those students are going to get the same test scores from the Oct. 17 test," said Benko.
She said she plans to keep fighting to have the Oct. 17 score validated.
10News sent ACT a list of questions, including what factors are considered in an appeal, how the incorrect test was sent, and if it will better label tests. Company spokesperson Ed Colby said he could not answer those questions.
"I would simply like to reiterate that ACT sincerely regrets this situation and any inconvenience it may cause to impacted students," Colby said.
Barry Myers, president of the Knox County PTA, said the parent teacher association plans to "bring light to this issue" through a social media campaign and by sending a position statement to ACT, the Knox County Board of Education and the Tennessee Department of Education.
"This is continuing to give ACT power to say at anytime we're not going accept these results. And this affects these kids lives," Myers said.
ORIGINAL STORY Wednesday, Nov. 15, 2017
Students at Bearden High School are upset and facing an uncertain future after many of their ACT scores were invalidated because of an error in the last testing cycle.
The majority of the ACT tests administered at Bearden High School on Oct. 17, 2017, were not scored. ACT decided it could not "guarantee the validity" of those tests because the wrong tests were sent to the school.
In a letter sent to students and parents, the school apologized for what it called "circumstances beyond their control," saying students will be allowed to retake the test for free in December.
"Dear Bearden Parent and Senior Student,
Due to circumstances beyond our control, the October 17, 2017 ACT will not be scored. ACT has decided that they cannot guarantee the validity of the test given at Bearden High School on this state testing day because the wrong tests were sent to Bearden High School and administered to BHS students. Because of this, ACT is offering senior students vouchers for any ACT National Test Day. To take advantage of these vouchers, the BHS Senior Counselors will have the vouchers available as soon as we receive them from ACT. The counselors will be in the West Mall during lunch next week as soon as we receive the vouchers. Students may still sign up for the ACT test given on December 9, 2017; however, students need to sign up as soon as possible. They will be allowed to use the voucher for this test date without having to pay a late fee.
I understand how disappointing this news is, I personally apologize for this issue. Many, many of our students have worked very hard to prepare for this test and I feel it is important that every senior take an ACT test during their senior year as they have had the opportunity to learn more material over the past couple of months. Please remember, it is required by the state that every senior must take the ACT test or SAT test.
Thank you for your understanding.
Principal, Bearden High School"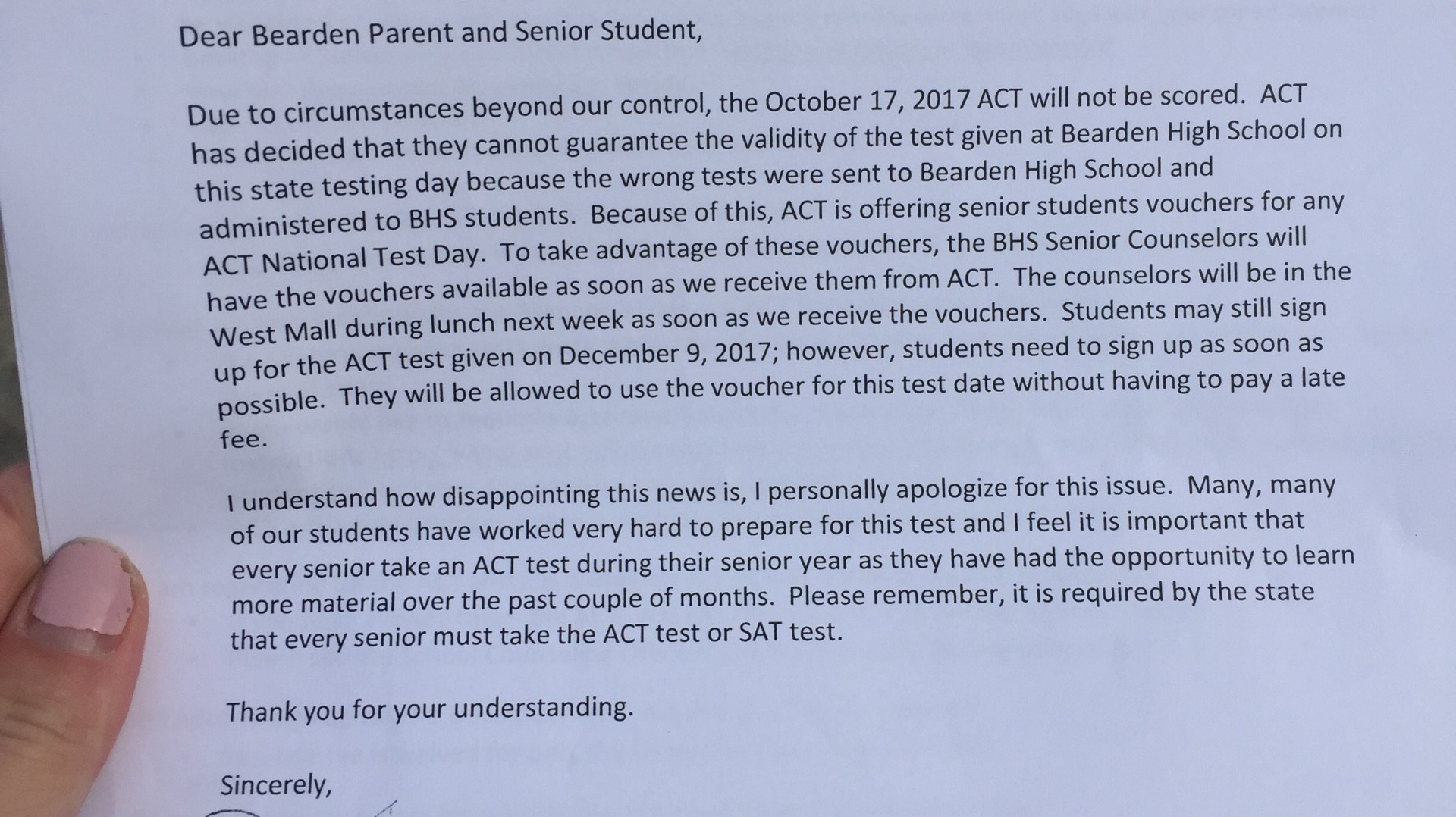 Some students said that isn't enough, and their future is in jeopardy because many school admissions and scholarship consideration deadlines occur before the next testing cycle on Dec. 9.
"I missed out on a potential full ride scholarship because of something completely out of my hands," said Fatima Bhidya, a senior.
Bhidya is one of the hundreds of students banking on the test scores to apply for college scholarships.
"It's really annoying to see all that hard work go to waste because of something that we have no part in," she said.
An ACT spokesperson told 10News a "misadministration" occurred at a "small number of high schools in Tennessee, including Bearden High School."
"When a misadministration occurs, ACT's policy is to cancel the scores in question," Ed Colby, ACT senior director of media and public relations said in an email.
Colby said the company couldn't provide any further details about the misadministration, but they will be sending more information to the affected students.
"We will be communicating with impacted students through their high schools and providing them with information about their options," Colby said. "We are aware that some impacted students may be facing college admission deadlines. ACT will provide a letter that students may share with colleges confirming that they took the ACT in October 2017 but did not receive scores through no fault of their own."
"ACT sincerely regrets this situation and any inconvenience it may cause to impacted students," he said.
Knox County Schools administrators said Bearden is the only high school in the district that was affected by the misadministration.
Two Bearden seniors posted fliers about working to address these issues across the school, saying they are going to hold an organization meeting with other students and parents to try and remedy the situation.
"We know many of you seniors feel cheated by this monopoly that is ACT. It is not fair that they try to compensate our loss of thousands of dollars in scholarship money and even the opportunity to get into our dream college with a measly free pass to take their test again," the letter said. "That is why we have decided as a whole to take a stand against these educational bullies -- because we should not allow these people to dictate our future like they are."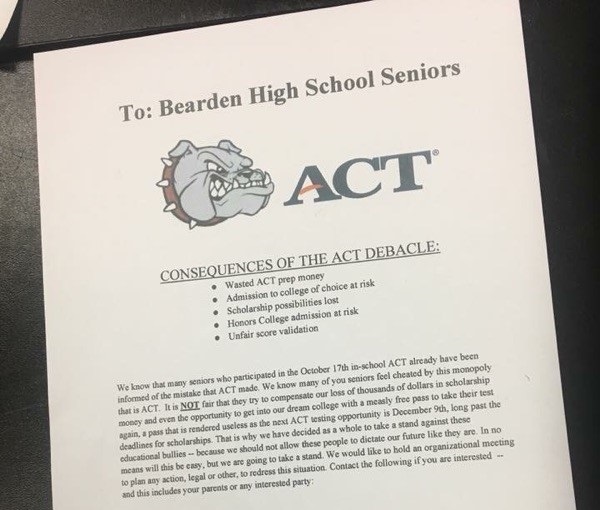 Knox County Schools wants the focus to be on the students as they work to help them achieve their academic goals.
"For us that's the most important thing we know they worked hard through out their careers to get to this level and they are very prepared for college and we are trying to do everything we can to help," Chief Academic Officer Jon Rysewyk said.
Rysewyk said they are aware some Bearden students have had their test scores returned even though a majority did not.
"What we are hearing right now is that there may have been some valid tests maybe for students who had accommodations that was a different assessment than what the majority would have taken that day," Rysewyk said.
Michael Grider with the Knox County Office of Communications said Mayor Tim Burchett is aware of the issue and is still trying to confirm exactly what happened and what's being done.
Bearden High School principal John Bartlett was out of the office and not available to speak about the situation on Wednesday.