The fight continues at Bearden High School after 409 students were told their October ACT scores won't be released.
The Knox County Council PTA held a news conference Friday where students, the PTA president and Knox County Mayor Tim Burchett addressed their concerns with ACT's decision not to validate the scores after they sent the school the wrong tests.
"I don't think ACT should be able to bully kids like that," Bearden High School student Mason Stivers said.
Again, the issue: ACT won't certify scores for 409 Bearden seniors. They can retake test, but will miss many college scholarship and application deadlines for results. @wbir pic.twitter.com/vgPr6qbszf

— Michael Crowe (@MichaelReports) November 17, 2017
Bearden held an ACT retake day on Oct. 17. However, the tests that were sent to them were for the Oct. 3 testing date.
ACT refused to certify the results of the test for 409 Bearden students because theoretically, they could have obtained test answers from others.
"These students were here with a goal and that can't be met because of this decision made by ACT," PTA president Barry Myers said.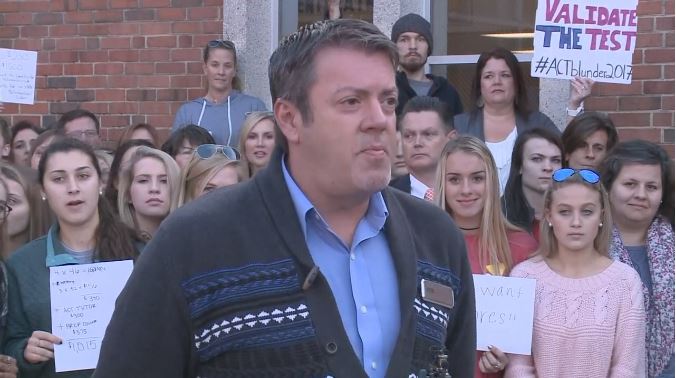 Students asked ACT administrators Friday to release their scores after what the company called the incident "mis-administration" of the test.
"The insinuation by ACT that there may have been misappropriation in administering this exam is totally unfounded," said Myers.
Bearden students are scheduled for a free re-take set for Dec. 9, but by the time results come back, many will miss college scholarship and admissions deadlines.
"This means these kids are put in the back of line when being accepted for merit scholarships, grants, and into programs that want the best students," Myers said. "We have the best students. We want our students recognized nationally and we want ACT to reverse this decision."
A second East Tennessee school said its students' ACT scores will not be certified by the testing company.
Alvin C York Institute, in Jamestown, Tennessee, took the ACT test on Oct. 17, according to superintendent Phil Brannon.
Brannon said it's unclear how many students are impacted, but ACT will not certify the Oct. 17 scores because students used a test booklet designated for Oct. 3.
Brannon said Thursday his staff noticed the date discrepancy on the test forms beforehand, but was told by ACT to go ahead with the test.
"They said to just fill it out manually," he said.
Brannon said Friday they will not contest ACT's decision, and his students are registered to retake the test on Dec. 9.
It's not the first time Tennessee students have had to fight for their scores after a test date mix-up.
Last April, our affiliate WRCB reports another ACT testing issue put scores in question for 9 districts including Tyner Academy in Hamilton County, McMinn County High and Maryville High School.
ACT initially denied appeals there too, but ended up reversing that decision.
"These are our students. These are our Knox County kids. And will not stop for fighting and supporting and standing up for the rights of all students of Knox County," Myers said.
A lot of questions remain about how this happened now twice in Tennessee, but ACT refused to answer any specific questions about the situation.
It's still unclear how this mix up of dates occurred. Bearden believes it ordered the correct test. ACT spokesperson Ed Colby has not answered any specific questions about the incident, including: details of Bearden's order, if the company will consider clearer labeling on tests, and what factors are considered in an appeal process.
"We cannot provide any information about the misadministrations other than what I have already provided," said Colby. "ACT is working directly with school administrators and the Tennessee Department of Education on these matters."
Government Lacks Oversight
Representatives of the the Tennessee and U.S. Departments of Education said they had no formal oversight over ACT, or the ability to sway the company's decision.
The Tennessee Dept. of Education said ACT is not required to report any mis-administered tests, or how if students at other schools might have been affected.
"We support the students and understand their frustration, and we would hope that ACT would reconsider after hearing the students' perspectives," said Sara Gast, a spokesperson for the Dept. of Education. "We have continually conveyed our opinion to ACT that we want them to change their position, but we recognize that this decision is theirs alone to make. The commissioner's request was escalated to the senior leadership of ACT, and our understanding is they have made their final decision."
Knox County Mayor Tim Burchett said he's reached out to the governor, KCS Superintendent, and the State Attorney General's Office.
Knox Co Mayor Tim Burchett speaking now. Says he talked to knox superintendent and UT admissions today. Also Gov Haslam @wbir pic.twitter.com/fFNnuviaIB

— Michael Crowe (@MichaelReports) November 17, 2017
"I'm not really satisfied with the ACT. The arrogance they've shown to me is beyond belief," Burchett said. "I've seen an incredible amount of arrogance from these folks. Mainly because they are a monopoly. They control the testing. And they know it and they're holding it over these kids' heads."
Burchett said ACT made the mistake and they need to correct it.
A spokesperson for the U.S. Department of Education said she believes it to be a state issue to resolve.
So far, the Department has been unable answer questions about how often mis-administrations have happened in the past, and other schools in Tennessee that might.
Now parents of Bearden students discussing situation/options/next steps @wbir pic.twitter.com/YQvuX2k9NV

— Michael Crowe (@MichaelReports) November 17, 2017