As a flute professor, music has always been part of Shelley Binder's identity.
Seemingly even more a part of her identity is her family's history. Binder's great-grandmother, Leah Aks, and her great uncle, Philly Aks, survived the Titanic disaster in 1912.
"She was 18-years-old, she had a 10-month-old baby, she thought he had died, she thought she was going to die. She saw the most horrific, inhumane things she had ever seen in her life," Binder said to her class of UT first-year students.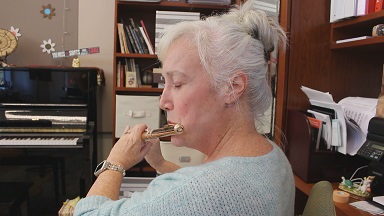 Binder came up with the idea for a class after years of intense research into how her family survived that night. About 700 people survived the Titanic, while about 1,500 people died.
"As I researched it, I kept finding conflicting information with what I had always been told growing up," Binder said.
What she knows for sure is that her great-grandmother and her then-infant great uncle emigrated from Poland to England, and boarded the Titanic to meet her husband in the United States.
Binder believes her great-grandmother and great-uncle were separated amongst the chaos of the sinking ship and put into separate life boats. She believes they were reunited after they were rescued by crews from the RMS Carpathia.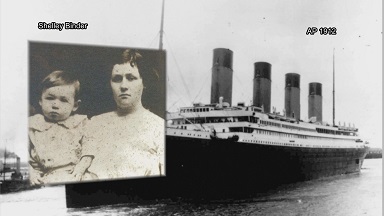 She also believes her great-grandmother, who was in third class, somehow met Madeleine Astor, the wife of the then-richest man in the world, John Jacob Astor. The proof? She said Astor gave Aks her scarf.
"And I remember having the scarf from Madeleine Astor in a lap blanket in our closet," Binder said.
Aks was eventually reunited with her husband after making it to the U.S., but her struggles continued.
"My great-grandmother was hospitalized for 10 months in what she called a nervous collapse," Binder said.
Binder said her grandmother, Aks' daughter, was supposed to be named Sarah Carpathia Aks, but the birth certificate says Sarah Titanic Aks.
"Did the nuns get the story wrong or was the story being relayed in a way that was hysterical?" Binder said. "I don't know. But really what ended up coming out of that for me was how unbelievably shattering this experience truly was."
There's one element of her great-grandmother's account, and many other survivor accounts, that especially resonates with Binder: the musicians.
"They stood there on there on the deck of a sinking ship and continued to play to calm people," Binder said. "I know that I would want to hold my instrument as long as I possibly could because I love to do it."